Navy wife asks Biden to help free husband facing prison in Japan for crash deaths
By
Stars and Stripes
July 16, 2022
---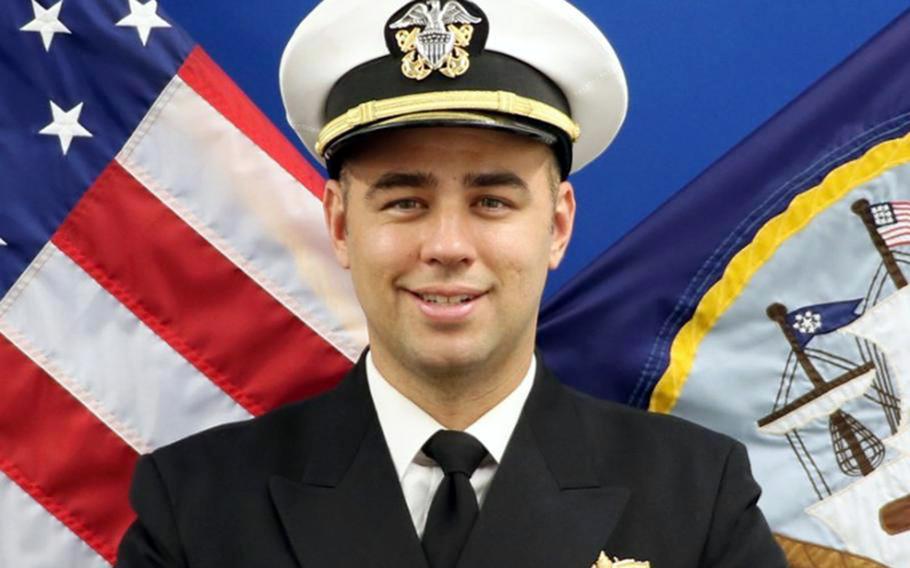 TOKYO — The U.S. president or its ambassador to Japan should seek clemency for Navy Lt. Ridge Alkonis, who faces a prison term in Japan, his wife told CBS Mornings on Friday.
Alkonis, 34, must report at 1 p.m. July 25 to serve three years for negligent driving causing the deaths of two people and injuring a third on May 29, 2021. A judge in Shizuoka District Court convicted Alkonis of falling asleep at the wheel and crashing into a restaurant parking lot in Fujinomiya.
The Tokyo High Court on Wednesday denied Alkonis' appeal for a suspended sentence. His wife, Brittany Alkonis, interviewed in Japan by CBS News senior foreign correspondent Elizabeth Palmer, said she's angry and called on President Joe Biden and U.S. Ambassador to Japan Rahm Emanuel to seek clemency for her husband.
"Just a phone call from President Biden; he could call and say he's coming home," Brittany Alkonis said.
Her husband in court said he blacked out just before the crash due to altitude sickness after he, his wife and their three children hiked on Mount Fuji that day. The judge dismissed that explanation as unlikely.
Killed in the crash were a woman, 85, who died that day, and a man, 54, who died in a hospital on June 11. A second woman, 53, suffered bruises.
Alkonis expressed remorse in court and his family paid $1.65 million in restitution to the victims' families.
Palmer said the Japanese media and public may expect punishment, and that U.S. service members are punished lightly, if at all, for criminal offenses in the country. There's a "history of resentment" against the U.S. military presence, she said.
"Many Japanese believe it has shielded those who have committed crimes from punishment," Palmer said during the interview. "They are taken back to the base and into military justice and get off, if not scot-free, at least very lightly."
That argument has some truth to it, Brittany Alkonis replied, but "that has definitely changed over the past two to three decades."
A spokesman for Ridge Alkonis, Jonathan Franks, in June suggested that Japanese authorities had mistreated Alkonis and should have returned him to U.S. military custody while he awaited trial.
Alkonis' parents, Derek and Suzi Alkonis, on Fox News on Friday echoed their daughter-in-law's plea.
"Even if there was some, you know, some sort of backroom deal that got him sent on a plane," his mother told Fox. "Every military person here in this country is at risk of this exact same thing happening to them, and policies need to change so it never happens to anybody again."
She said the White House "needs to come forward and say [to Japan], 'You're our ally, but you made a mistake here and he needs to come home right now, so this never happens again.'"
---
---
---
---