Navy officer must serve time for crash deaths, Tokyo High Court rules
By
Alex Wilson and Hana Kusumoto
Stars and Stripes
July 13, 2022
---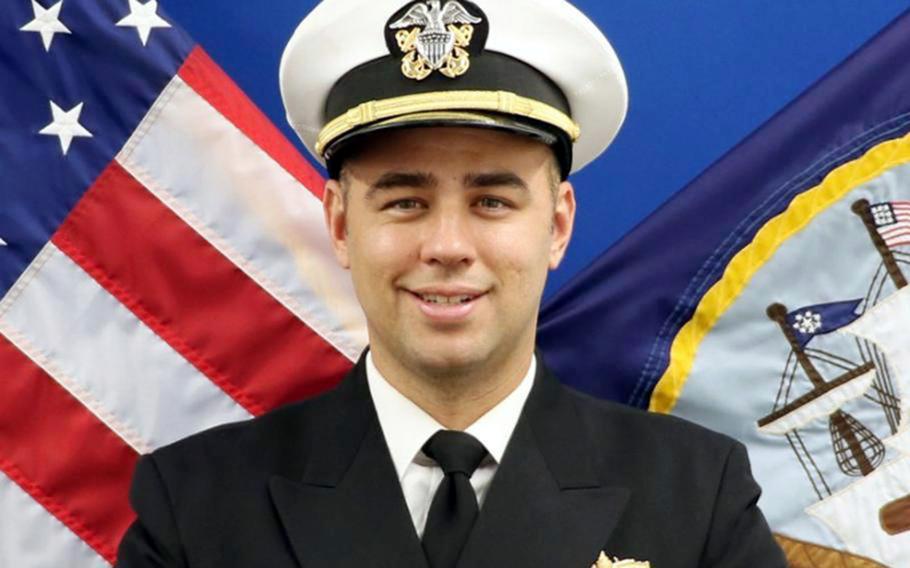 TOKYO — A U.S. Navy officer, Lt. Ridge Hanneman Alkonis, convicted of negligent driving resulting in the deaths of two Japanese citizens, must serve his three-year prison term, an appellate court ruled Wednesday.
"The appeal of this case is dismissed," said Tokyo High Court Judge Akira Ando as he denied Alkonis' plea and upheld the sentence from the Shizuoka District Court in October. "This is a case which is sufficient to consider a prison sentence."
Alkonis was negligent in falling asleep and failing to stop the car when he felt drowsy, Ando said. He said the three-judge panel considered Alkonis' remorse, the fact he has three children and that he paid the victims' families $1.6 million in compensation. But they agreed the gravity of the offense outweighed the mitigating factors.
Alkonis was driving May 29, 2021, in Shizuoka prefecture, about two hours from Yokosuka Naval Base, when his car plowed into pedestrians and parked cars outside a soba restaurant in Fujinomiya. Alkonis, his wife and three children were returning from a hike up Mount Fuji.
A woman, 85, died that day; her son-in-law, 54, died June 11, 2021. A second woman, 53, the daughter and wife of the other victims, was injured.
A spokeswoman for Naval Forces Japan called the ruling Wednesday "disproportionate." Alkonis at the time was a weapons officer at Yokosuka aboard the destroyer USS Benfold. He remained on duty while free on bail pending the outcome of his appeal, the Navy said.
"This was a tragic event that resulted in the loss of two precious lives, and tremendous pain for everyone involved," spokeswoman Cmdr. Katie Cerezo told Stars and Stripes by email Wednesday. "We respect the judicial process. However, we are disappointed with the result, which we believe is uncommonly disproportionate given the mitigating evidence."
Alkonis, 34, asked the court on June 8 for a lesser, suspended sentence, meaning he would serve no time provided he adhered to conditions set by the court. His defense team said a three-year prison sentence was "severe and unjust."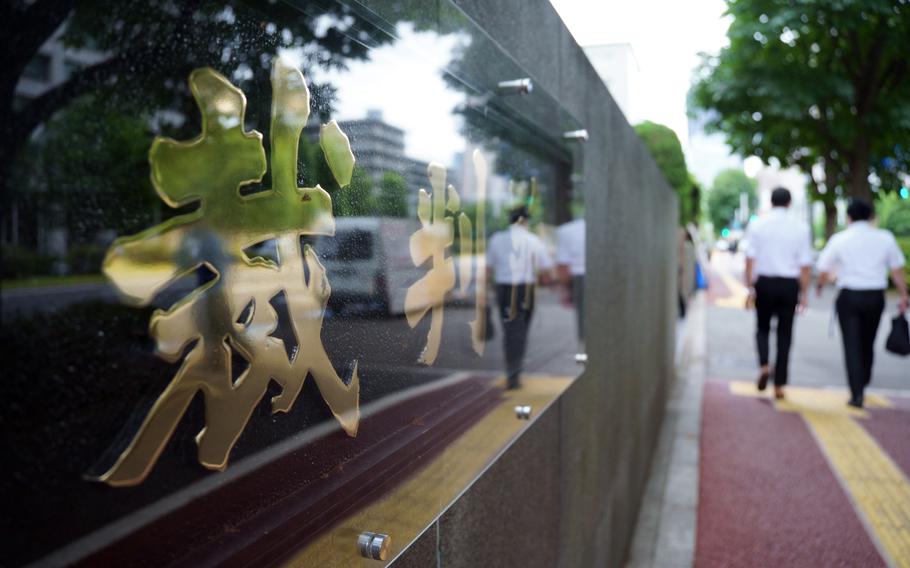 He has 14 days to appeal the High Court's decision to the Japan Supreme Court. His father, Derek Alkonis, said after the ruling that he was unsure if his son intends to appeal. 
Ando went point-by-point explaining why the High Court upheld the lower court. He said the appellate panel also considered Alkonis' medical evaluation by the Navy and the fact that no drugs or alcohol were involved in the incident.
Alkonis left the courthouse on his own Wednesday; a court spokeswoman said she didn't know when he would be placed in custody. 
Alkonis testified Aug. 24 that he lost consciousness due to a case of mountain, or altitude, sickness. Ando on Wednesday said it was "unlikely" that Alkonis suddenly fell asleep; he should have pulled over once he felt drowsy.
Alkonis expressed remorse during the appellate hearing in June.
"I feel the pain, shame and sorrow in every way possible," he told the panel. "I feel the burden of the damage I've caused every minute of every day."
In June, a family friend, Kristin Martin, created a Change.org petition that alleged Japanese police mistreated Alkonis and that he was not tried fairly. More than 37,000 people signed the petition as of Wednesday evening. 
The Alkonis family's spokesman, Jonathan Franks, alleged that Japanese authorities ignored the status of forces agreement, which allows the release to U.S. custody of some service members accused of crimes in Japan. SOFA outlines the rights and responsibilities of individuals in Japan with the U.S. military.
Franks alleged that Alkonis' detention violated SOFA, and his interrogators didn't video tape his questioning as required by Japanese law. However, video-recorded interrogations are not required in most criminal investigations, according to the Japan Federation of Bar Associations.
Outside the courthouse Wednesday, Alkonis' parents told Stars and Stripes they felt sympathy for the victims' families, but aspects of the case didn't add up. Although a Navy doctor examined their son days after the crash, Japanese law enforcement never conducted their own medical examination.
 "This was a travesty of justice. There was no justice in that courtroom today," Suzi Alkonis said after the ruling. "We don't put people in prison for heart attacks, we don't put people in prison for strokes. This is ridiculous."
---
---
---
---