Yokosuka-based officer gets three years in prison for crash that killed two pedestrians
by
Alex Wilson and Hana Kusumoto
Stars and Stripes
October 18, 2021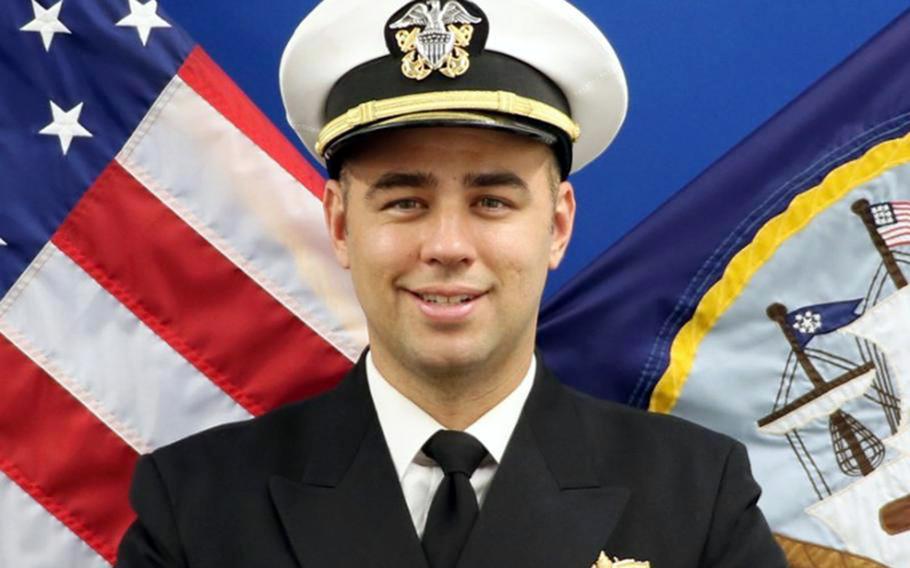 NUMAZU, Japan — A U.S. naval officer charged in a car crash that killed two pedestrians broke down in tears as a Japanese judge found him guilty of negligent driving on Monday.
Lt. Ridge Hanneman Alkonis, 33, was sentenced to three years in Japanese prison during a hearing at Shizuoka District Court in Numazu, a punishment just short of the 4½-year-sentence requested by prosecutors. Alkonis' defense attorneys, on the other hand, had asked for a suspended sentence, effectively a term of probation.
Alkonis was charged with negligent driving causing death and injury after his car crashed into pedestrians and parked vehicles at a soba restaurant parking lot in Fujinomiya on May 29. The city is in Shizuoka prefecture, about two hours from Yokosuka Naval Base, where he's stationed as a weapons officer aboard the guided-missile destroyer USS Benfold.
The incident resulted in the death that day of a woman, 85, and her son-in-law, 54, who died in a hospital on June 11. A second woman, 53, the daughter and wife of the victims, suffered bruises to her knees and elbows.
Prior to the sentencing, Alkonis in court thanked the victims' family for agreeing to an unspecified monetary settlement in a separate civil case against him and then apologized for his actions.
"I am so sorry for all the pain and suffering I caused because of this accident," he said.
Alkonis testified on Aug. 24 that he lost consciousness while driving due to a case of acute mountain sickness, a common set of symptoms that occur with a trip to high altitude. The day of the accident, Alkonis, his wife and their three children had taken a trip to Mount Fuji.
However, the court ultimately rejected Alkonis' defense, according to Shizuoka District Judge Kumiko Maesawa. She pointed to Alkonis' own testimony from the first hearing, in which he said he had felt fine when he left Mount Fuji.
That statement is inconsistent with altitude sickness, Maesawa said, the symptoms of which typically improve as a person descends to lower altitude.
"It is unlikely that the defendant suffered serious altitude sickness at the time," she said.
Even if Alkonis had suffered altitude sickness, the judge said, it's unlikely he would have suddenly fallen asleep or become unable to drive.
Alkonis and his wife, Brittany Alkonis, immediately began to cry when Maesawa announced the three-year sentence.
In finding Alkonis guilty, Maesawa said she also considered inconsistent statements he made between the time of the incident and the trial, and Alkonis' failure of a "very basic and important duty" to stop driving once he felt drowsy.
"I'm so sorry, I'm so sorry," Alkonis repeated as the sentencing ended.
Alkonis and his defense have 14 days to appeal his conviction to a three-judge panel at the Tokyo High Court.
---
---
---