Japanese police recommend US sailor be charged with negligent driving resulting in death and injury
by
Hana Kusumoto and Seth Robson
Stars and Stripes
June 2, 2021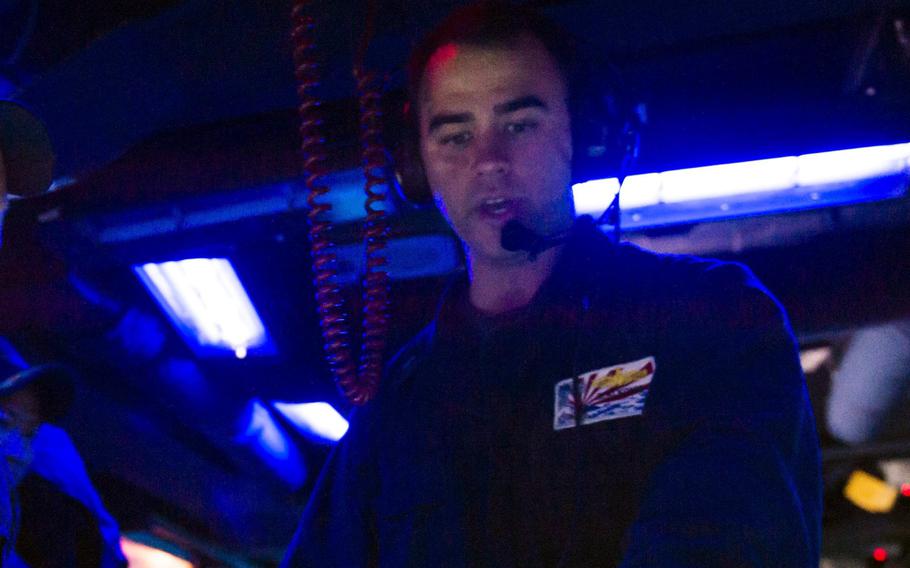 TOKYO – Japanese police have recommended a U.S. sailor assigned to Yokosuka Naval Base be charged with negligent driving resulting in death and injury following an accident Saturday that took the life of an elderly woman and injured two other people.
Lt. Ridge Hannemann Alkonis, 33, was arrested at 2:40 p.m. Saturday after police said he crashed his car into vehicles and pedestrians in Fujinomiya, a city in Shizuoka prefecture that's about two hours from the naval base.
Police allege Alkonis drove into a restaurant parking lot in the city's Yamamiya district around 1 p.m. and struck five vacant vehicles and three pedestrians. Alkonis since April has served as a weapons officer aboard the destroyer USS Benfold, according to his LinkedIn profile.
One of the pedestrians, an 85-year-old woman, died that afternoon at a nearby hospital. Also hospitalized were a man, 54, with serious injuries, and a woman, 53, with minor injuries.
Alkonis was not injured, according to police.
Police upgraded the charges they recommended against Alkonis following the woman's death and sent the case to prosecutors on Monday, a Fujinomiya police spokesman said Tuesday.
A spokesman for the Shizuoka District Public Prosecutors Office in Numazu confirmed that the case was referred to them and that Alkonis remained in custody. Prosecutors, not police, decide formal charges under Japan's criminal justice system.
Some government officials in Japan customarily speak to the media on condition of anonymity.
Naval Forces Japan spokeswoman Cmdr. Katie Cerezo on Sunday said the Navy was cooperating with Japanese police. She declined to provide additional information about the case on Wednesday.
In October, Alkonis won first prize in an essay contest about mine warfare that was sponsored by the Mine Warfare Association and published in Proceedings, the U.S. Naval Institute's monthly magazine.
Twitter: @SethRobson1
Twitter: @HanaKusumoto