Navy officer reports to Japanese prison as US lawmakers pledge support for his release
By
Stars and Stripes
July 26, 2022
---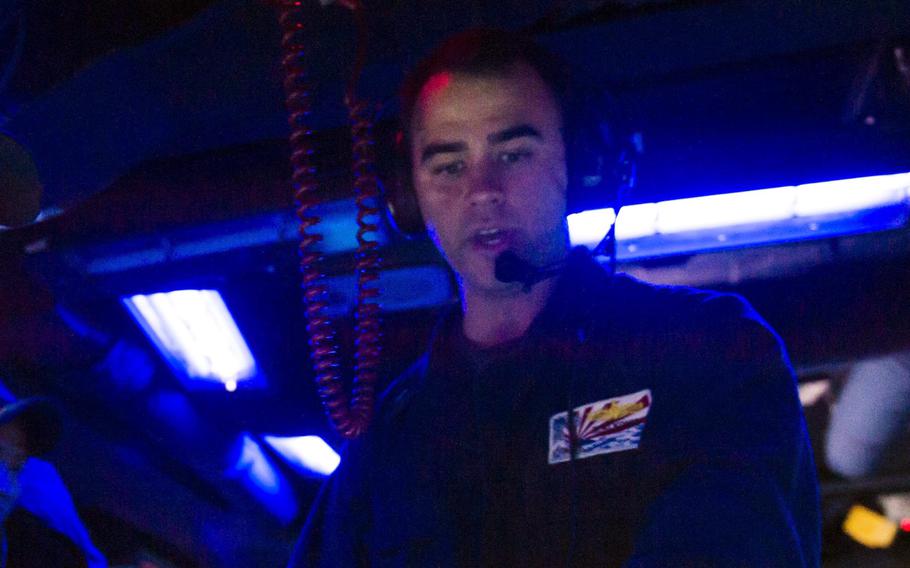 YOKOSUKA NAVAL BASE, Japan — Navy Lt. Ridge Alkonis, convicted of causing the deaths of two Japanese citizens last year, reported to a Japanese prison on Monday after U.S politicians voiced disappointment with Japan's handling of his case. 
Alkonis, 34, of Claremont, Calif., was sentenced in October in Shizuoka District Court to three years in prison for negligent driving causing death. The Tokyo High Court rejected his appeal on July 13.
U.S. Naval Forces Japan spokeswoman Cmdr. Katie Cerezo confirmed by phone Tuesday that Alkonis reported to the Tokyo High Court's Prosecutors Office on Monday and was taken to the Tokyo Detention House for processing. She said he'll ultimately be placed in Yokosuka Prison, although the timeline for that is unclear, she said.
Alkonis was driving on May 29, 2021, in Shizuoka prefecture, about two hours from Yokosuka, when his car plowed into pedestrians and parked cars outside a soba restaurant in Fujinomiya. Alkonis, his wife and three children were returning from a hike on Mount Fuji.
A woman, 85, died that day; her son-in-law, 54, died June 11, 2021. A second woman, 53, the daughter and wife of the other victims, was injured.
Alkonis testified Aug. 24 that a case of mountain, or altitude, sickness caused him to lose consciousness behind the wheel. The Shizuoka District Court and the Tokyo High Court dismissed his argument. 
After the high court ruled on July 13, U.S. politicians called on President Joe Biden to intervene in Alkonis' case, pleas also made by Alkonis' wife, Brittany, and his parents on U.S. network TV.
Rep. Mike Levin, D-Calif., on July 22 said the trial process was unfair to Alkonis and violated the status of forces agreement that outlines the rights and responsibilities of individuals affiliated with the U.S. military in Japan.  Congresswoman Aumua Amata Radewagen, a Republican from Samoa, speaking in the House on July 20, said she was "deeply troubled by Japan's mistreatment" of Alkonis and called on Biden and U.S. Ambassador to Japan Rahm Emanuel to act. 
"These abuses are hurting the U.S.-Japan alliance exactly when it needs to be strengthened," she said. 
On Monday, Sen. Mike Lee, R-Utah, tweeted that the U.S. should consider reevaluating SOFA if "this is how Japan is going to treat U.S. military personnel who have done NOTHING wrong …"
The veteran advocacy group Pipe Hitters Foundation alleges that Japanese authorities violated SOFA by unjustly holding Alkonis for 26 days after the crash, according to its website. It also alleged SOFA was violated because "the judge's ruling was not made immediately." The foundation was not immediately available for clarification.
Under SOFA, Japanese authorities are required to release offenders to U.S. custody unless they can deem "adequate cause and necessity" to continue holding them. The foundation also alleged Alkonis' human rights were violated by lengthy interrogations and sleep deprivation. 
Aspects of Alkonis' treatment, however, appear to be the norm in Japan. Suspects in criminal cases may be held up to 23 days without an opportunity to post a release bond until they're formally charged, according to information from the Japan Federation of Bar Associations. 
Alkonis was formally charged within 23 days of the incident. Police may question a suspect in a closed interrogation room for a long time over many sessions without an attorney present, according to the bar associations. Video or audio recordings are required only in cases to be tried by juries, also called lay judges, and those in which public prosecutors make their own investigations.
---
---
---
---