Army faces a shortfall of up to 28,000 soldiers this year, service vice chief tells House lawmakers
By
Stars and Stripes
July 19, 2022
---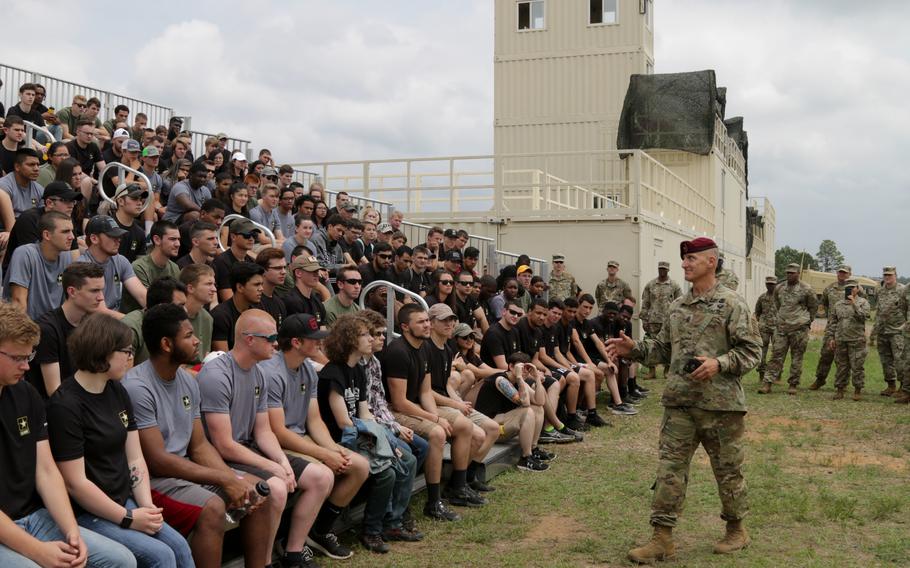 WASHINGTON — The Army will fail to meet its end strength goal by up to 28,000 soldiers this fiscal year, falling to a force of between 445,000 and 452,000 troops by Sept. 30, the service vice chief of staff told House lawmakers on Tuesday.
Gen. Joseph Martin acknowledged the projected force strength in testimony before a House Armed Services Committee subpanel but said the service will still aim to finish the fiscal year with 455,000 soldiers despite ongoing recruitment struggles.
"The question is whether or not we can achieve it," Martin said.
The Army had initially targeted an end strength of 473,000 soldiers for the fiscal year before reducing that goal by 12,000 troops in April. A House subcommittee overseeing military personnel received the new expected end strength estimates this week.
Rep. Jackie Speier, D-Calif., chairwoman of the subcommittee, described the numbers as "alarming" on Tuesday and said lawmakers need to hold a subsequent hearing to address the shortfall.
"It's pretty serious," she said. "If we need to make some changes to be able to attract more talent then we need to look more carefully at that."
Recruitment woes have hit all branches of the military this year but are particularly pronounced in the Army, the largest of the services.
Martin blamed the plunging numbers on "unprecedented challenges" stemming from the coronavirus pandemic and the booming labor market, pointing to stiff competition with private employers who are offering higher salaries and other incentives.
The percentage of Americans ages 17 to 24 who meet the physical and mental standards to serve without a waiver has fallen from 29% to 23% in recent years, Martin said. The propensity to serve — the share of eligible young adults who would consider joining the military — is even lower, he said.
"Recruiting motivated, fit and academically proficient men and women continues to be a challenge," Martin said.
The Army is attempting to broaden its appeal through multiple efforts, including modifying marketing strategy, providing enlistment bonuses and considering soldier location preferences, he said.
On June 23, the Army loosened its tattoo policy to make the enlistment process simpler for recruits with ink on their hands, behind their ears and on the backs of their necks. That same day, the service also announced it would drop its requirement for potential recruits to have a high school diploma or GED if they shipped out for basic training this fiscal year. The policy was reversed a week later.
"We are pursuing every approach to recruit talent," Martin said.
Gen. James McConville, the Army chief of staff, told senators in May that the active-duty Army should number between 540,000 and 550,000 soldiers.
---
---
---
---