Army watchdog to review the new soldier experience to curb early separations
By
Stars and Stripes
June 8, 2022
---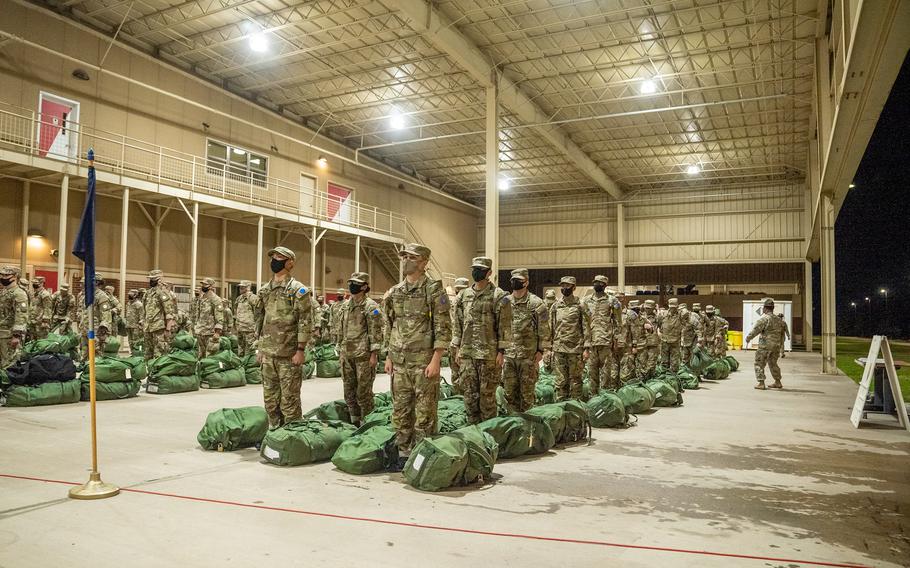 Investigators for the Army inspector general will spend the rest of the year reviewing the experience of the service's newest recruits and why some want to leave the military before their first enlistment ends.
Teams began visiting 38 bases in March to inspect the new soldier experience, from recruits arriving at basic training to troops shipping out to their first duty assignment, Army officials said Monday.
"The New Soldier Experience Inspection differs from any other inspections conducted because it is a comprehensive look at all the systems that support the civilian to military transition and our first-term soldiers," said Lt. Gen. Donna W. Martin, the Army's inspector general. "We really have to get their initial experience in our Army right."
Nearly 30% of soldiers leave the Army within their first 36 months, according to a 2020 RAND Corp. report titled "Predicting 36-Month Attrition in the U.S. Military." By comparison, the Marines lose about 18.5%, according to the same report. Data analyzed in the report came from fiscal years 2002 through 2013.
To prevent soldiers from dropping out of service, the report suggested the services "focus on recruits during their times of greatest risk," which for the Army begins to increase and outpace the other services at about the sixth month.
The inspection could take up to a year to complete, and it began at Fort Sill, Okla., according to the IG, an office meant to provide oversight and unbiased advice through inspections, assistance and training. Inspectors will interview leaders, trainers, basic-training facilitators, medical personnel and soldiers to review processes and program associated with the new soldier experience.
Inspectors will also interview those trainees who leave the Army before completing their initial enlistments.
"First-term soldiers are the Army's most vulnerable population, and their integration and retention are crucial to the strength of our Army," said Heather Hagan, an Army spokeswoman. "New soldiers encounter various Army programs and systems during their transition from civilian volunteers into professional soldiers. The New Soldier Experience Inspection is approaching this as an inspection of a system of systems that, together, define the new soldier's experience."
Losing soldiers during their first term of enlistment also costs the Army the money it invested in recruiting and training the soldier — about $500 million a year, according to the RAND report.
"It is, therefore, important to every service to be able to identify and recruit individuals who are most likely to serve the entirety of their first term while also being of sufficiently high quality to ensure the readiness of an all-volunteer force," the report said.
However, during the coronavirus pandemic, which began about a year after RAND conducted its research, the Army's basic training attrition rate dropped from 10.8% in fiscal year 2020 to 5.5% in 2021.
The Army credited its improved graduation rates to improving the ratio of drill instructors to trainees during basic training.
During the inspection, IG teams will examine all aspects of training, mentoring, caring for and integrating first-term soldiers, Hagan said. That will include Military Entrance Processing Stations, in-processing, training, advanced training, sponsorship, transition to permanent duty stations, command climate issues, quality of life, medical care, housing and administrative matters.
Since beginning the inspection in March, teams have visited Fort Carson, Colo.; Fort Riley, Kan.; Fort Polk, La.; Fort Rucker, Ala.; Fort Gordon, Fort Benning and Fort Stewart, Ga.; Joint Base San Antonio and Fort Hood, Texas; Fort Leonard Wood, Mo.; Joint Base Lewis-McChord, Wash., and Fort Lee, Va.
Three of the remaining stops will be at overseas locations, Hagan said.
During the visits, the IG teams observe training events, administer surveys and hold sensing sessions and town hall meetings. They also tour various facilities such as housing, barracks, medical and food service at each visit.
Army Secretary Christine Wormuth approved the review in September, the Army said.
The inspection will last late into the year, with a final report following within a few months, according to the Army. Wormuth will use the finding to improve new soldiers' experiences, the Army said.
Stars and Stripes reporter Corey Dickstein contributed to this report.
---
---
---
---