Army relaxes tattoo policy, approves some hand, neck ink as it faces recruiting shortfall
By
Stars and Stripes
June 23, 2022
---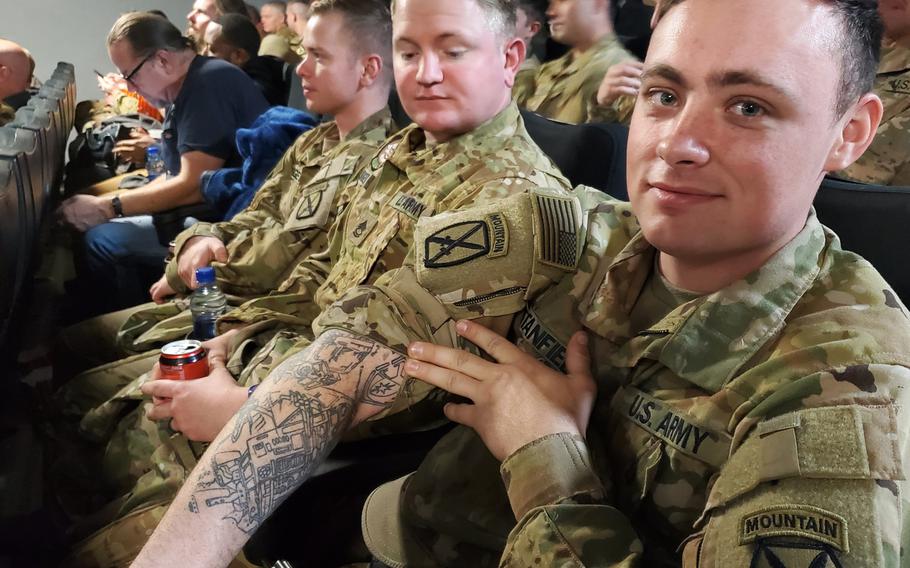 Soldiers can now sport ink on their hands, behind their ears and on the back of their necks, according to an updated Army tattoo policy published Thursday aimed largely at helping recruiters avoid the lengthy waiver process to bring recruits with body art into the service.
Army officials said the new policy would better align the service with social norms on tattoos and make the enlistment process simpler for recruits with tattoos in some areas of their bodies that were previously banned. The updated policy was issued this week by Army Secretary Christine Wormuth and went into immediate effect for soldiers and incoming recruits.
"We always review policy to keep the Army as an open option to as many people as possible who want to serve," said Maj. Gen. Doug Stitt, the Army's director of military personnel management. "This directive makes sense for currently serving soldiers and allows a greater number of talented individuals the opportunity to serve now."
Then new policy allows soldiers to have one tattoo on each hand up to one inch in length in every direction. Soldiers can now sport tattoos up to two-inches long on the back of their necks, and they can wear ink up to one-inch long behind each ear. The new policy allows soldiers to have an unlimited number of tattoos between their fingers "as long as they are not visible when the fingers are closed."
The policy still bans tattoos from soldiers' faces and the front of their necks, and it limits ring tattoos on fingers to one per hand.
The policy change comes as the Army — and the other military services — face one of the most difficult recruiting environments in years, Pentagon officials have said in recent months. Army Lt. Gen. Gary Brito, the service's personnel chief, told House lawmakers last month that the service had only reached about 23% of is active-duty recruiting goal through the first five months of fiscal 2022. Nonetheless, Brito said he believed the service would make its recruiting goal.
As part of its efforts, the Army announced this month that it would provide $35,000 bonuses to new recruits willing to sign a four-year contract and ship out to boot camp within 45 days.
The Army's Recruiting Command and Training and Doctrine Command, which oversees new recruits, recommended the policy change as part of its efforts to send recruits more quickly to basic training. Army recruiters had filed some 650 tattoo regulation waivers between October and May, according to the service. Those waivers take at least two weeks to be approved.
Not only does that waiver process slow recruits from entering the service, but it could also drive them toward other services, such as the Navy and Marine Corps, that have less restrictive tattoo policies, said Army Sgt. Maj. Ashleigh Sykes, the service's top enlisted leader for uniform policy.
"Some may change their mind or go to a different service," she said. "Or they just didn't want to wait anymore."
Soldiers with waivers for tattoos banned under the new policy will remain covered by their previous exemptions, according to the policy. Soldiers can apply for waivers for tattoos that violate the new policy, including facial tattoos, "for religious purposes," according to the new directive.
---
---
---
---