Senate passes the PACT Act to provide more help to veterans exposed to burn pits and other toxins
By
Stars and Stripes
June 16, 2022
---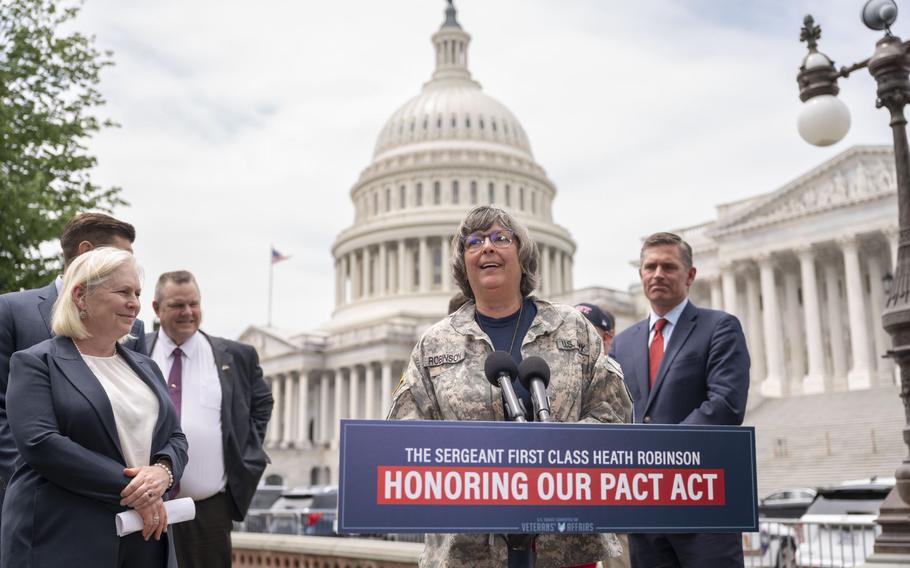 WASHINGTON — The Senate on Thursday passed historic legislation that would expand eligibility for health care and benefits to veterans exposed to burn pits and other toxins.
The bill, which is called the Sergeant First Class Heath Robinson Honoring Our Promise to Address Comprehensive Toxics Act of 2022, or PACT Act, passed by a vote of 84 to 14. Sens. Steve Daines, R-Mont., and Roger Wicker, R-Miss., did not vote.
Daines was unable to vote due to the flood crisis in Montana. The senator is in his home state assessing the damage with federal emergency officials. Wicker was unable to vote because he tested positive for the coronavirus.
The legislation will now return to the House for that chamber's approval.
"For hundreds of thousands of veterans, generations of our all-volunteer military and their families, this bill is putting us on a path to finally recognizing the toxic wounds of war," Senate Veterans' Affairs Committee Chairman Jon Tester, D-Mont., said during a news conference amid the vote. "This bill is the legislation we envisioned when we set out to right the wrongs to our toxic-exposed veterans, and I'm grateful to ranking [Republican] member [of Senate Veterans' Affairs Committee] Jerry Moran, our committee colleagues, veterans service organizations, veterans' advocates, and the Biden administration for making this possible. Our men and women in uniform held up their end of the bargain, and I'm proud we're holding up ours."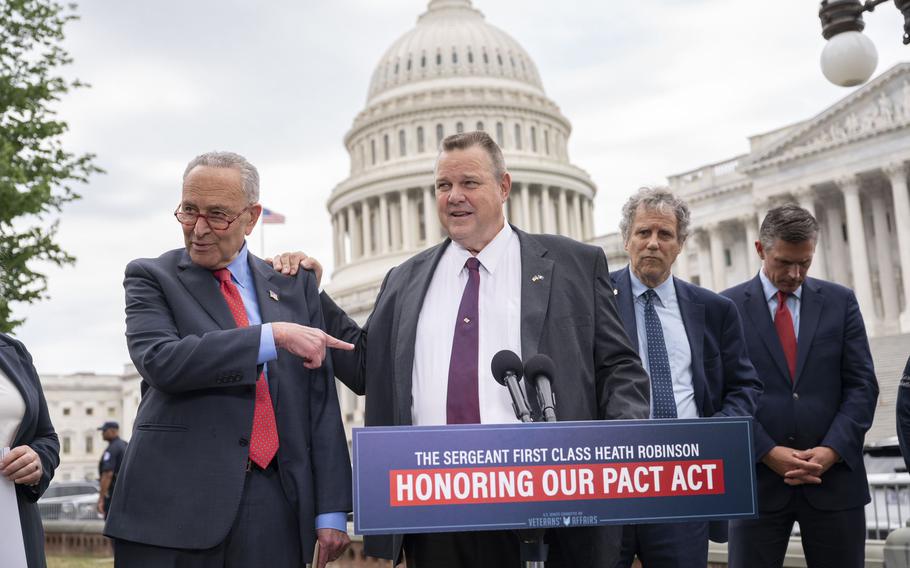 Tester and Moran introduced the PACT Act in May. The senators called the legislation historic and they said the bill will provide long overdue health care services and benefits for all veterans exposed to toxins.
The PACT Act seeks to provide an easy path to health care and benefits for veterans who served near open-air burn pits, which were used throughout the 1990s and the post-9/11 wars to burn garbage, jet fuel and other materials. Veterans diagnosed with cancer, respiratory issues and lung disease at young ages have blamed exposure to the toxic fumes from these pits, but the Department of Veterans Affairs contended for years that there wasn't sufficient evidence to support their claims.
The bill also would improve the VA's workforce and claims processing to speed up efforts to meet the needs of veterans and establish 31 new VA health care facilities in 19 states. Additionally, the bill would expand health care eligibility to post-9/11 combat veterans and add 23 conditions related to burn pits and other toxic exposures to the VA's list of service presumptions. It will also expand the list of presumptions related to Agent Orange exposure to include Thailand, Cambodia, Laos, Guam, American Samoa and Johnston Atoll, strengthen federal research on toxic exposure, and improve the VA's resources and training.
"As a nation, we recognize the physical, obvious wounds of war," said Moran, who represents Kansas. "We are improving our ability to recognize and treat the mental wounds of war, though we still have a long way to go. No longer can we ignore the wounds of war from toxic exposures. Veterans suffering from toxic exposures have been relying on a broken system cobbled together through decades of patchwork fixes that often leaves them without health care or benefits."
In March, senators began negotiating a measure aimed at expanding eligibility for health care and benefits to millions of veterans exposed to burn pits and other toxins. The Senate Committee on Veterans' Affairs discussed the PACT Act, which passed through the House in early March, but the legislation was at odds with a Senate strategy to address the problem of toxic exposure health care.
House lawmakers proposed a major reform bill, but senators opted for a more incremental approach to the issue. In February, the Senate passed the Health Care for Burn Pit Veterans Act, which would expand health care to veterans but doesn't address other benefits. The sponsors of the bill insisted the measure is just a first step in a three-phase approach that would add more benefits incrementally.
The House version of the PACT Act would increase spending by about $318 billion during the next decade, according to estimates from the Congressional Budget Office.
"A few months ago, the House of Representatives took the historic first step of passing my Honoring Our PACT Act, and moved closer to delivering the most comprehensive legislation to date to treat toxic exposure as a cost of war," said Rep. Mark Takano, D-Calif., chairman of the House Committee on Veterans' Affairs. "I am thrilled that the Senate has now done its part by passing my bill with some additional revisions to benefit veterans."
The bill is named for Sgt. 1st Class Heath Robinson, who was diagnosed with a rare autoimmune disorder and lung cancer after serving with the Army National Guard in Kosovo and Iraq, where he experienced prolonged exposure to burn pits. He died in 2020.
Robinson's mother-in-law, Susan Zeier, spoke Thursday at the news conference that also featured veteran advocates and some senators. Zeier said she began wearing Robinson's Army jacket after Rosie Torres, co-founder of the advocacy group Burn Pits 360, said family members of the 9/11 first responders gained momentum pushing for legislation to help them after they began wearing firefighter and police jackets.
"I've been wearing this since about summer 2018 and today, with this bill passing the Senate, I think it's time to retire it," she said. "I no longer have to carry Heath on my shoulders, while I'm advocating for all the other veterans out there who are sick and dying. And we aren't concerned that this bill isn't going to pass the House because we know it will, so I'm considering it done today."
Comedian Jon Stewart, who has worked as an advocate for veterans on this issue, said the real work will begin once the bill becomes law.
"This doesn't solve anybody's problem, it just removes the burden from their fight that never should have been there in the first place," he said.
Stewart turned to Zeier and praised her.
"Advocating for a cause is a very lovely thing to do," he said. "But to do that in your grief when you know that it's not going to help your loved one, but that's not what matters to you, it's that no one goes through what you went through, and that's just the epitome of grace."
---
---
---
---