Vets groups, advocates rally in DC to urge the Senate to pass legislation to help veterans exposed to toxins
By
Stars and Stripes
May 28, 2022
---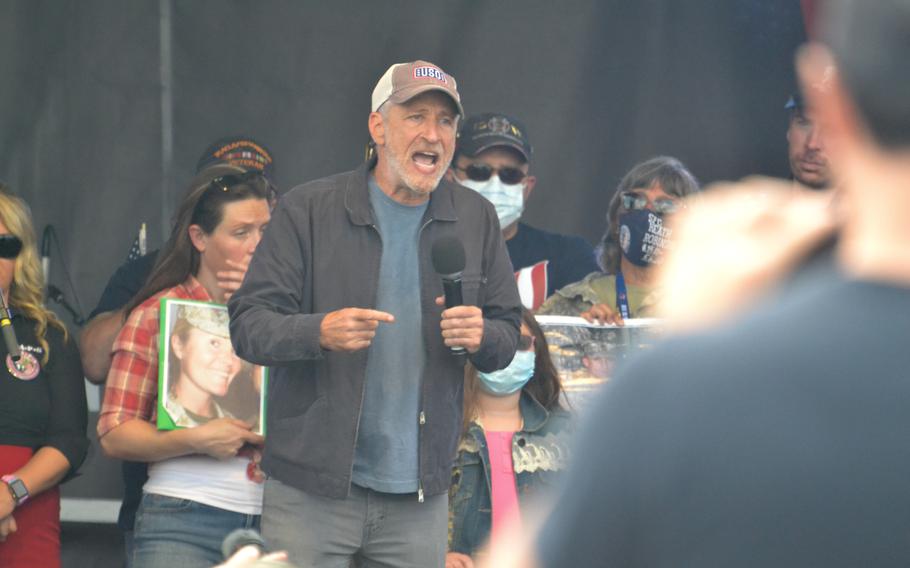 WASHINGTON — Comedian Jon Stewart joined veterans service organizations on Saturday urging lawmakers to pass a bill that would expand eligibility for health care and benefits to all veterans exposed to burn pits and other toxins.
"I think people think veterans … go fight in our wars and you get health care for life, and it's just not the case," Stewart told a couple of hundred people gathered at RFK Stadium for a rally to push for a Senate vote on the bill. "And you come home, and you've got all these issues, and we talk a good game about supporting the troops but if you're not there when they actually need support, then it's just empty."
Earlier this month, Sens. Jon Tester, D-Mont., chairman of the Senate Committee on Veterans' Affairs, and Jerry Moran of Kansas, the ranking Republican on the committee, introduced the Sergeant First Class Heath Robinson Honoring Our Promise to Address Comprehensive Toxics Act of 2022, also known as the PACT Act. The senators called the legislation historic and they said the bill will provide long overdue health care services and benefits for all veterans exposed to toxins.
The senators on Tuesday released the text of the PACT Act, which seeks to provide an easy path to health care and benefits for veterans who served near open-air burn pits, which were used throughout the 1990s and the post-9/11 wars to burn garbage, jet fuel and other materials. Veterans diagnosed with cancer, respiratory issues and lung disease at young ages have blamed exposure to the toxic fumes from these pits, but the Department of Veterans Affairs contended for years that there wasn't sufficient evidence to support their claims.
The bill also would improve the VA's workforce and claims processing to speed up efforts to meet the needs of veterans and establish 31 new VA health care facilities in 19 states. Additionally, the bill would expand health care eligibility to post-9/11 combat veterans and add 23 conditions related to burn pits and other toxic exposures to the VA's list of service presumptions. It will also expand the list of presumptions related to Agent Orange exposure to include Thailand, Cambodia, Laos, Guam, American Samoa and Johnston Atoll, strengthen federal research on toxic exposure, and improve the VA's resources and training.
The bill is named for Sgt. 1st Class Heath Robinson, who was diagnosed with a rare autoimmune disorder and lung cancer after serving with the Army National Guard in Kosovo and Iraq, where he experienced prolonged exposure to burn pits. He died in 2020.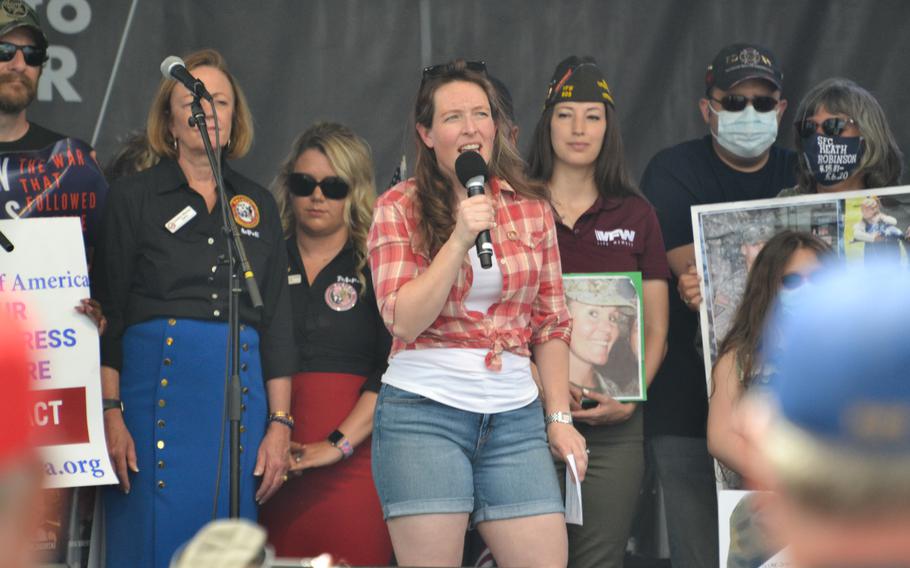 The PACT Act passed through the House in early March, and senators began negotiating the sweeping measure. House lawmakers were pushing the major reform bill, but senators were opting for a slower, more staggered strategy to address the problem of toxic exposure health care.
In February, the Senate passed the Health Care for Burn Pit Veterans Act, which would expand health care to veterans but didn't address other benefits. The sponsors of the bill insisted the measure is just a first step in a three-phase approach that would add more benefits incrementally.
The House PACT Act would increase spending by about $318 billion during the next decade, according to estimates from the Congressional Budget Office. The Senate's initial bill came with a price tag of about $1 billion.
Matthew "Fritz" Mihelcic, commander in chief of the Veterans of Foreign Wars, told the crowd gathered Saturday to use their cell phones and scan the QR code on display at tents and on the big screen at the event.
"That will send a message to your senators, your representatives," he said. "It'll take you 60 seconds to do that. If everybody here does that today … We can break the internet, we can send a message to everyone in Congress telling them we mean business."
Marine Corps veteran Mindy Beyer spoke at the rally about serving with her friend, another Marine veteran Kate Hendricks Thomas, an outspoken advocate of the legislation and a public health official.
Thomas fought for years to prove her cancer was the result of her exposure to toxic burn pits before the VA recognized the link. At the same time, she advocated for the process to change, so other veterans didn't face the same challenges.
Thomas died in April at the age of 42.
"This is our fight now," Beyer said. "We must all stand this watch. So yes, call your congressman. And then call your mom and your brother and tell your doctors and your nurses and tell your neighbor and your pastor and the grocery store cashier. Tell everyone about the sacrifice that Kate made, that many have made. That several of us here today may have already made, and we don't even know it yet."
Beyer said this is not a VA problem, but a Congress problem.
"I think that once the VA is equipped with the resources and money that they need, that they – especially under [VA Secretary Denis] McDonough — are going to figure it out. I've seen really good things and I'm very optimistic at what the VA can do when given the right resources."
McDonough said Wednesday at the VA's monthly news conference that the agency's budget for fiscal year 2023 did not envision the PACT Act being enacted. Nevertheless, he said it did envision a series of important modernization steps, such as the 2,094 additional VA employees.
McDonough said the agency will go back to Congress throughout the year to seek additional funding.
Stewart said at the rally that the bill needed six more senators to agree to vote for it. He recounted the story from Greek mythology of Sisyphus, a man condemned to push a boulder up a steep mountain nightly, though he never manages to get the boulder over the top. Instead, the boulder is found at the bottom of the mountain, and Sisyphus must start over again.
"Rosie and Leroy Torres [founders of the nonprofit Burn Pits 360] started at the bottom of the hill with a boulder, and [Iraq and Afghanistan Veterans of America] jumped in and says, 'Let me put a hand on it,'" Stewart told the crowd. "And Wounded Warrior [Project] jumped in and said, 'Let me put a hand on it.' And VFW, 'Let me put a hand on it.' American Legion, and every organization that you see here today, and God knows we all stand on the shoulders of the Vietnam veterans because they showed the way. They knew what Agent Orange did, and they wouldn't allow this government to ignore it. And it took them decades. And the Persian Gulf War veterans were on their shoulders, and they know what this means. And they put their hands on the boulder and today we need everyone to put their hands on that boulder and put it over that mountain."
On Thursday, Tester urged senators to pass the PACT Act.
"Now is the time, folks," Tester said on the Senate floor. "We're going to get back from Memorial Day, we will all be at Memorial Day events, and we will celebrate the folks who gave the ultimate sacrifice. When we come back, we need to vote and celebrate those who have survived but yet have the impacts of toxic exposure."
The Senate returns to session June 6.
---
---
---
---