Senators, vet advocates call on lawmakers to pass burn pits bill
By
Stars and Stripes
June 7, 2022
---
WASHINGTON — Lawmakers and veteran advocates were joined by comedian Jon Stewart at a news conference Tuesday to call on the Senate to pass legislation that would expand eligibility for health care and benefits to all veterans exposed to burn pits and other toxins.
"The cost of this bill is about $278 billion over 10 years, but this is also about doing right by the people who served this country," said Sen. Jon Tester, D-Mont., chairman of the Senate Committee on Veterans' Affairs. "We have an all-volunteer military in this country, and if we're going to send a message to the next generation of soldiers that we have out there, this bill has to pass the United States Senate."
In May, Tester and Sen. Jerry Moran of Kansas, the ranking Republican on the committee, introduced the Sergeant First Class Heath Robinson Honoring Our Promise to Address Comprehensive Toxics Act of 2022, also known as the PACT Act. The senators have called the legislation historic and they said the bill will provide long overdue health care services and benefits for all veterans exposed to toxins.
The PACT Act seeks to provide an easy path to health care and benefits for veterans who served near open-air burn pits, which were used throughout the 1990s and the post-9/11 wars to burn garbage, jet fuel and other materials. Veterans diagnosed with cancer, respiratory issues and lung disease at young ages have blamed exposure to the toxic fumes from these pits, but the Department of Veterans Affairs contended for years that there wasn't sufficient evidence to support their claims.
Moran said he expects the PACT Act to receive support in the Senate, but he added he did not know the exact number of votes for the bill to pass.
"I would remind us that this bill passed the Senate Committee on Veterans' Affairs unanimously with an agreement that Sen. Tester and I worked out the differences," Moran said. "So every Republican member, every Democratic member of the committee, has already voted yes for this, at least the broad outlines of a bill that we've now resolved, so I expect it to be broadly supported."
The bill also would improve the VA's workforce and claims processing to speed up efforts to meet the needs of veterans and establish 31 new VA health care facilities in 19 states. Additionally, the bill would expand health care eligibility to post-9/11 combat veterans and add 23 conditions related to burn pits and other toxic exposures to the VA's list of service presumptions. It will also expand the list of presumptions related to Agent Orange exposure to include Thailand, Cambodia, Laos, Guam, American Samoa and Johnston Atoll, strengthen federal research on toxic exposure, and improve the VA's resources and training.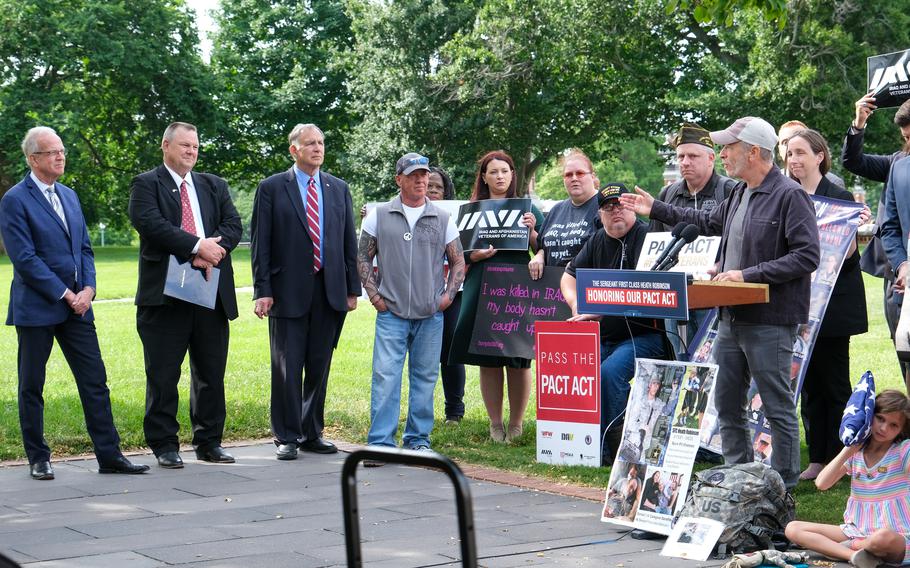 Kristina Keenan, associate legislative director for the Veterans of Foreign Wars, said veterans service organizations such as the Iraq and Afghanistan Veterans of America, Wounded Warrior Project, American Legion, Military Officers Association of America, Student Veterans of America, and Burn Pits 360 visited every Senate office on Monday to push for the PACT Act. Still, Kennan said some senators asked what the PACT Act will cost.
"I asked, 'What is the cost of taking care of sick veterans, veterans who risked their lives defending our country?'" Keenan said. "While it's true that the cost estimate for the amended bill is lower than the House-passed bill, truly, how can anyone ask about the cost of a veteran's life? This is a cost of war."
In March, senators began negotiating a sweeping measure aimed at expanding eligibility for health care and benefits to millions of veterans exposed to burn pits and other toxins. The Senate Committee on Veterans' Affairs discussed the PACT Act, which passed through the House in early March but was at odds with a Senate strategy to address the problem of toxic exposure health care.
House lawmakers proposed a major reform bill, but senators opted for a more incremental approach to the issue. In February, the Senate passed the Health Care for Burn Pit Veterans Act, which would expand health care to veterans but doesn't address other benefits. The sponsors of the bill insisted the measure is just a first step in a three-phase approach that would add more benefits incrementally.
The House PACT Act would increase spending by about $318 billion during the next decade, according to estimates from the Congressional Budget Office.
The bill is named for Sgt. 1st Class Heath Robinson, who was diagnosed with a rare autoimmune disorder and lung cancer after serving with the Army National Guard in Kosovo and Iraq, where he experienced prolonged exposure to burn pits. He died in 2020.
Robinson's mother-in-law, Susan Zeier, spoke Tuesday about caring for the late veteran. Zeier said caring for Robinson became an around-the-clock effort, and she moved in with her daughter Danielle, Robinson's wife, to help.
"I'm here today fulfilling a promise I made to my granddaughter's daddy," Zeier said. "He begged me to continue telling his story in order to have Congress pass into law presumptive benefits, which would stop the delays and denials for thousands of burn pit veterans, many of whom you see standing here today."
Stewart said he was honored to see the various veteran service organization unite and push for the bill.
"They joined together in the manner in which they actually served this country," he said. "They took the lessons of their service, and they unified towards one common goal and they became unstoppable."
---
---
---
---