Senators on VA committee agree on phased approach to help veterans exposed to burn pits
By
Stars and Stripes
February 1, 2022
---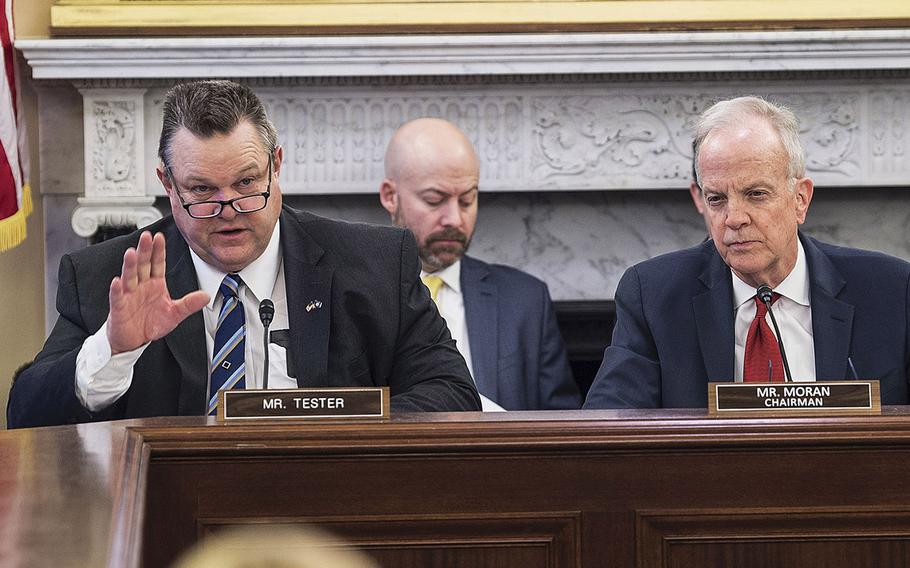 WASHINGTON — Senators reached an agreement on a narrowly focused bill that aims to provide health care to veterans suffering the effects of exposure to toxic burn pits, lawmakers said Tuesday.
Two dozen bills were introduced to tackle the issue last year creating what leaders of the Senate and House veterans affairs committees labeled a "historical opportunity" to secure health care and benefits for veterans exposed to burn pits, many of whom have been diagnosed with cancers, respiratory issues and other conditions. While the House is working on one comprehensive bill to tackle the issue, the Senate is taking a phased approach, lawmakers announced.
Sens. Jon Tester, D-Mont., and Jerry Moran, R-Kan., the leaders of the Senate Veterans' Affairs Committee, unveiled a bill Tuesday that they described as a first step in a three-phase process.
"Over the past few months, I've worked closely with Senator Moran on a strategy that will get us one step closer to doing right by toxic-exposed veterans, a solution that … can garner enough bipartisan support to get all the way to the president's desk," Tester said. "To accomplish that, we've broken our work into three critical steps. Phase one is to provide greater access to health care."
However, some advocates criticized the plan as not going far enough to help veterans. John Feal, who is known for his advocacy on behalf of 9/11 responders but has recently turned his attention toward helping veterans exposed to burn pits, blasted Moran and Tester for "putting a Band-Aid on a[n] open, sucking chest wound."
The Senate's bill, titled the Health Care for Burn Pit Veterans Act, would offer access to Department of Veterans Affairs health care to every combat veteran who served after November 1998 with a discharge date after Sept. 11, 2001.
Veterans now can receive health care for up to five years after their discharge for any condition related to service in Iraq and Afghanistan. The Health Care for Burn Pit Veteran Act would extend that period to 10 years.
The goal of those changes is to close gaps in eligibility criteria that prevents about 1 million post-9/11 veterans from accessing VA care, Tester's office said. In addition, the legislation would boost research into the effects of toxic exposure and increase training on the subject for VA employees.
The bill comes with a price tag of about $1 billion, Tester said.
The Senate Veterans' Affairs Committee is scheduled to vote on the bill Wednesday afternoon. Tester and Moran plan to make more announcements in coming weeks about the second and third phases of the plan, Tester said.
Besides health care, they want to provide disability benefits to veterans exposed to burn pits and establish a new process for the VA to determine which conditions to place on its presumptive list. Conditions on the list require less evidence to be approved for benefits.
"I made a commitment … that I would take this to the floor when we had an agreement," Tester said. "We have an agreement on this phase. We're taking it to the floor, and we're going to get it done and passed. We hope the House will follow our lead."
The House Committee on Veterans' Affairs has been working on a major reform bill, the Promise to Address Comprehensive Toxics Act, which would overhaul the VA's process of handling claims of toxic exposure and significantly increase payouts to veterans who served near burn pits.
The House bill would increase spending by more than $281 billion during the next decade because of the expanded eligibility for disability compensation, according to estimates from the Congressional Budget Office. Under the bill, about 1.5 million additional veterans would become eligible for VA health care, and 2 million veterans would qualify for disability compensation.
House Republicans suggested during a roundtable discussion last month that the bill be split into parts. Rep. Mike Bost, R-Ill., argued Congress should first focus on health care for veterans before expanding eligibility for benefits — a similar strategy to what the Senate announced Tuesday.
Bost faced pushback on the idea from House Democrats and veterans advocates. Comedian Jon Stewart, who recently became an advocate for veterans suffering from burn-pit exposure, said during the roundtable that splitting the bill was "unacceptable."
Feal, who also participated in the House roundtable, criticized the Senate's plan Tuesday.
"These men and women need better, deserve better, earned better, and you failed them!" he wrote on Twitter.
Moran defended a phased approach because he didn't want to pass legislation that would add conditions to the VA's presumptive list before the department had time to tackle a backlog of benefits claims.
The VA is experiencing a surge in backlogged claims because several conditions were added last year to the presumptive list. The VA considers claims as "backlogged" once they've been in the system for more than 125 days without being processed. As of January, there were about 260,000 backlogged claims, up from about 200,000 in October.
The VA is working to hire more than 2,000 new processors to handle the claims. Despite the backlog, VA Secretary Denis McDonough has encouraged veterans to continue submitting their claims and promised the VA would provide "timely access" to benefits.
"The issue that stands out to me is that … getting presumptions in place that add significant numbers of new veterans to the list before the VA gets its act together with regard to its capability of dealing with those cases disadvantages veterans who are already waiting in line," Moran said. "The value of this legislation is that we harm no other veteran."
Tester said there could be a conference with House lawmakers to come to an agreement on one bill. Some House lawmakers are looking to introduce a companion to the Senate's version, Moran said.
Tester emphasized his top priority as chairman of the Senate Veterans' Affairs Committee is to address toxic exposure in a comprehensive way.
"We're going to have to work with the House," he said. "Hopefully, they will understand that in order to get this done, we're going to have to take this step by step."
---
---
---
---