Senators urge DOD, VA to research link between burn pit exposure and breast cancer
by
Nikki Wentling
Stars and Stripes
October 29, 2021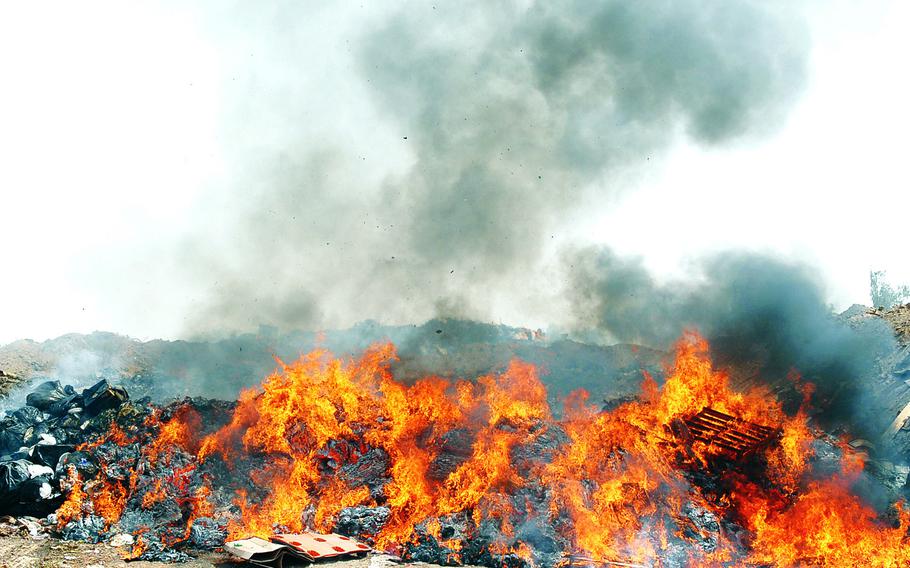 WASHINGTON — Two senators on Friday urged the Defense Department and Department of Veterans Affairs to put more focus on researching a possible link between breast cancer and exposure to toxic burn pits.
Female veterans and female military personnel are estimated to be 40% more likely to develop breast cancer than the general female population, according to a report from the National Institutes of Health.
Sens. Amy Klobuchar, D-Minn., and Joni Ernst, R-Iowa, sent a letter to the departments Friday, one of the last days of Breast Cancer Awareness Month. They asked the agencies to work together to discover the reasoning behind the increased risk.
"We must better understand and address the relationship between burn pit exposure and the health needs of our military," they wrote. "Currently, there is no published research that directly explains how exposure to burn pits has affected the health of women."
Throughout the 1990s and the post-9/11 wars, the military used open-air pits to burn garbage, jet fuel, paint, medical waste, plastics and other materials. Veterans diagnosed with cancer, respiratory issues and lung disease at young ages have blamed exposure to the toxic fumes.
There is no research directly linking burn pit exposure to instances of breast cancer, but the National Institutes of Health has said there is growing evidence that supports the idea of breast cancer being caused by environmental factors.
Through prior research, the Defense Department reported a majority of female service members diagnosed with breast cancer are under the age of 40.
In addition to urging the departments to conduct more research, Klobuchar and Ernst asked the agencies make breast cancer screenings more accessible to women younger than 40.
VA guidance now allows women to start yearly screenings for mammograms at age 40 at the earliest. The department encourages all women between ages 50 and 75 to undergo a mammogram once every two years — a policy that advocates contend is "outdated" given the potential linkage between breast cancer and toxic exposures.
"We are concerned that women under the age of 40 who are at greater risk for developing cancer may not be receiving the screenings they need," Klobuchar and Ernst wrote.
Sen. John Boozman, R-Ark., introduced legislation earlier this year that would extend access to mammograms for all female veterans who served in areas with burn pits or other toxic exposures, regardless of their age, symptoms or family history.
The bill, titled the Supporting Expanded Review for Veterans in Combat Environments, has not yet gone to the Senate floor for a vote.
Another bill was also introduced this year to extend mammography services to veterans in 15 states where the VA doesn't perform them.
The Mammography and Medical Options for Veterans Act gives the VA one year to start a pilot program for veterans who live in states where the department doesn't offer in-house mammography services. Those states are Washington, Oregon, Idaho, Montana, Wyoming, Utah, North Dakota, South Dakota, Kansas, Oklahoma, Louisiana, Mississippi, Vermont, New Hampshire and Maine.
---
---
---