One year later, Austin acknowledges lasting questions over Afghanistan war's end 
By
Stars and Stripes
August 30, 2022
---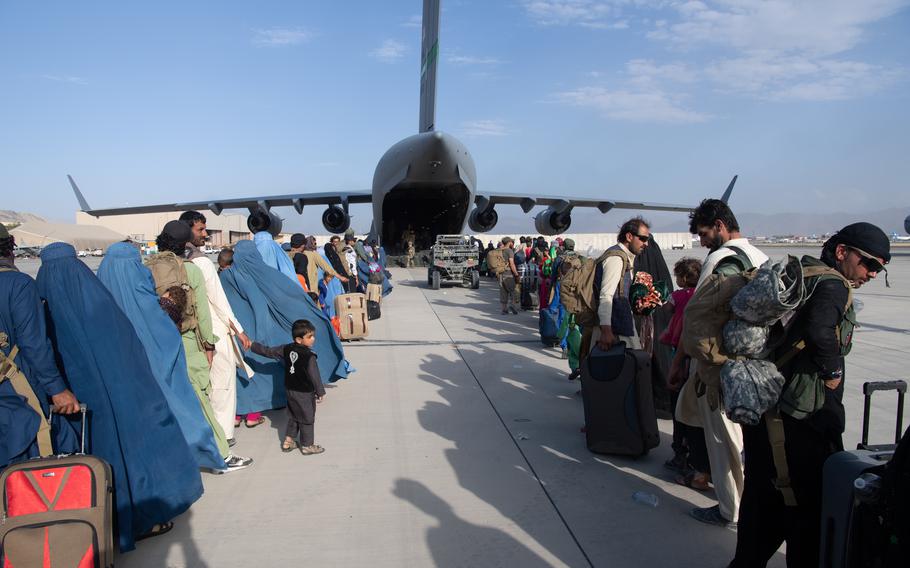 WASHINGTON — One year after the last American troops left Afghanistan, Defense Secretary Lloyd Austin acknowledged the questions some veterans still face about the chaotic evacuation and a failed war. 
"As our country looks back on two decades of combat in Afghanistan, I understand that many people have hard questions about the costs of the war and what their sacrifices meant," Austin said in a letter Tuesday to the Armed Forces. "These are important discussions, and I hope we will keep having them with thoughtfulness and respect."
The evacuation mission from Kabul ended Aug. 30, 2021, after the U.S. and its allies flew about 124,000 Afghans and Americans out of the country but left behind thousands of Afghans and American civilians who wanted to escape the victorious Taliban. Thirteen U.S. service members and at least 170 Afghans were killed in a suicide bombing at Kabul airport believed carried out by an offshoot of the Islamic State, or ISIS, four days before the mission was completed.
Over the past year, the Taliban have imposed a stern regime that has suppressed the rights of women and ethnic minorities. The return of the same government that harbored al-Qaida terrorists who plotted the 9/11 attacks was a severe blow to the morale of U.S. veterans, Austin acknowledged. 
"Last year, I said that although the Afghanistan war has ended, our gratitude to those who served never will," he said. "Today, I renew that pledge. To every man and woman who served in Afghanistan: This country will never forget what you did and what you gave." 
Austin said many service members "still bear the wounds of war — to body and to soul — and 2,461 brave heroes never made it home." 
Though the war is over, the threat from terrorist groups in Afghanistan remains, Austin said. On July 31, the U.S. killed al-Qaida leader Ayman al-Zawahri in a drone strike while he was standing on his balcony in Kabul. 
"We know this work is not done. We must keep a relentless focus on counterterrorism — and we are," he said. "In recent months, our military has successfully carried out operations against key ISIS leaders." 
Despite the successful attack that killed al-Zawahri, an Aug. 16 report by the Defense Department's Office of the Inspector General noted that America's abandonment of Afghanistan has increased the difficulty of fighting terrorists in the region. 
"The U.S. Government has been significantly challenged in its conduct of counterterrorism operations in Afghanistan due to the absence of a physical presence in-country, lack of partner forces, scant intelligence, and lack of access to nearby military bases," the Pentagon report said.  
To deal with the terrorist challenge, Austin said the U.S. government is now taking a "whole-of-government" approach "to address the root causes of violent extremism. 
"Preventing terrorist violence requires much more than military might," Austin said, without elaborating. "No one should doubt America's resolve to keep our people safe." 
---
---
---
---