'What did our service mean?' Taliban rout still evokes raw emotions for US veterans and Afghan refugees
By
Stars and Stripes
August 15, 2022
---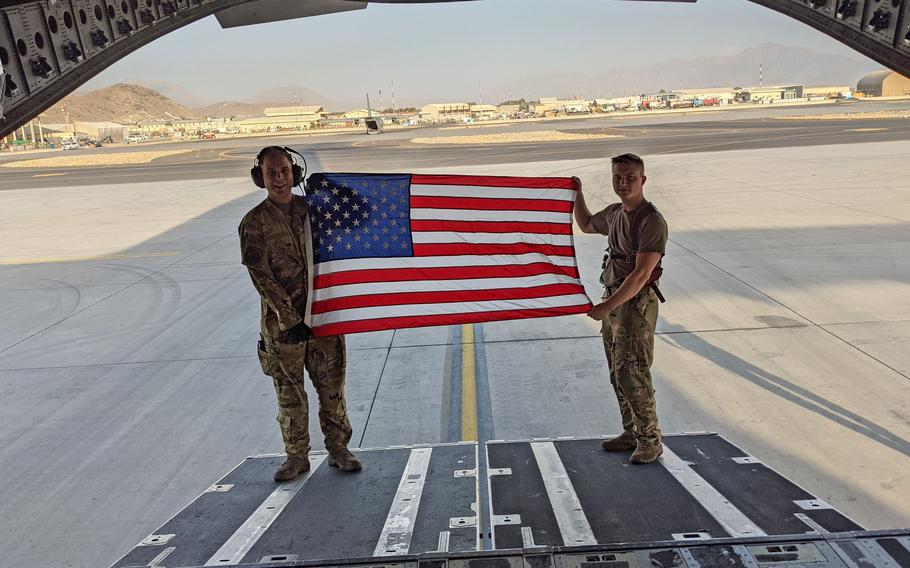 It's been a year since the Taliban swept into Kabul, and the images of terrified Afghans fleeing their homeland have largely faded from the memories of Americans who viewed the evacuation passively from afar.
But for many of the Americans who tried to help, sometimes without success, and the Afghans who braved the crowds and checkpoints for a chance at freedom, the last two weeks of August 2021 remain indelibly seared into their consciousness.
Stars and Stripes spoke to some of them over the past year, and here are their stories:
The refugees
"I'll never be able to forget those moments," said Laily Ghawsi, the wife of an Afghan interpreter and U.S. citizen who was stranded in Afghanistan when the country fell.
She recalled searching for a path through the thousands of people surrounding the airport in Kabul as Taliban fighters shot seemingly endless rounds into the sky.
The Taliban had signed a deal with the U.S. in 2020 that traded an American withdrawal for vague promises of peace talks and counterterrorism guarantees.
After that deal, province after province fell to a Taliban offensive. The Afghan forces that the U.S. had spent two decades training melted away.
President Ashraf Ghani fled Kabul on Aug. 15, sparking an exodus of people affiliated with the U.S. and its allies. Thousands overran Kabul's airport seeking a flight out.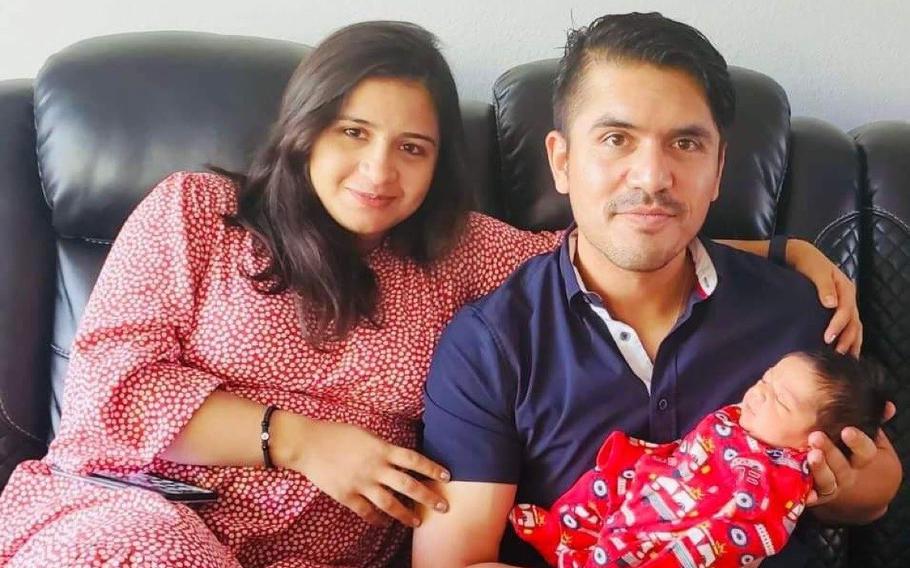 Laily Ghawsi, 22, navigated the chaos via the phone in her hand. That phone was her lifeline to her husband, Hekmat, on the other side of the world in Las Vegas as he tried to direct her to someone inside the airport who could snatch her from the crowd and bring her to safety.
Hekmat Ghawsi feared that his wife would be targeted or harassed because of his previous work as an interpreter for U.S. troops.
The 32-year-old had received a Special Immigrant Visa to come to the U.S. in 2014. He started work as an Uber driver in Las Vegas and married his wife in Kabul in 2020 with hopes of bringing her to the U.S.
During the evacuation, he reconnected with the American soldiers with whom he had worked in a bid to reunite with his wife.
On Aug. 19, 2021, Laily Ghawsi led a small group of women, all wives of interpreters, into the crowd at the airport. She recalled tear gas wafting through the air and difficulty breathing. Some people passed out or were trampled underneath the masses. She feared for her life.
She and the other interpreters' wives could not find a way into the airport that day.
Hekmat recalled a mixture of feelings: bravado, filling him with the desire to fly there and rescue her, like James Bond; helplessness at not knowing whether he could get her out of the crowd; and fear that he was sending her to the wrong gate, into greater danger.
To Hekmat and others trying to guide people into the airport, there seemed to be a chaotic lottery in which some with adequate paperwork were turned away, while others with no documentation or connection to the U.S. got in.
On Aug. 24, Laily Ghawsi and the other wives finally reached the inside of the airport, just a few days before U.S. troops left the country.
But as the military aircraft took off from Kabul, Laily Ghawsi realized that leaving Afghanistan was closing a chapter of her life and beginning another one in an unknown land. She wondered whether she would ever see her family again, and she felt guilt about leaving them behind.
"That was the quiet moment for me," she said. "That was the moment that I broke into tears, and I cried almost the whole flight."
The troops
American service members who had direct involvement in the evacuation said they are still affected by those events a year later.
Marines, soldiers, sailors and airmen rushed to Afghanistan and bases in the Middle East during the final phase of the war. Together, they evacuated more than 120,000 people.
They were suddenly thrust into an unprecedented, risky and sometimes overwhelming new mission.
"You see humanity at its best and a little bit of humanity at its worst," recalled Col. Amy Rivera, who was the 379th Air Expeditionary Wing's director of staff during the evacuation at Al Udeid Air Base in Qatar.
Many of those lucky enough to be plucked from the crowds at Kabul airport were brought to U.S. bases in the Middle East like Al Udeid. They were held at these bases until cleared to go to other military installations to continue their visa processing.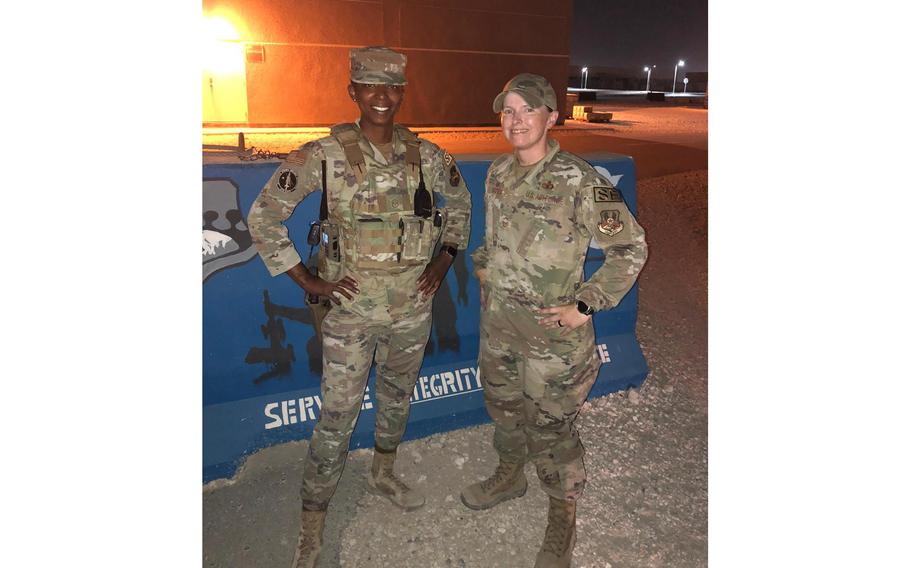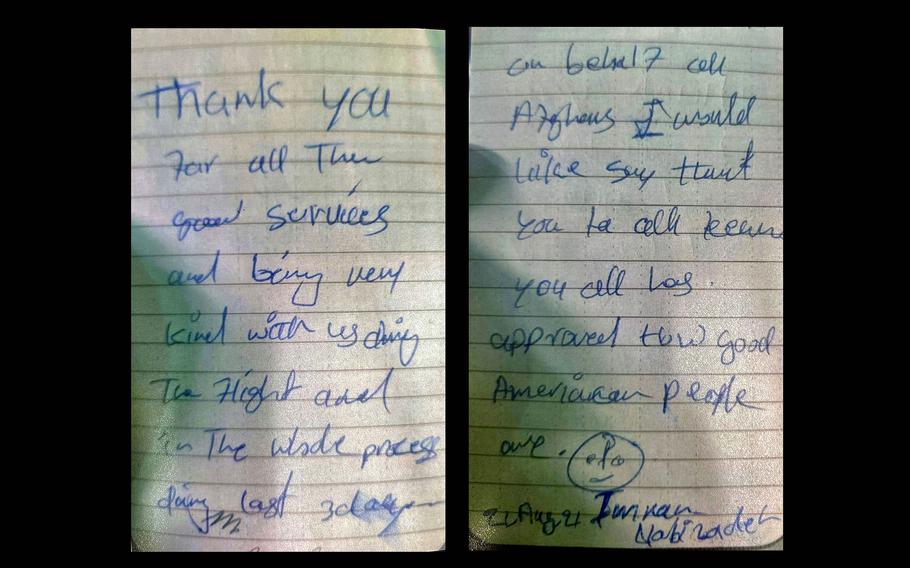 The airmen at Al Udeid rehearsed for an evacuation on Aug. 4, said Senior Master Sgt. Megan Harper, operations superintendent of the 379th Security Forces Squadron during the evac.
But that preparation was for the U.S. Embassy staff, an estimated 2,500 people. It did not anticipate the 60,000 or so people arriving from the seemingly endless chain of aircraft coming from Kabul, she said.
"We got overwhelmed so quickly," Harper said in a recent interview.
Conditions became "deplorable," she recalled. Supplies began running out. Tensions rose in the sweltering heat. Evacuees fought over baby formula and cots. At one point, 6,000 or so evacuees crowded a hangar meant for airplanes or at most 2,500 people, Harper said.
Harper said she could recognize, in part, the desperation of those whose lives had been upended. But on another level, she could not understand what would motivate someone to push an old man off a cot and onto the floor in a skirmish for sleeping space.
Humanitarian missions expose troops to not just the shock of seeing innocent people dying or suffering, but also to the trauma of seeing "the worst in people, when everyone is desperate," said Amy Williams, chief clinical officer at the New York-based Headstrong Project, which provides mental health treatment to veterans.
One day, an airman showed Harper what appeared to be a key to someone's house. She said she told the airman that none of the evacuees were likely returning to Afghanistan soon enough for that key to matter. And yet, she said, she could not throw the key away. That felt wrong.
"The reality of what was to come for the evacuees really hit me at that specific moment," Harper said. "They had to leave so quickly, with what they could carry."
On Aug. 16, a plane that was feared to have been hijacked approached Al Udeid for landing, Harper said. Two men at the Kabul airport had brandished guns to force themselves onto a military plane, Harper said.
Security forces rushed to surround the plane, Reach 871, on the runway. Then the rear door of the plane dropped. The airmen learned that the two men had given up their weapons to the crew and were now more panicked than hostile.
The focus became the welfare of the hundreds of people onboard the overloaded aircraft and taking them off the plane before the intense heat in Qatar caused them to pass out.
"When you drop that door and the first person who comes off is a 5-year-old little girl, now your mentality has to shift," said Harper, who still keeps a letter from an Afghan girl thanking the airmen for their hospitality.
Another airman, Staff Sgt. Duncan Copley faced a similar dilemma in Kabul on the day that he heard through his headset that there may be a bomb on his plane.
The bomb threat came on Copley's final flight out of Kabul, as the plane sat on the runway. The crew was on edge, Copley recalled in a recent interview.
Just two days before, a suicide bomber hidden among the crowd at Abbey Gate at the Kabul airport killed 13 service members as well as 170 civilians.
The crew was told that everyone needed to leave the plane so Marines could check the passengers and their bags for explosives. But some passengers didn't want to get off.
The 23-year-old loadmaster recalled thinking that they may have been afraid they wouldn't be allowed back on. But he also wondered if perhaps they could be the threat everyone was looking for.
The Marines searched everyone, including the passengers who originally did not want to get off. They did not find a bomb, but they could not be 100% sure that one wasn't hidden somewhere.
The hardest decision, Copley recalled, was whether to take off, to trust that someone hadn't missed something, to risk the plane and the lives of those on board by flying.
"Saving all of these people was worth risking it, getting them out of there," Copley recalled.
The weight of the risks he and the crew took didn't register with him until weeks later, he said.
The veterans
For many veterans and service members, the year since the last U.S. soldier in Afghanistan, Maj. Gen. Chris Donahue, ascended into the sky on a C-17 prompted reflection on whether their efforts had any meaning.
"The withdrawal of American troops out of Afghanistan really forced military personnel and veterans to examine their service, especially as it connected to Afghanistan," Laura Falk, a former Air Force chaplain's assistant, said in a recent interview.
Falk, a licensed mental health counselor, started a virtual support group on Zoom last fall for the veterans, troops and other volunteers involved in the evacuation.
She found that many veterans felt angry and ashamed after witnessing the messy withdrawal and the Afghan military's sudden collapse. Many felt gutted by the thought that some people who worked with them had been left behind.
"It was very traumatic for many folks, both active-duty and veterans," Falk said. "A lot of individuals, especially veterans, were left asking 'What did it all mean? What did our service mean? Why did we sacrifice so much for it to end like this?'"
Some who volunteered during the evacuation said their memories of what they accomplished on deployments were rewritten into failures to protect allies.
Air Force veteran Christy Barry said the part of her "that used to be a patriotic American has died" after she couldn't evacuate an Afghan general with whom she had worked.
Those who continue to care about Afghanistan grew alienated from a public that quickly lost interest, several veterans said.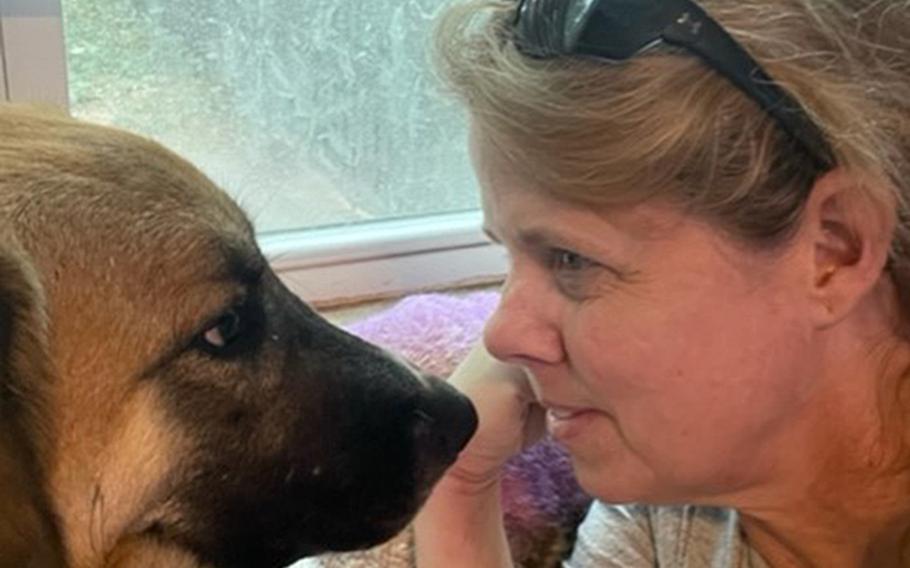 "People are just assuming that we got short memories, we're just going to forget about it," said Stephanie Hall, an Air Force chief warrant officer who trained Afghan pilots. "The veterans aren't going to forget about it."
Safi Rauf, a Navy corpsman who had become a U.S. citizen after immigrating from Afghanistan as a teen, continued to help get people out even after the last American soldier left.
He and his brother were detained by the Taliban after flying to Afghanistan last winter. A monthslong campaign by the administration of President Joe Biden led to their release after 105 days, the State Department said in April.
After re-emerging from prison, Rauf was struck by how little had improved. Mass hunger had worsened. The Taliban's promise to allow girls to go to secondary school was rescinded in March. People affiliated with the U.S. still sought refuge abroad.
But the biggest change he saw was that most Americans had stopped caring.
"As much as I was happy to be out of captivity, I was very disappointed," Rauf said. "The problem has only gotten worse, but the interest from the government and from the public has dwindled to nothing."
Like other veterans who have spoken to Stars and Stripes over the years, Rauf lamented the loss of two decades of progress in human rights and democracy in the country.
But others said that whatever good the U.S. claimed it was trying to do in Afghanistan, the American military and the Afghan government it backed killed thousands of people, often creating more enemies with those deaths.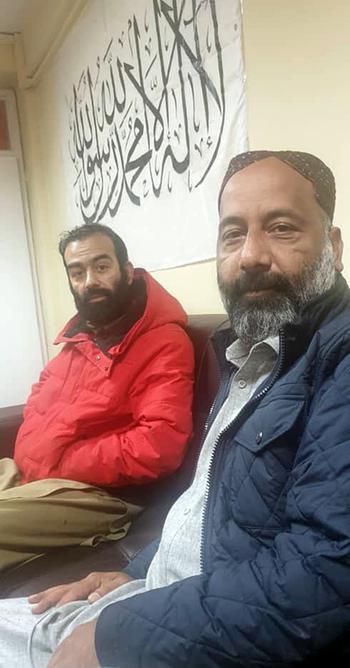 The evacuation last year included a botched drone strike that killed an aid worker in Kabul who U.S. military officials falsely believed was a terrorist.
"We were fighting a war on terror with more terror," said Lisa Ling, a former Air Force technical sergeant on drone surveillance systems who traveled to Afghanistan as a civilian. "We didn't have the cultural competency to be actually helpful."
Only 22% of Americans believe that the Afghan War made the United States safer, although more people than not said they approved of the way the military handled itself, according to a survey released Aug. 10 by the U.K. research group More in Common.
Several veterans said they still believe the withdrawal of American forces was the right choice, even if they disagreed with the execution of it.
Adam Weinstein, a Marine veteran who deployed to the country in 2012, staunchly supported full withdrawal from Afghanistan. And last fall, the U.S. did as he had advocated in his position as a research fellow at the Washington, D.C.-based Quincy Institute for Responsible Statecraft.
But he experienced mixed feelings over the past year, said Weinstein. He still believes withdrawal was the right choice because in his view, the war had been lost long ago and staying would have required another surge of troops.
But he wishes that more thought had been given for those who had supported the U.S. and were caught on the losing side.
"I think many government officials and analysts got many things about the war in Afghanistan wrong," Weinstein said. "The ultimate victims were Afghans."
A new home
Afghan evacuees who made it to the U.S. over the past year found themselves adjusting to a world that was alien to them.
People who had grown up in large extended families were now severed indefinitely from their relatives. Soldiers who were told they were on the front lines of the war on terrorism now work at laundromats.
"The most difficult part of my life has been and is that my strength is fighting in Afghanistan against global terrorism, and I am not able to help," said Abdul Mateen Sulaimankhail, a former Afghan army commander who is now unemployed after evacuating to Georgia.
For Laily Ghawsi, the woman who fought through the crowds at the Kabul airport to reunite with her husband, the past year had both bitterness and sweetness.
She gained a new home in the U.S. with her husband, but she also lost family members in her previous home. On the same day she reunited with her husband, Sept. 10, 2021, her father died. A month later, her grandmother died as well.
Her husband said he sees her crying from time to time about the loved ones she left behind.
About a week after Laily arrived in Las Vegas, Hekmat took her to the Kolob Reservoir, near Zion National Park in Utah. The two walked along trails.
In previous messages while Laily was still in Afghanistan, the two had imagined a life together in Hekmat's adopted country.
Hekmat Ghawsi said he always talked to his wife about his love of nature. But Laily never understood the appeal of being alone in the mountains, he said.
That day in Utah, Laily Ghawsi began to understand her husband's love of nature, as well as what it meant to be in America, the couple said.
Laily Ghawsi recalled how she always had to be on the lookout in Afghanistan for potential danger. And then she recalled her fear as she fought through the crowds at the airport in Kabul and the confinement she felt while waiting for visa processing at U.S. bases in Kuwait and during her stay at Fort McCoy, Wis., one of the bases that processed Afghan refugees brought to the U.S.
"Fort McCoy, they had all these fences," she said. "They blocked the nature. But over there, by Kolob Reservoir, the trees and greenery, the water and everything, it was just open nature, and beautiful."
Hekmat Ghawsi said he recalled his wife telling him that "no one bothers anyone here."
He is still trying to help people in Afghanistan. Despite struggles to stay afloat financially in the U.S., he runs a charity to send money back home.
If he were in the shoes of one of those interpreters on the other end of his cellphone, he would want someone to try to help, he said.
Laily said she wishes her husband would put down his phone more often. The couple have a son, Jasoor, born on Laily's birthday, July 7. She said she thinks constantly of their son's future, and she hopes her remaining family in Afghanistan can see him one day.
"I will always remember these events, traumatic events, sadness and sorrows in my life," she said. "But I want to make sure that that doesn't get in the way of today and tomorrow."
---
---
---
---