Brother of Marine killed in Afghanistan withdrawal dies by suicide
By
Stars and Stripes
August 17, 2022
---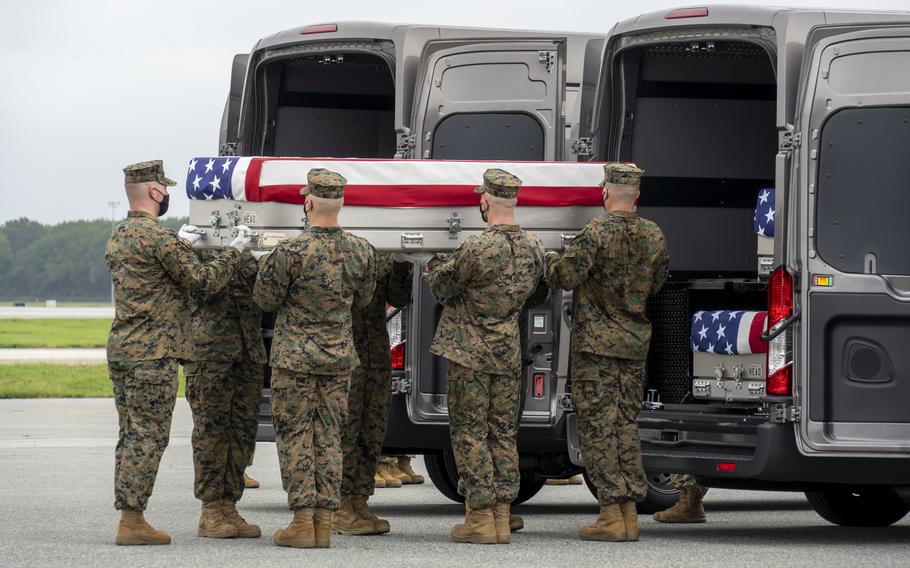 WASHINGTON — The brother of a Marine killed during the U.S. evacuation from Afghanistan last year has died by suicide near a Southern California town memorial honoring his fallen younger sibling, their mother said.
Dakota Halverson, 28, took his own life on Aug. 9, nearly a year after his brother, Lance Cpl. Kareem Nikoui, 20, died in a suicide bomber attack at the Kabul airport alongside 12 other U.S. troops. The attack on crowds attempting to flee the Taliban also killed some 170 Afghans and injured at least 150 others, including 18 service members.
"The ripple effect! I lost two sons in less than one year, both of them in the month of August," Shana Chappell, the mother, wrote on Facebook.
Halverson's body was found at Pikes Peak Park in Norco, Calif., according to the Riverside County Sheriff's Department, which confirmed the suicide to CNN. The park is close to a community-built memorial flower garden dedicated to the "Fallen 13." Nikoui's name is inscribed on a stone tablet on the site.
Nikoui was assigned to the 2nd Battalion, 1st Marine Regiment, 1st Marine Division at Camp Pendleton, Calif.
Chappell said Halverson struggled to cope with his brother's death and would frequently sneak into the cemetery where Nikoui is buried to sleep on his grave. Before his suicide, Halverson often spoke of how much he missed his brother, she said.
"Dakota had been expressing some of the things that had been bothering him and one of those things was the loss of his brother Kareem and how he just wanted to be with him again," Chappell wrote. "He was still having a hard time believing he was actually gone."
She said Halverson loved people unconditionally and had a forgiving heart.
"He would do anything for anyone," Chappell wrote. "He was always happy for everyone and always showed and expressed how proud he was of someone's success. He just wanted to feel loved and wanted."
Rep. Mike Waltz, R-Fla., shared his condolences Saturday on Twitter.
"Please pray for his family. There MUST be accountability for this continued carnage," the congressman wrote.
Waltz urged veterans of the 20-year war in Afghanistan as well as family members who are "going to a dark place" to either call a friend or the 988 crisis line — the suicide prevention hotline launched in July to give service members and veterans quicker access to mental health services. It is part of a national strategy to address a surge of suicides in the military in recent years.
An online fundraiser collecting donations for Halverson's funeral has raised nearly $44,000 as of Wednesday.
"He wanted to be buried next to his brother Kareem," wrote Chappell. "His family and I want to honor his wishes."
---
---
---
---