As Massachusetts Marine killed in Afghanistan honored, call for mental health support builds
By
Gloucester Daily Times
July 12, 2022
---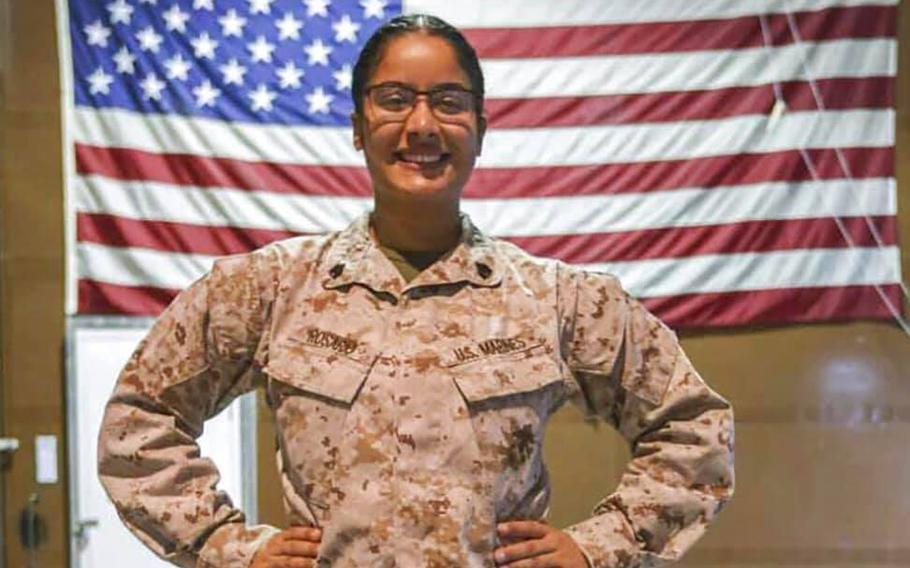 SALEM, Mass. (Tribune News Service) — Many veterans return home to a new battle, one that U.S. Rep. Seth Moulton personally experienced at the end of his military career. It's something Sgt. Johanny Rosario Pichardo, a fellow Marine killed in the withdrawal from Afghanistan in 2021, would never get to know.
"On behalf of our entire community and the U.S. Congress, I want to extend my deepest gratitude to Johanny's family and assure you, her legacy will live on," Moulton, D-Salem, said Monday morning at Salem State University, addressing Rosario Pichardo's mother Colasa Pichardo, seated in the audience.
"Veterans have been hardened by some of the toughest experiences on Earth, like what I just described, what Johanny went through.
"But the truth is, we all need help sometimes, especially when it comes to our mental health," Moulton said, looking to students of Salem State's Upward Bound program who gathered to honor Rosario Pichardo. "We all deserve that."
The event honored Rosario Pichardo's military service, including a presentation of colors and playing of taps to close the ceremony.
It was also an opportunity to discuss 988, a national mental health crisis hotline Moulton got through Congress that will launch this weekend. The hotline, which works similarly to 911 across all phone devices, serves as an opportunity for those lost in the dark to find a friend with a flashlight.
Organized by Salem State and held in an O'Keefe Center gymnasium, the service at times felt like a clash of separate priorities: Remembering a Marine from Lawrence killed violently by an act of terrorism, and advocating for mental health services. There was no indication from Moulton or others that the latter was part of Rosario Pichardo's story.
But the ceremony was an opportunity for Upward Bound to honor one of its own. The program offers tutoring and academic programs to Lawrence Public Schools students. Those in attendance, several hundred students of color wearing black T-shirts with a heart logo and #stopthestigma hashtag, are members of the SSU program.
Salem State also used the event to unveil an Alumni Plaza brick honoring Rosario Pichardo's status as a past Upward Bound student and six-year member of the Marine Corps. It carries the Marine Corps insignia above her name.
Rosario Pichardo, a Lawrence native, was among 13 American military and 169 Afghan civilians killed in a terrorist blast and ensuing gunfire at Kabul Airport's Abbey Gate on Aug. 26, 2021. She was also known in the Marine Corps as "Rosie."
Rosario Pichardo was working to screen women and children attempting to flee Afghanistan from the expanding control of the Taliban government when the deadly attack occurred. She was helping two women who were being trampled by a massing of people outside the gate at the time of the blast, according to the Foundation for Women Warriors.
Her commanding officer, Capt. Pascal DeMeo, recalled her final words before entering the crowd was "they need me sir," the Foundation reported in a blog post on Rosario Pichardo.
"I visited Afghanistan just a few days before the attack that took Johanny and 12 other service members' lives," Moulton said. "What those Marines were doing at Abbey Gate, the famous gate at Kabul Airport, where they were working to save the lives of allies who had served alongside us for over 20 years in Afghanistan … what they were doing at Abbey Gate was the most extraordinary thing I've seen in my life.
"They were given an impossible task, to literally sift through a sea of humanity — thousands and thousands of people struggling, crying for help," Moulton continued. "They had to sift through the sea, go out into this sea of Afghan people, and find the ones that had worked for us, literally pluck our allies and friends and their families out of that crowd. These brave Marines would take the Afghans by their hands, their husbands and wives, put their little boys and girls on their backs, and literally carry them to freedom."
Moulton then turned to Rosario Pichardo's mother.
"What an incredible, deep commitment to service," he said.
The event ended with a Q&A session between Upward Bound students and Moulton.
"Why am I so passionate about 988?" Moulton asked, then recalling his experience feeling lost after military service and the eventual diagnosis of experiencing post-traumatic stress. "It was younger brains, some of the guys I served with in my platoon, and young Marines like those here who started to deal with their mental health issues first. … They set an example for me, so my hope for 988 and other parts of my mental health program is it sets an example for other people, so other people feel like they can get help."
Since returning from Iraq, Moulton has lost two Marine friends to battles with mental health. That, he said, is what he seeks to change: "I want to make sure we don't lose more American lives to mental health."
(c)2022 the Gloucester Daily Times (Gloucester, Mass.)
Visit at www.gloucestertimes.com
Distributed by Tribune Content Agency, LLC.
---
---
---
---