Senate approves Congressional Gold Medals for 13 troops killed during Afghanistan withdrawal
by
Corey Dickstein
Stars and Stripes
November 18, 2021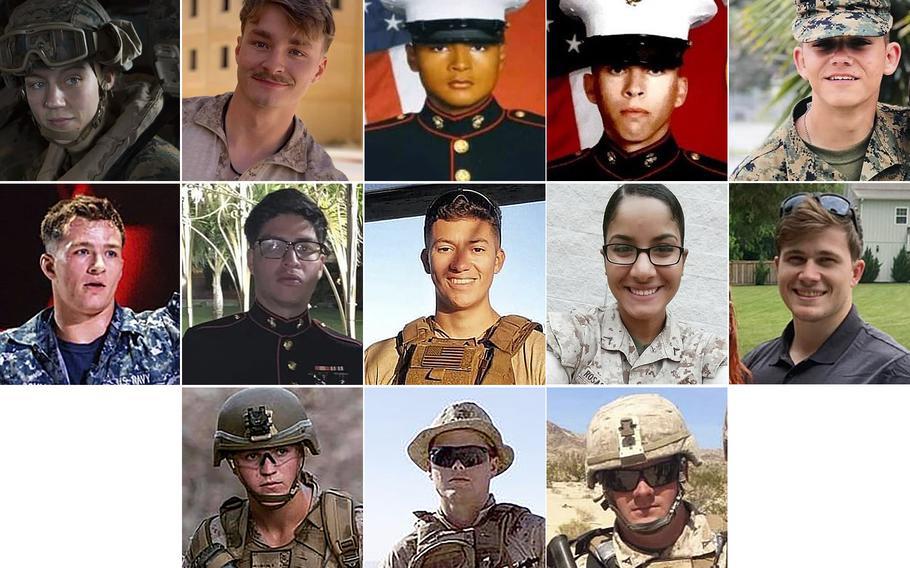 The Senate has unanimously approved legislation to award Congressional Gold Medals to the 13 American service members killed in a suicide bombing at the Kabul airport in the final days of the U.S. involvement in Afghanistan.
The Senate's approval Wednesday night to award the highest congressional honor to the troops killed in an Islamic State attack Aug. 26 at Hamid Karzai International Airport sends the measure to President Joe Biden for his signature. The House passed the bill by voice vote in October.
"Today, the United States Senate moved to recognize the courage, sacrifice and service of the 13 brave young men and women who were killed in Afghanistan," Sen. Steve Daines, R-Mont., said in a statement. "During a pivotal point for our nation, they gave the last full measure for our freedoms. I look forward to the president honoring these American heroes and swiftly signing this bill into law."
Eleven Marines, a soldier and a Navy corpsman were killed in the blast — the final American military deaths in Afghanistan during the war launched by the United States in the weeks after the 9/11 terrorist attacks in 2001.
The bill would award the Congressional Gold Medal to Navy Petty Officer 3rd Class Max Soviak, 22; Army Staff Sgt. Ryan Knauss, 23; and Marines Lance Cpl. Kareem Nikoui, 20; Lance Cpl. David Espinoza, 20; Lance Cpl. Rylee McCollum, 20; Lance Cpl. Jared Schmitz, 20; Cpl. Hunter Lopez, 22; Staff Sgt. Taylor Hoover, 31; Cpl. Daegan William-Tyeler Page, 23; Sgt. Nicole Gee, 23; Cpl. Humberto Sanchez, 22; Lance Cpl. Dylan Merola, 20, and Sgt. Johanny Rosario Pichardo, 25.
They were killed as they supported American-led efforts to evacuate thousands of Afghans and allies attempting to flee the Taliban in the days after the Islamist group swept back into power for the first time since 2001. The fallen troops were near a crowded airport gate when the blast went off, killing them, more than 160 Afghan civilians and wounding dozens more in one of the deadliest single incidents of the 20-year war.
Rep. Lisa McClain, R-Mich., introduced the bipartisan legislation to honor the fallen troops on Aug. 31, just hours after the last American military troops left Afghanistan.
"The American service members went above and beyond the call of duty to protect citizens of the United States and our allies to ensure they are brought to safety in an extremely dangerous situation as the Taliban regained control over Afghanistan," the bill reads. "The American service members exemplified extreme bravery and valor against armed enemy combatants [and] … members dedicated their lives and their heroism deserves great honor."
The Congressional Gold Medal dates back to American Revolution and serves as Congress' "highest expression of national appreciation for distinguished achievements and contributions," according to a House description of the award. It has been awarded 173 times to individuals or groups of people.
"The service and sacrifice of these 13 brave men and women will never be forgotten," McClain said in a statement on Thursday. "I'm proud this important legislation to award these heroes with Congress' top honor is one step closer to becoming law."
---
---
---