One family copes with the loss of their Marine who died a year ago in the Kabul airport bombing
By
Stars and Stripes
August 23, 2022
---
Cheryl Rex is a collector of items that bring back memories, particularly of her three children she raised in Rancho Cucamonga, Calif., the town where she also grew up.
In one of three curio cabinets in her living room sits a glass heart with flowers on it — a gift from the son she lost a year ago in Afghanistan.
As a third grader, Dylan Merola had purchased the heart for his mom at a small store the school had set up for holidays. He came home one afternoon with the treasure, beaming with pride that he'd been able to select and purchase the gift all on his own.
Now the heart sits among items Rex has received over the last year to honor Merola's life, which ended one year ago as he stood guard at Afghanistan's Kabul airport.
A 20-year-old Marine lance corporal, Merola was one of the 13 troops killed Aug. 26, 2021, when a bomb exploded amid the chaotic scene of Afghans seeking an escape from their homeland as the Taliban regained control of the country. The blast also killed 170 Afghans.
Since that day, Rex has kept everything her son owned, only adding to her memorabilia with handmade gifts such as flags carved out of wood, and military honors such as Merola's Purple Heart medal
"I think that is the root of the family," said Clarinda Matsuoka, Rex's mother, who lives about a mile from her daughter. "We gather things from family members, and it keeps their memory within our own homes."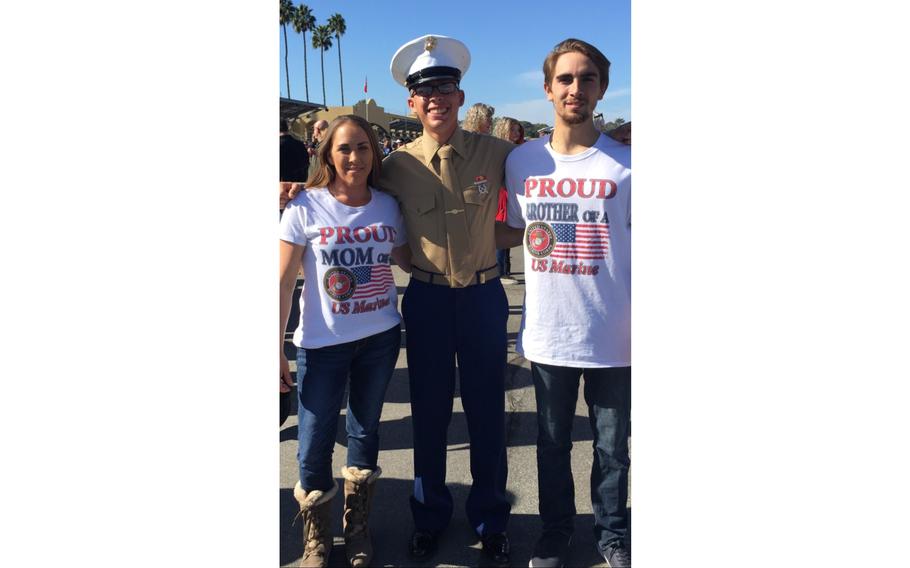 The two women said the family has always been close, but losing Merola so suddenly last year has changed their dynamic. With her youngest child still at home, Rex said it's the family's closeness and support that has helped her make it through the past year.
"I don't know how to explain it, but in a weird way, we all just kind of grieve together on a regular basis," Rex said.
Much has changed since Merola died. Rex's oldest son, Branden Murrell, 24, enlisted in the Marine Corps and is currently in the School of Infantry training phase.
He was able to join Rex earlier this month when Disneyland honored Merola's service and sacrifice by presenting Rex and the family with an American flag flown at the park. The family has long been season ticket holders, Rex said.
As a kid, Merola loved all the rides, especially Space Mountain, she said. As the boys got older, they would go to the park in the evenings just to see a show or a fireworks display. Both were very involved in their high school theater department building sets for multiple productions a year.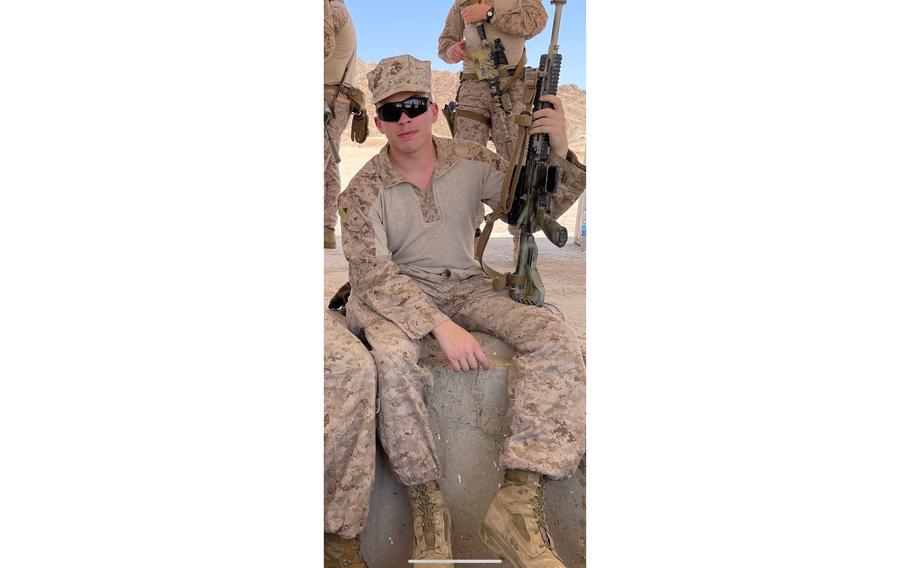 "They were really into talking to some of the crews that ran the equipment to put on the shows," Rex said. "They actually wanted to get jobs there doing a show or putting a set together, but they just didn't because they were so involved with school."
The military had also been of interest, and eventually Merola decided to join the Marines. He enlisted right out of high school, Rex said.
After losing one son in the service, she said watching another enlist made her anxious and nervous.
But she's still proud, as is the rest of the family.
They traveled this year to watch Murrell graduate from boot camp.
"The look on his face for graduation was just … amazing to see. It's the sparkle in their eyes, the wide smile that they found their calling and their purpose," Matsuoka said.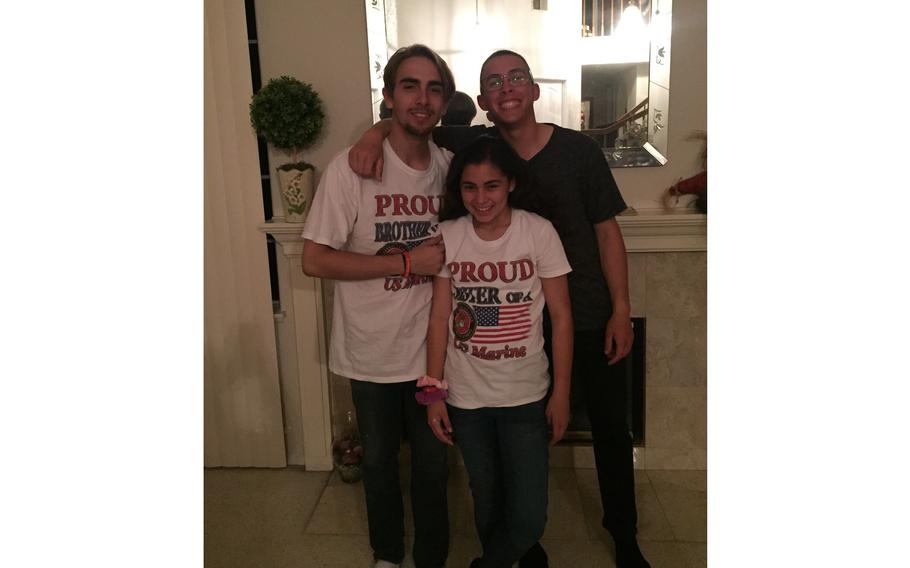 Over the last year, Rex has also grown close to another family by staying in touch with the families of the others killed in the Afghanistan bombing. In all, 11 Marines, a Navy sailor and an Army soldier died Aug. 26, 2021, at Abbey Gate, the entrance to the Kabul airport.
They are Sgt. Johanny Rosario Pichardo, 25; Sgt. Nicole L. Gee, 23; Staff Sgt. Darin T. Hoover, 31; Cpl. Hunter Lopez, 22; Cpl. Daegan W. Page, 23; Cpl. Humberto A. Sanchez, 22; Lance Cpl. David L. Espinoza, 20; Lance Cpl. Jared M. Schmitz, 20; Lance Cpl. Rylee J. McCollum, 20; Lance Cpl. Kareem M. Nikoui, 20; Navy Corpsman Maxton W. Soviak, 22; and Army Staff Sgt. Ryan C. Knauss, 23.
Most of the dead were from Merola's unit, 2nd Battalion, 1st Marine Regiment, based at Camp Pendleton, which is less than a 90-minute drive from Rex's home.
"It does help to have the other families knowing that we're all going through the same thing at the same time," Rex said. "I knew that we'd be connected for years and years to come."
On Friday, the first anniversary of the explosion, Rex is hosting a vigil at her son's grave and is inviting people to come and join her.
"I'm hoping that people do show up and give my daughter the support of knowing that his life meant something to the American people," Matsuoka said. "It's not only celebrating his life and telling people all about Dylan, but also to remind everyone that freedom does come with a cost."
Friday's event to honor Merola begins at 6:30 p.m. at Forest Lawn in Covina, Calif.
---
---
---
---