Disabled taekwondo athlete fights for Afghanistan at Paralympics in Japan
by
Seth Robson
Stars and Stripes
September 2, 2021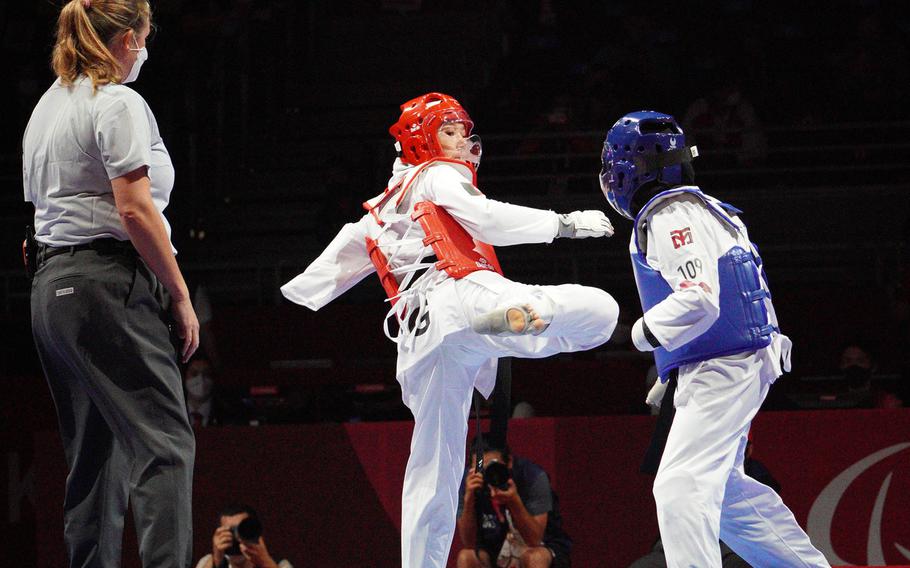 MAKUHARI MESSE HALL, Japan – An Afghan taekwondo fighter displayed her country's red, black and green flag on her uniform during the first bout of Paralympic competition near Japan's capital city on Thursday.
Zakia Khudadadi, 22, of Herat province, is the first female Afghan athlete to compete in the Paralympics since 2004.
She wore a white head covering when she entered the taekwondo octagon in a convention center in Japan's Chiba prefecture to the beat of hard rock band AC/DC's "Thunderstruck."
Donning head and torso protection colored red, she faced off against the slightly shorter Ziyodakhon Isakova, 23, of Uzbekistan, in blue, in the women's 44-49 kilogram weight category.
The class includes fighters with arm or toe amputations and impairments.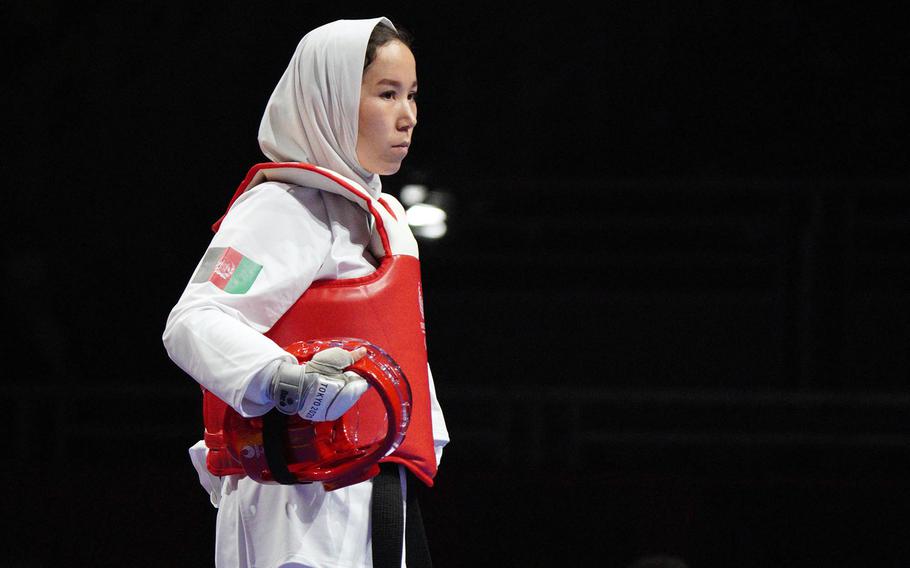 The Afghan held her own and was up a point in the first round but fell behind mid-contest and couldn't make up the difference, despite a flurry of kicks in the third round. The Uzbek won the battle 17-12.
Khudadadi, who wore an Afghan flag patch on her shoulder, didn't wait to talk to reporters. A smiling Isakova shared a few words in broken English about the fight, which was the pair's first encounter, she said.
The Uzbek fighter said she didn't think Afghan athletes were going to make it to the games due to the turmoil in their homeland but was glad they got there.
"Afghan fighting, no good," she said of violence in the country. "Afghanistan, they good sports. I'm happy."
Afghanistan sent a small team to the Olympics in Tokyo during July and August, but the nation's Paralympians were not expected to compete after Kabul fell to the Taliban on Aug. 15.
Afghanistan's flag, carried by a volunteer, was one of the first to enter Tokyo's National Stadium during the Paralympics opening ceremony on Aug. 24.
However, Khudadadi, born with a disability, and her Afghan teammate, Hossain Rasouli, 24, who lost his left arm in a mine blast, arrived in Tokyo a week late, on Saturday.
They had been evacuated from Kabul and traveled to Japan via Paris, The Associated Press reported Tuesday.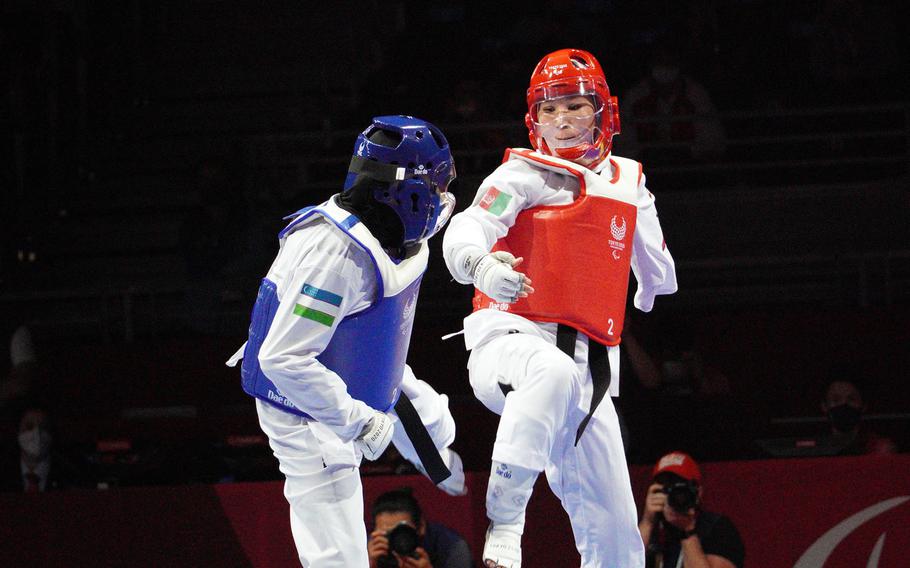 Khudadadi's official Paralympic profile says she attended Eshraq Higher Educational University, Afghanistan, and took up taekwondo after Afghanistan's Rohullah Nikpai won bronze in the sport at the 2008 and 2012 Olympic Games.
"I clearly recall watching Nikpai notch up medals for Afghanistan," Khudadadi said in a quote on the Paralympics' official website. "I was inspired by him and decided to take up the sport and thankfully, my family also supported me."
Khudadadi won the first African 2016 Para-Taekwondo Championships in Egypt, according to the Paralympics website.
"I was thrilled after I received the news that I have got a wild card to compete at the games," Khudadadi said, according to the website. "I just want to be there with the other athletes from the world and give my best. It is an opportunity to show my ability and I will be so proud to stand with all of those athletes."
In a second bout Thursday night, Khudadadi lost 34-48 to Ukrainian Viktoriia Marchuk, 31. Hossain, a sprinter, missed his main event but competed in the long jump Tuesday at the National Stadium.
He placed last in a 13-man competition with a jump of 4.46 meters, the AP reported that day.