Army athlete earns Team USA's first swimming medal at Tokyo Paralympics
by
Seth Robson
Stars and Stripes
August 26, 2021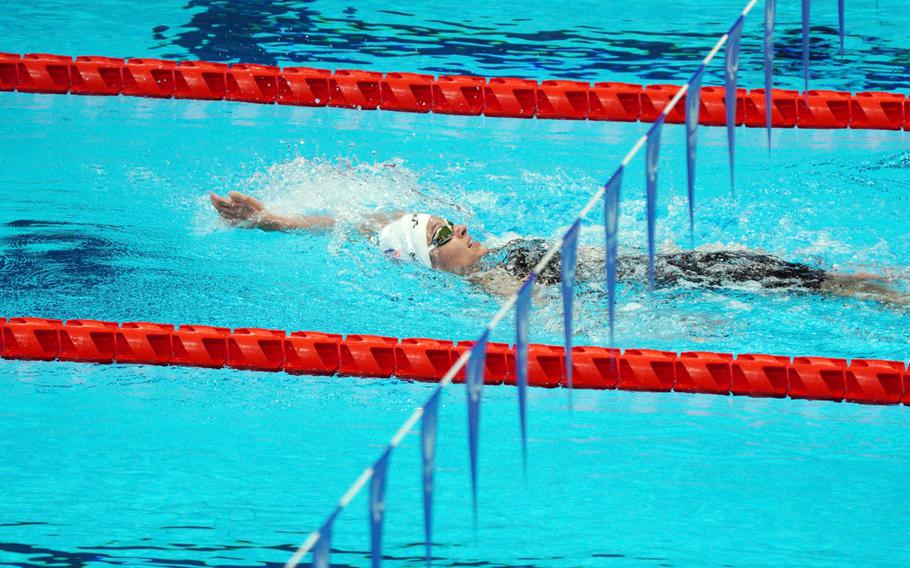 TOKYO AQUATICS CENTRE — An Army noncommissioned officer won Team USA its first swimming medal of the Paralympics, taking silver in the 50-meter freestyle race on Wednesday night.
Sgt. 1st Class Elizabeth Marks, 31, of Colorado Springs, Colo., went into the final as the top seed after setting a Paralympic record of 33.16 seconds earlier in the day.
She beat that time by 0.01 seconds in the medal race but lost out to Ukraine's Yelyzaveta Mereshko, who took gold with a new record time of 33.11 seconds.
At the 2016 Paralympics in Rio de Janeiro, Marks won gold in the 100-meter backstroke and bronze in the 4x100-meter medley relay.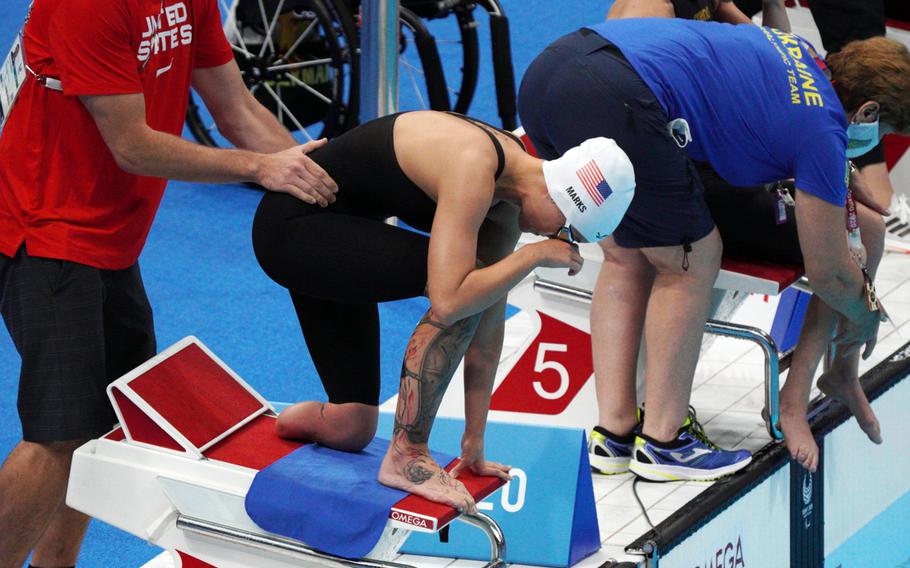 A combat medic and member of the Army's World Class Athlete Program, Marks enlisted in 2008 and severely injured both of her hips in Iraq in 2010, according to her biography on the program website. She spent much of her rehabilitation in the pool at Brooke Army Medical Center in Fort Sam Houston, Texas.
"No one expects to be injured. It is one of those things that no one thinks will happen to them," she said in a March 17 article posted on the Army's website. Marks declined to discuss how she was injured in an interview with ESPN for a March 25, 2016, story.
She underwent multiple surgeries. In 2017, her left leg was amputated below the knee, according to Team USA's official website.
"Mentors coached and inspired her to become an elite swimmer, and in 2012 she was both accepted into WCAP and found fit for duty for continued Army service," her biography said.
The daughter of a Marine who served in Vietnam, Marks fell in love with the military as a teen after attending an at-risk youth academy run by service members, according to the Army profile.
She wanted to be an infantryman like her father but that was not an option for women when she enlisted, according to the Army.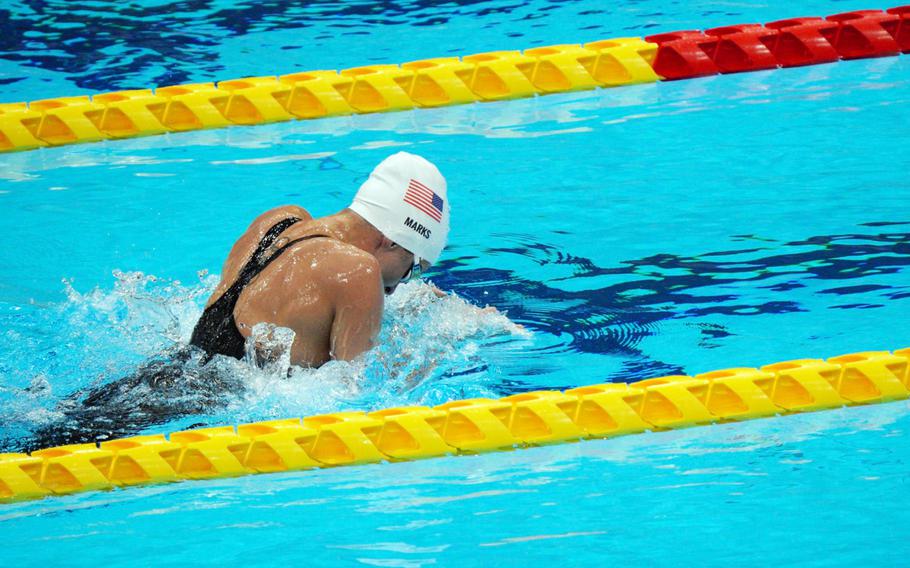 "I told the recruiter, 'OK, what is the closest to that', and they told me about combat medics," she said. Her father had talked highly of Navy corpsmen, who perform a similar mission as combat medics, she said, "so I went for it."
On Thursday, Marks was back in the pool competing in the women's 200-meter individual medley, in which athletes swim lengths of butterfly, breaststroke, backstroke and freestyle.
She competes in the S6 class, which includes people with several disability types, including cerebral palsy, short stature and amputations.
Among the swimmers racing that day were athletes with a range of disabilities, including those without arms who propelled themselves through the water using only their legs. Those whose legs are immobile used only their arms in the water.
Marks led her heat going into the final lap but was overtaken by Mereshko, who won by half a second. The pair were the top qualifiers going into the evening's final.
Marks had the second-fastest qualifying time going into the evening's final but faded in the second half of the race to place fourth. Great Britain's Masie Summers-Newton claimed gold with a world record time of 2:56.68.
robson.seth@stripes.com
Twitter: @SethRobson1