US Paralympians train at Air Force base in Tokyo for the week ahead of games
by
Seth Robson
Stars and Stripes
August 18, 2021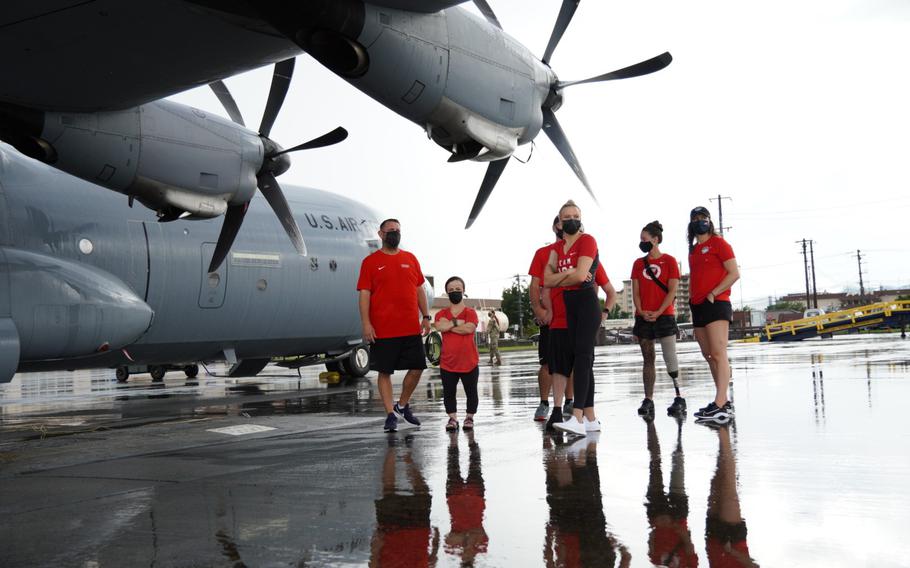 YOKOTA AIR BASE, Japan — Athletes of the U.S. Paralympic team were given a warm welcome at this air base in western Tokyo, the headquarters of U.S. Forces Japan, where they are training for a week prior to the games.
About 70 members of the U.S. Paralympic team and several dozen coaches and support staff are at Yokota preparing for the delayed 2020 Tokyo Paralympics, which kick off Tuesday and close Sept. 5.
U.S. Paralympic track and field and swim team members are using indoor and outdoor pools at the air base, as well as at the Yokota High School running track, to train for their events. Other members of the team are training back in the states and will start arriving at the Olympic athletes' village later this week.
Several athletes posed Wednesday for a photograph with a C-130J Super Hercules airlifter beside Yokota's runway and spoke to reporters, who, along with base residents, watched them train on a sunny afternoon.
A crowd of about 50 adults and children sat on bleachers beside the high school football field and watched the Paralympians, often fitted with sport-specific prosthetics such as running blades, sprint and throw a javelin and a medicine ball.
Javelin thrower Mike Gallardo, of Los Angeles, is an Army veteran who lost his leg after his vehicle was struck by a pair of roadside bombs in Iraq in 2007.
He showed off his skills by running in front of the crowd and going through the motions to hurl his javelin.
Gallardo said he'd been stuck at home training for the games by throwing a ball into a net in his backyard during the coronavirus pandemic.
"Sometimes I'd throw the ball over the net and have to go get it," he told the crowd, getting a laugh.
Air Force Lt. Col. Scott Hendrix, 37, of Denton, Texas, brought his family, who arrived in Japan just before the Olympics, to watch the training session.
"It's incredible to see these folks doing what they do," he said. "It takes a tremendous amount of commitment."
The family got a kick out of watching Olympic track and field and synchronized diving on TV and plan to watch the Paralympics, but the training session was their only chance to see athletes up close, he said.
Paralympic events, like those of the Olympics, which concluded after 17 days of competition Aug. 8, will be held without spectators, with exceptions for some school groups.
Tokyo has been under a state of emergency, due to a surge in coronavirus cases, since July 12. The city registered nearly 10,000 new cases of coronavirus over the weekend, and another 5,386 on Wednesday as the fifth wave of the virus there continues to hold sway.
About 4,400 Paralympians and staff from roughly 160 countries and territories are expected to take part in the games, which are being held in Tokyo and the neighboring prefectures of Chiba, Saitama and Shizuoka.
Team USA includes three Army veterans competing in shooting and swimming events and 16 veterans who served in the Army, Navy, Air Force and Marine Corps competing in archery, cycling, paratriathlon, rowing, track and field, wheelchair fencing and wheelchair rugby.