Paralympians, including first female soldier to lose limb in Iraq, launch games in Tokyo
by
Seth Robson
Stars and Stripes
August 24, 2021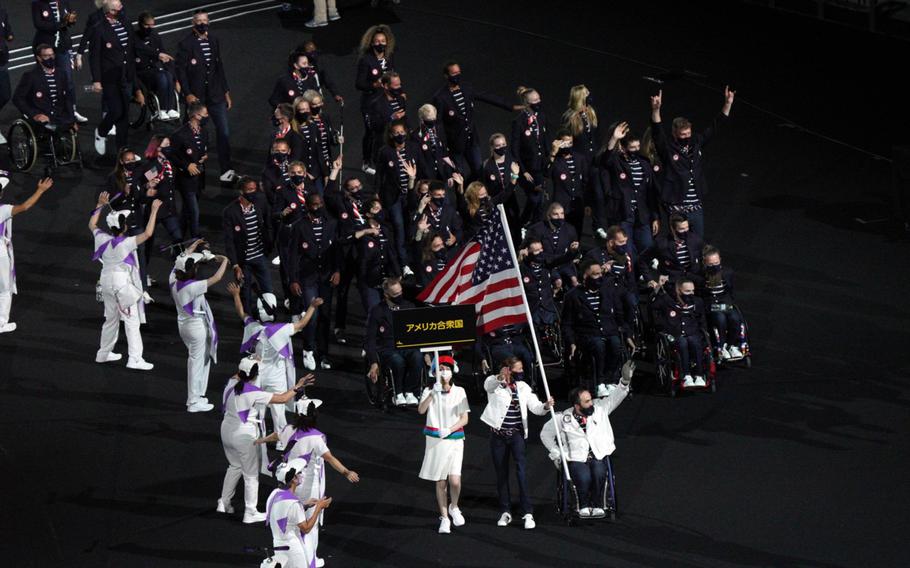 TOKYO — The first female American soldier to lose a limb in the Iraq War helped carry the U.S. flag into Japan's National Stadium to launch Team USA's quest for Paralympic gold on Tuesday evening.
The games of the XVI Paralympiad began with fireworks, music, dance, ceremony and a parade of athletes inside a mostly empty arena in the nation's capital. The world's largest competition for disabled athletes was postponed a year due to the coronavirus pandemic, which has killed more than 4 million people, according to the World Health Organization.
Athletes, many in wheelchairs, marched past cheerleaders in propellor caps akin to those worn by characters in the Japanese anime "Doraemon."
One of the first banners carried into the stadium bore the red, green and black colors of Afghanistan — the same flag flown by protestors in Afghan cities after they fell to the Taliban this month. It was carried by a volunteer, because Afghanistan's athletes could not travel to Japan for the games.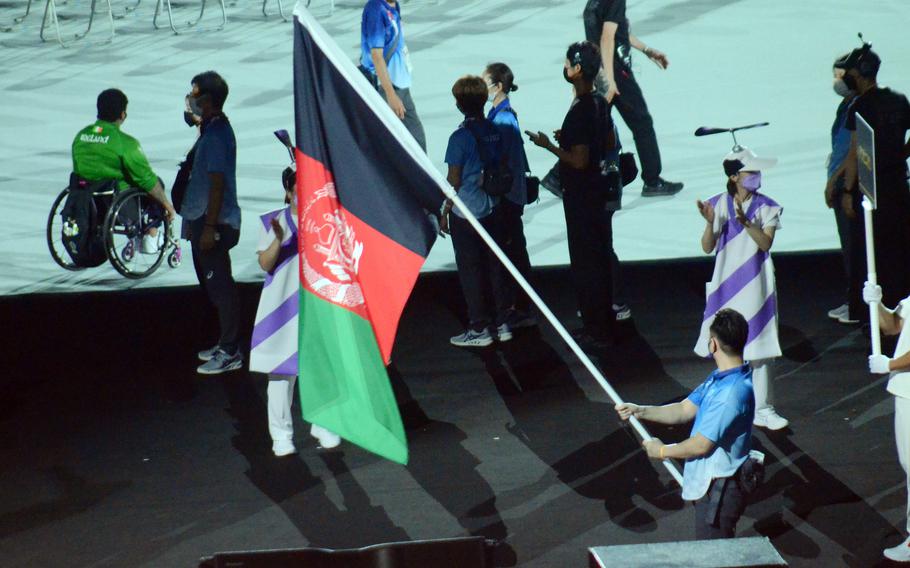 The U.S. team was led by Chuck Aoki, a two-time Paralympic medalist in wheelchair rugby whose great-grandparents emigrated to the United States from Japan, and Melissa Stockwell, a former Army lieutenant and 2016 Paralympic triathlon bronze medalist.
The Colorado native deployed to Iraq in March 2004 with the 1st Cavalry Division out of Fort Hood, Texas, and lost a leg about a month later to a roadside bomb in Baghdad.
Among the dignitaries at the opening ceremony was Douglas Emhoff, the husband of Vice President Kamala Harris. He arrived Monday at Yokota Air Base, home of U.S. Forces Japan in western Tokyo.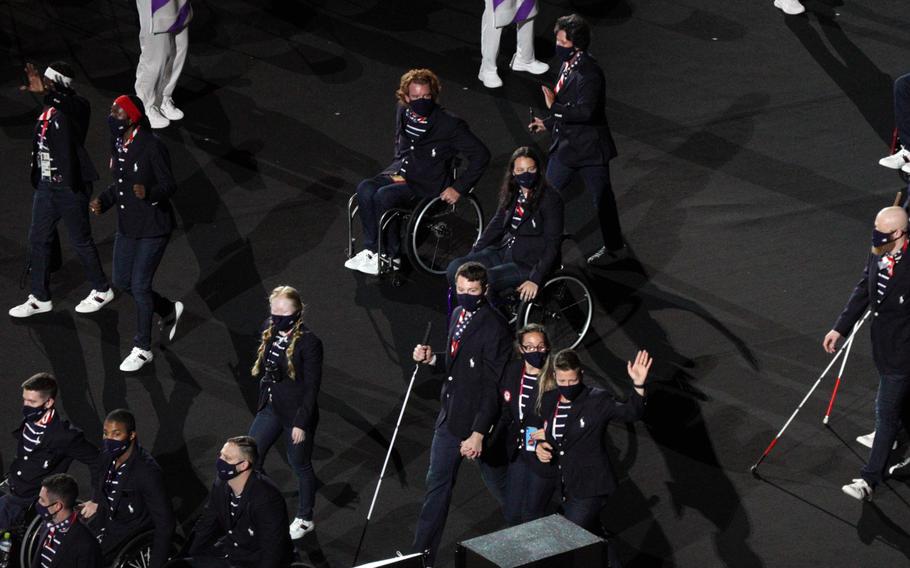 About 4,400 Paralympians and staff from roughly 160 countries and territories are expected to take part in the games, which run until Sept. 5 in Tokyo and the neighboring prefectures of Chiba, Saitama and Shizuoka.
Like the Tokyo Olympics, which concluded on Aug. 8 after 17 days, the Paralympics are being held without spectators, although some school groups will attend, organizers said earlier this month.
The ongoing fifth coronavirus wave is creating record-breaking infection numbers in the city, which recorded 4,220 new cases on Tuesday. Tokyo and three surrounding prefectures are under a state of emergency aimed at curbing the virus' spread by closing bars and restaurants by 8 p.m. and curtailing the sale of alcohol, among other measures.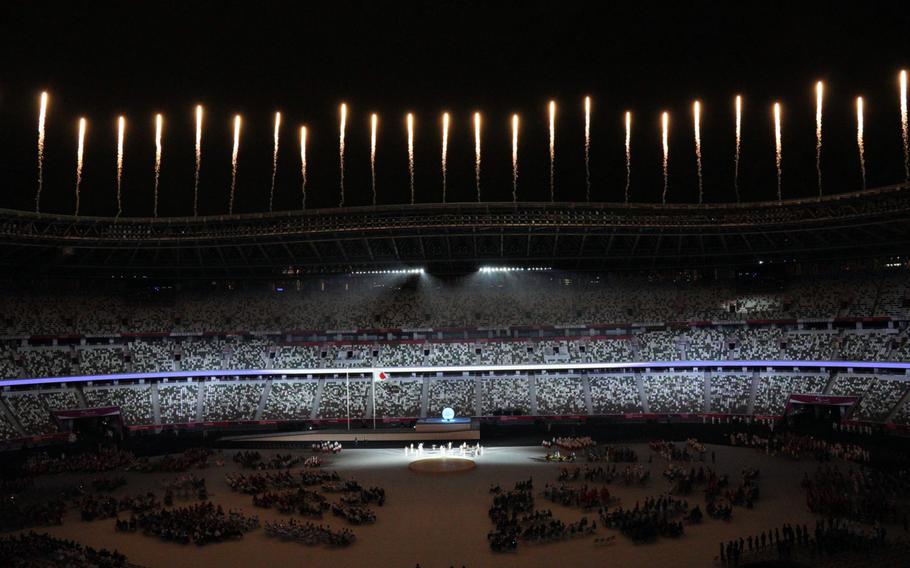 Paralympians and officials in Japan for the games will be tested regularly and have their movement limited. Similar restrictions were in place for the Olympics.
Tokyo 2020, the games' organizing committee, announced Tuesday that 154 people associated with the Paralympics have tested positive for COVID-19 since Aug. 12. Eight are athletes.
New Paralympic sports include badminton and taekwondo, replacing sailing and seven-a-side football.
Team USA includes three Army veterans competing in shooting and swimming events and 16 veterans who served in the Army, Navy, Air Force and Marine Corps competing in archery, cycling, paratriathlon, rowing, track and field, wheelchair fencing and wheelchair rugby.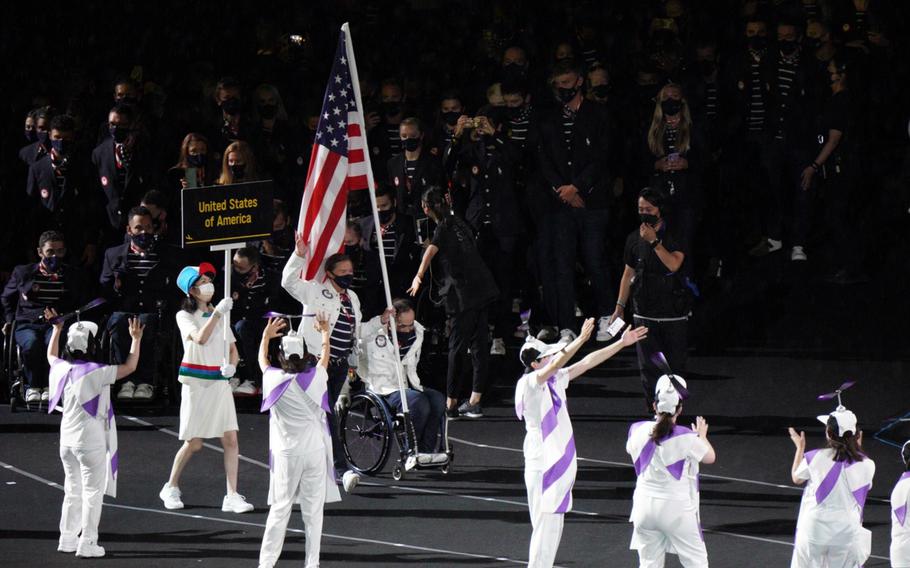 About 70 members of the U.S. Paralympic team and several dozen coaches and support staff spent just over a week at Yokota preparing for the games before moving to the Paralympic athletes' village late last week.
In one of the first events of the games, the U.S. wheelchair rugby team, which includes former Marine Raymond Hennagir, takes on New Zealand at Yoyogi National Stadium on Wednesday morning.
Members of the military community in Japan can stream 1,200 hours of Paralympics covering using NBC's website or smartphone application by logging in at https://stream.nbcolympics.com/olympic-channel?pid=2024805 with their online shopmyexchange.com account.
---
---
---