Former Airborne medic found Paralympic inspiration treating wounded Iraq, Afghanistan vets
by
Seth Robson
Stars and Stripes
August 24, 2021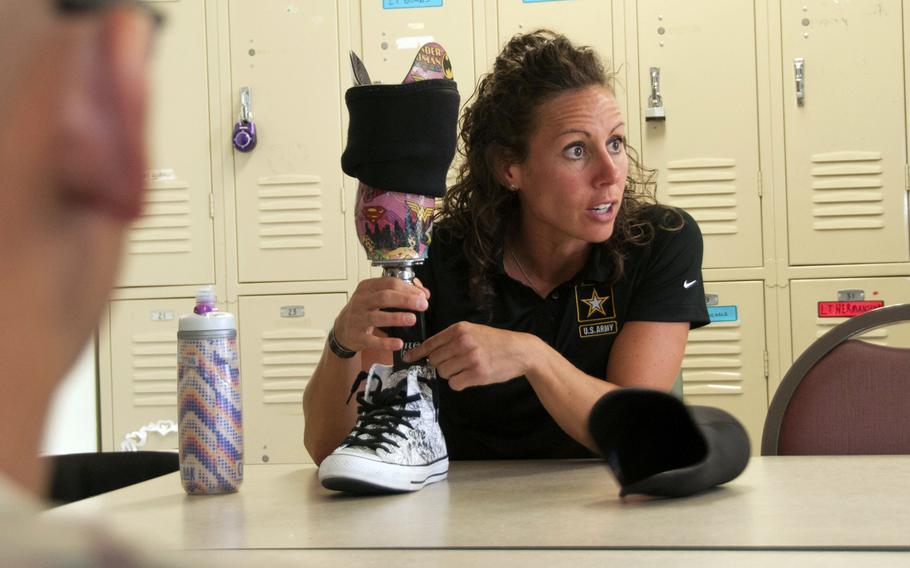 TOKYO — Survivors of horrific battlefield injuries inspired a former Army officer to overcome the loss of her leg and travel to Tokyo to race at the Paralympics.
Triathlete Kelly Elmlinger, 42, of Attica, Ohio, spent seven years nursing wounded warriors at Brooke Army Medical Center in San Antonio.
The former enlisted medic with the 82nd Airborne Division deployed once to Afghanistan and twice to Iraq between 2002 and 2005, then nursed troops with severe combat wounds at the hospital from 2011 to 2018.
On the orthopedic floor, Elmlinger cared for wounded soldiers with multiple amputated limbs as they went in and out of surgery, she recalled by phone from Hawaii, where she was training on her way to the games last week.
"When we were working with them they were at the acute stage of injuries and weren't even fitted for prosthesis," she said.
As a medic, Elmlinger gave first aid to injured troops downrange. She recalled pulling wounded soldiers out of a CH-47 Chinook helicopter that went down in Iraq in 2003.
"We had to drag people out of the aircraft," she said. "There were many who didn't make it and those who did were significantly injured."
Rehabilitated troops often dropped in on the nurses in San Antonio to thank them and show off their progress. Elmlinger said she was impressed by what they were able to do with the help of prosthesis and therapy, which always involved sports.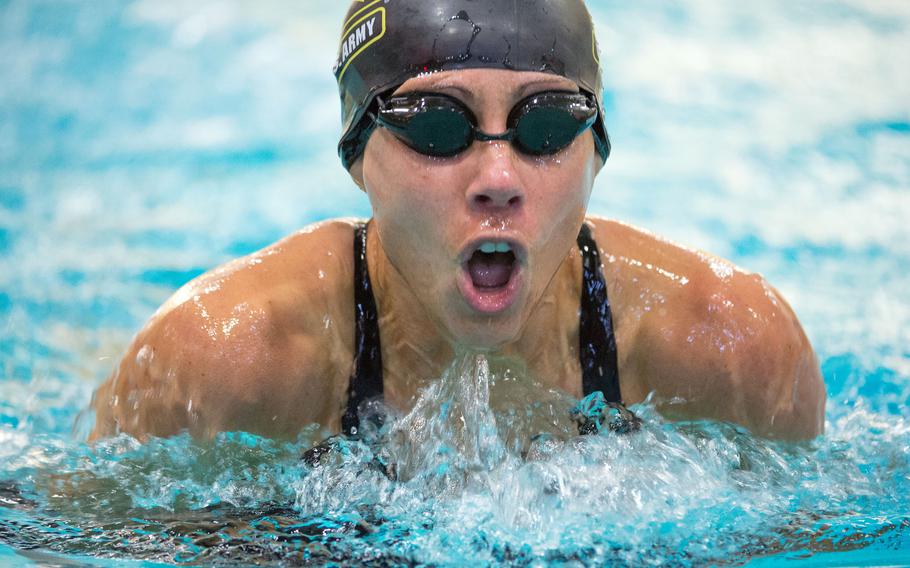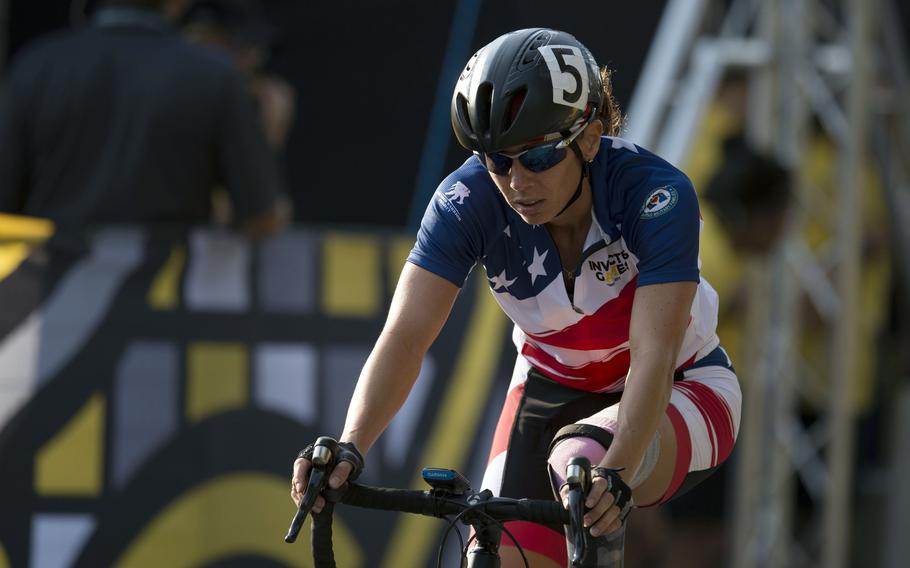 "The military in general looks at adaptive sports as the best form of rehabilitation and therapy," she said.
Elmlinger had a good idea of the challenge she faced after she was diagnosed with synovial sarcoma, a rare, soft-tissue tumor found in her lower leg, next to her tibia, in 2013, she said.
"I immediately knew, given where it was on my leg, what was going to have to happen in terms of rehabbing it," she said.
The experience helping others recover from serious injuries was an advantage, Elmlinger said.
"I felt grateful that I had all these men and women who I took care of that kind of showed me the way," she said. "I drew on my experience with them, and it gave me sense and feeling of it's going to be OK."
The path to physical fitness wasn't easy.
Elmlinger's leg was amputated below the knee, and she retired from the Army as a captain in 2018, the same year she did her first triathlon.
She excelled in the race, which includes a 750-meter swim, 20-kilometer bike ride and 5-kilometer run. She was so fast that by the end of the year she was among the top triathletes in the United States.
"It's something I didn't think was going to be possible given the ups and downs of all my medical stuff," she said.
The race on Sunday in the Odaiba section of Tokyo will be even more challenging than usual for Elmlinger. Some competitors have hand, rather than leg, amputations and won't need to put on prosthesis after the swim section of the event.
"I'm losing 45 seconds because I'm having to be helped to put my leg on and transition to my bike," she said.
Athletes arriving for the Paralympics face the same red tape Olympians faced when they arrived in Japan last month, including daily coronavirus tests and restrictions on movement.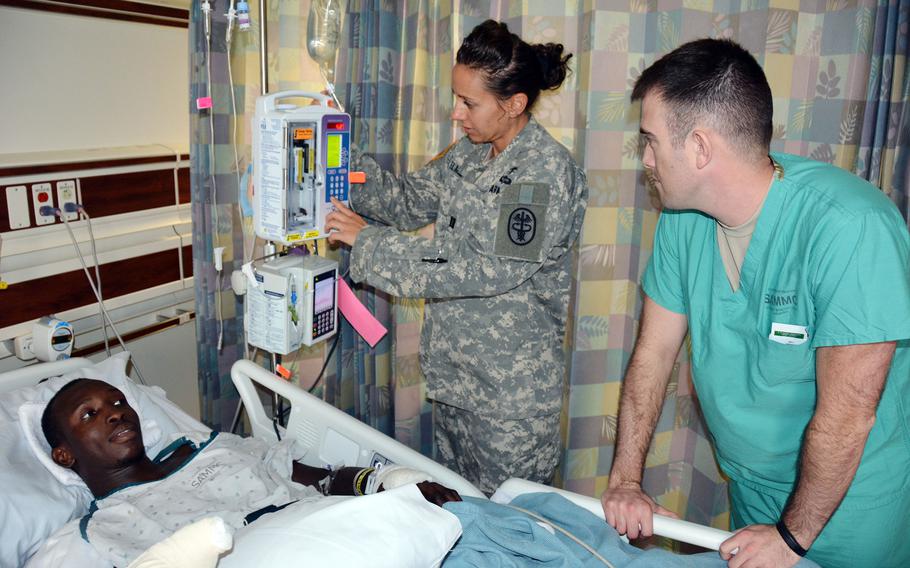 "If that's what I have got to do to represent my country so be it," Elmlinger said.
Other veterans competing in triathlon races in Tokyo on Saturday and Sunday include former Army Lt. Melissa Stockwell, former Navy Lt. Bradley Snyder and former Marine officer Eric McElvenny.
For veterans of the war in Afghanistan, the events unfolding in Kabul have been emotional, Elmlinger said.
"It's important we honor and empower our veteran community," she said. "The best way I can do that is to share my story."