Navy veteran blinded by Afghanistan blast wins gold medal in Paralympic triathlon
by
Seth Robson
Stars and Stripes
August 28, 2021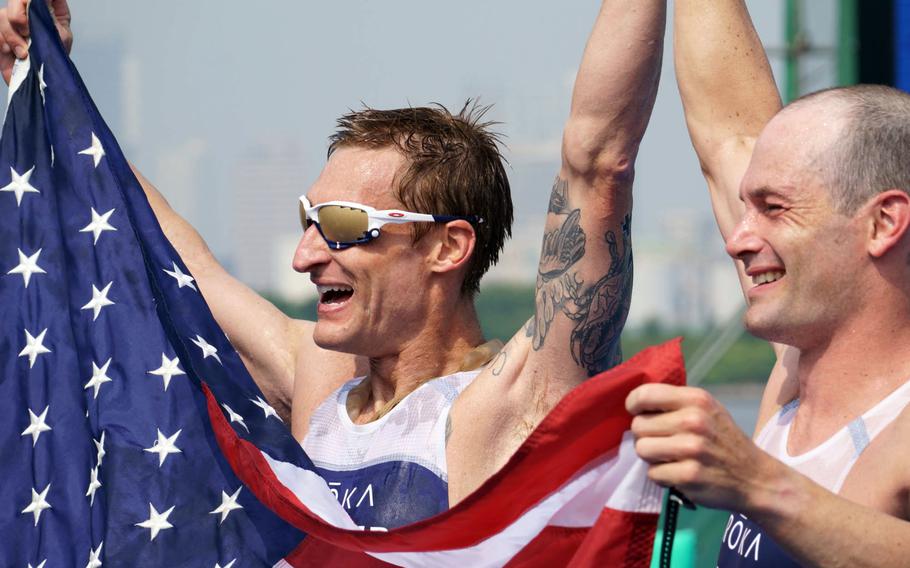 TOKYO – A former Navy lieutenant who lost his eyesight after stepping on an improvised bomb in Afghanistan won a gold medal for Team USA in the Paralympic triathlon Saturday.
Bradley Snyder, 37, of Baltimore, Md., was working as an explosive ordnance disposal technician when he was wounded in September 2011.
The blast cost him the sight in both eyes, but the following year he won two swimming gold medals at the London Paralympics. He added another three gold medals in the pool at the 2016 games in Rio de Janeiro.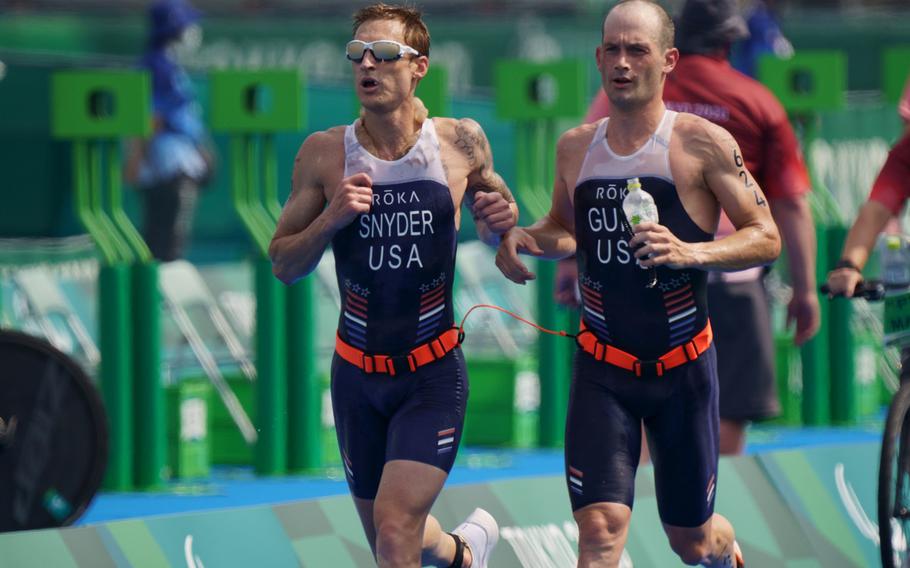 The Tokyo race, at Odaiba Marine Park near the city's famous Rainbow Bridge, was Snyder's first Paralympic triathlon but he took the lead during the initial swim section and never gave it up.
"My life isn't all about winning … it's about challenges," he told Stars and Stripes after crossing the finish line, waving the American flag and hearing supporters chant: "USA … USA."
Visually impaired triathletes ran, swam and tandem biked with the aid of sighted teammates. Snyder's guide was Greg Billington, an Olympic triathlete in Rio who once ran cross country for Lakenheath High School on a U.S. Air Force base in England.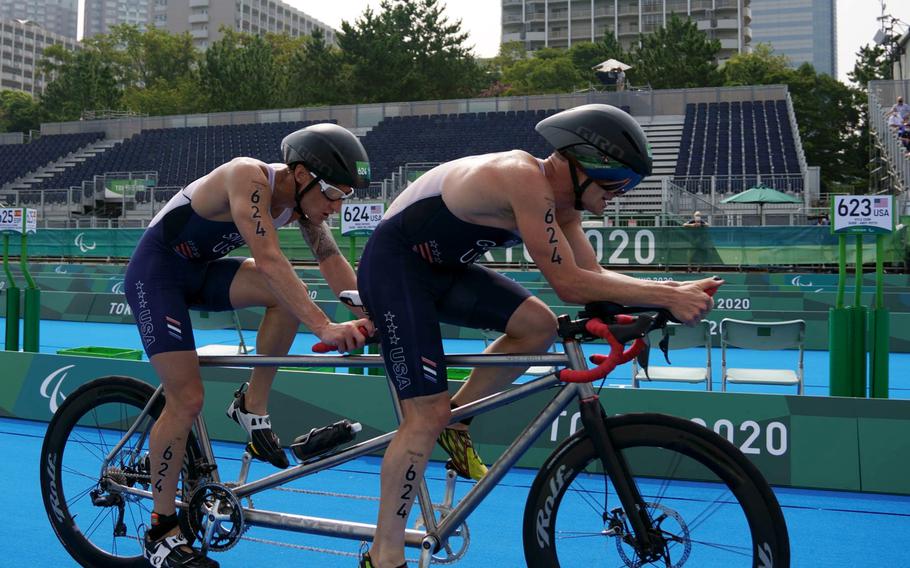 After donning his gold medal, Snyder reflected on recent events in Afghanistan, where 13 service members were killed in a suicide bombing at Kabul airport Thursday following the Taliban's takeover of the country.
"It's a difficult time for us right now but I think that what I'm trying to do in this sport is try to … just continue to stick to the mission and make progress," he said.
What's happening in the country is a tragic and sad situation, Snyder said.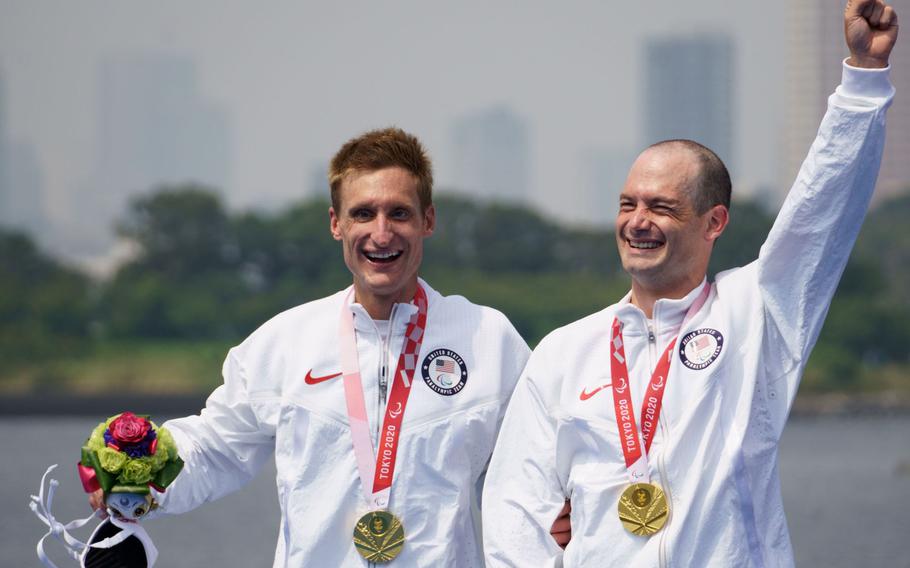 "I know what all my comrades were fighting for was liberty and democracy," he said. "Afghanistan has taken a step backward, but it is my hope that Afghans will, one day, experience a higher level of liberty and democracy. I remain optimistic and I hope that my fellow service members do, too."
Snyder was one of several veterans racing in Paralympic triathlons in the Japanese capital.
Former Marine captain Eric McElvenny, of Pittsburgh, lost his right leg to an improvised explosive device in 2011 while serving with 2nd Battalion, 4th Marine Regiment in Helmand Province, Afghanistan.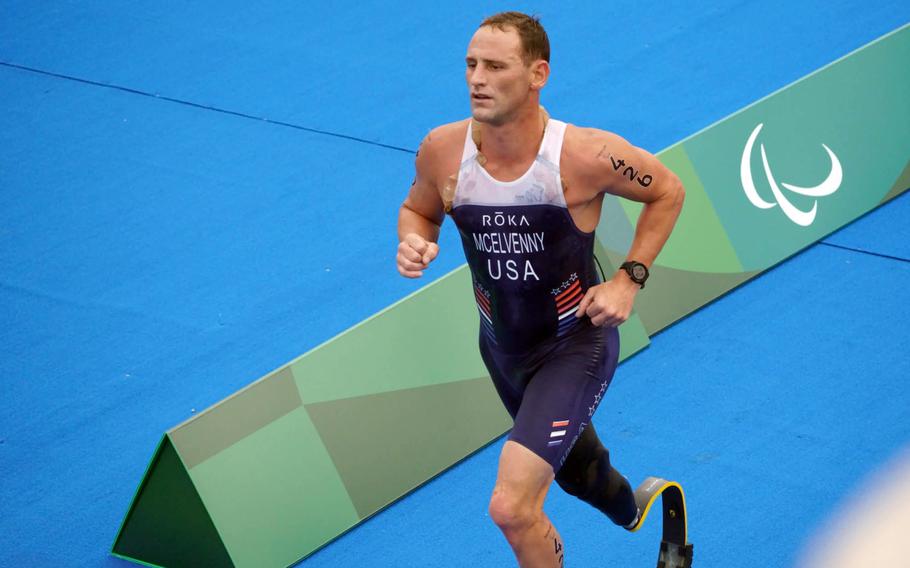 The country's situation was in his thoughts "almost continually" ahead of his race, he said, after finishing in sixth place.
McElvenny filtered those thoughts from his mind during the race, which included amputee athletes, but afterwards he was thinking about "Marines who are in harm's way" and their families, he said.