Residents are less happy with Army family housing, survey finds
By
Stars and Stripes
September 1, 2022
---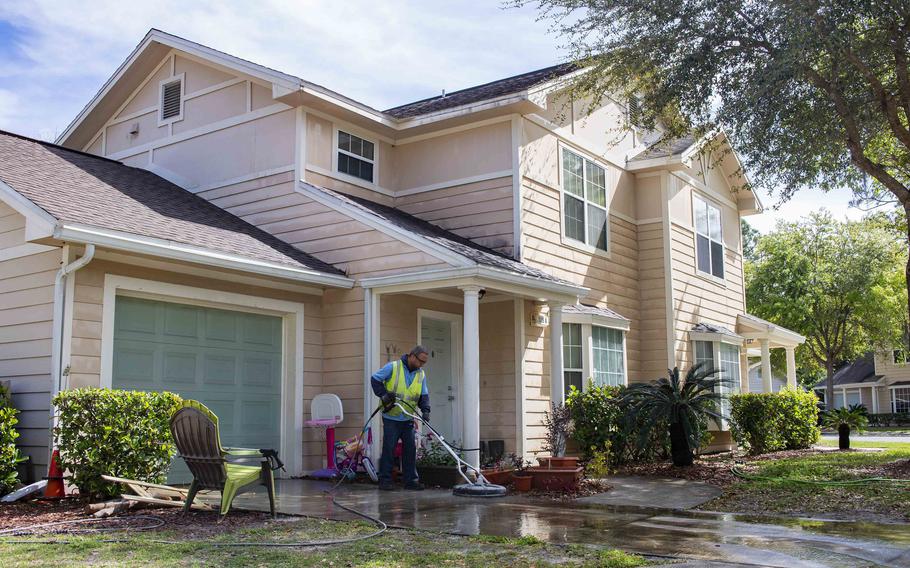 Army families' satisfaction with base housing dropped this year, regardless of whether the soldier was renting from the government or a private landlord, according to survey results released Thursday.
The Army's 2022 annual housing tenant satisfaction survey found that residents are less happy with the customer service they received last year, as well as in the appearance and condition of the homes.
The average satisfaction score was 73.7 out of 100, down 1.7 points from the previous year, for residents in housing managed by a private landlord. Privatized housing comprised the majority of family base housing on Army bases in the U.S. Overseas bases are typically owned or leased by the government, and those residents gave their housing a 72.3 score, down from 72.9 in 2021.
The response rate among tenants was 29% in privatized housing and 25% in government housing, according to the Army's reports. The survey was administered online between January and March.
"This firsthand input will be critical to us as we continue to tackle the issues that were identified," Michael E. Reheuser, director of installation services, said in a statement. "We will thoroughly analyze the responses to make sure our ongoing efforts to solve housing problems are on the right track — and to find new solutions."
He pledged transparency in the process.
The condition of base housing became a major issue among the services after a 2018 Reuters report exposed the dangerous toxins, bug and rodent infestations and mold and water damage that many families have faced. Those problems often were exacerbated by slow or unhelpful maintenance, according to the congressional testimony provided by families in the years since.
Congress has passed a number of reforms, with many going into effect last year. Still, housing advocacy groups say they continue to see problems at bases across the country. This year, both the House and Senate have held hearings about how to strengthen those reforms.
The results of the survey show the reforms aren't working, said Heather Hall, deputy director of Safe Military Housing Initiative.
"We had more people responding, a longer window of survey time and we saw more people dissatisfied with their [privatized housing]," she said. "To me, that's significant."
It's also an example of how the private landlords are not changing, said Rachel Christian, chief policy adviser for Armed Forces Housing Advocates.
"The results released clearly show a disconnect between the actual conditions in military housing and the perception that the property management company and the garrison commanders believe to be the conditions," she said. "The garrison commanders need to not only listen to residents, but they need to start believing the residents when they are telling them they are having problems."
Both women represent advocacy groups that help residents manage issues they face in their military family housing.
Some of the lowest scoring categories among residents in both privatized and government housing were responsiveness and follow-through, the condition and appearance of the house and an intention to renew the lease.
The Army said in a statement Thursday it will use the survey results as part of its continued approach to improve housing conditions.
"Army leaders will hold privatized housing companies accountable when they fail to deliver comprehensive, quality services to soldiers and their families," the Army said.
Private landlords at 26 bases saw decreased scores, and 16 increased their scores, according to the survey. Balfour Beatty Communities, which pleaded guilty in December to fraud in its military housing management, is responsible for the five lowest-scoring bases. From the lowest up, they are Fort Carson, Colo., Fort Jackson, S.C., Fort Stewart, Ga., Fort Gordon, Ga., and Fort Bliss, Texas.
However, Balfour Beatty also manages Carlisle Barracks, Pa., which was the fifth highest for satisfaction.
"It is important to note that the lower scores relate to the oldest homes in our portfolio, and, among other initiatives, we are working with the Army to fund new homes and make significant upgrades to others," the company said in a statement. "The recently announced groundbreaking at Fort Carson is a tangible example. We are pleased that several of our communities received high satisfaction scores and are working hard to achieve similar results at the rest of our properties."
Redstone Arsenal, Ala., has the best score and is managed by Hunt Military Communities. Yuma Proving Ground and Fort Huachuca, both in Arizona, and Fort Greely, Alaska, all scored in the top five for overall satisfaction.
---
---
---
---