US weapons stockpiles will not be depleted to dangerous levels for Ukraine war, military officials tell senators
By
Stars and Stripes
May 3, 2022
---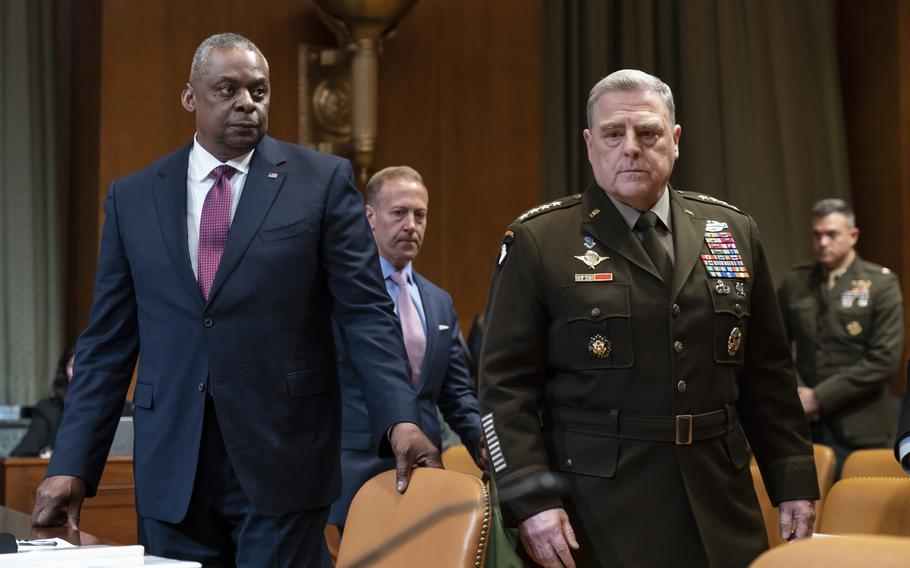 WASHINGTON — Top U.S. military leaders reassured senators on Tuesday that they will not allow weapon stockpiles to fall to critical shortages as the U.S. continues to arm Ukraine in its fight against Russia.
Defense Secretary Lloyd Austin told a subpanel of the Senate Appropriations Committee that the Pentagon is closely watching its inventories and working with the defense industry to replenish weapons such as Javelin and Stinger missiles as soon as possible. The reassurance came amid President Joe Biden's visit Tuesday to a Lockheed Martin facility in Alabama that manufactures the anti-tank Javelins.
"It's very critical to maintain what we consider to be minimum-required stockage levels, and you can rest assured that I will not allow us to go below that in critical munitions," Austin said. "At this point, I think we're in pretty good shape, and industry is responding."
Austin did not expand on what those minimum levels are, but Sen. Roy Blunt, R-Mo., noted the U.S. has sent roughly 5,000 Javelins and 1,400 Stingers to Ukraine, comprising 33% and 25% of their respective stockpiles. Sen. John Boozman, R-Ark., described the state of the missile inventory as "very thin."
Blunt and Sen. Jon Tester, D-Mont., said they were concerned that supply chain issues and cold production lines could limit the pace of replenishment. They pressed Austin and Army Gen. Mark Milley, the chairman of the Joint Chiefs of Staff, on how quickly the weapons could be restocked.
Austin told senators that "it was not only possible" to replace some of the stockpiles within a year, but "we will do that."
"We'll see production lines operate at different speeds," he said. "We're optimistic about the Javelin, and industry being able to increase the production rate in a very meaningful way and there are decisions to be made on the Stinger going forward."
Defense industry experts told the Senate Armed Services Committee last month that pandemic-related issues with hiring and supply chains as well as the long-term neglect of production capacity could delay replenishment of some weaponry by up to five years.
Raytheon, the manufacturer of the anti-aircraft Stinger, told analysts during a call last week that it would not be able to ramp up output until 2023 due to lack of available parts. The Pentagon has not purchased a Stinger in about 18 years, according to the company.
Defense Department officials have been meeting with industry partners since the war in Ukraine began in February, Austin said. Deputy Defense Secretary Kathleen Hicks held discussions with executives from eight major defense contractors last month on boosting production.
"We have encouraged industry to work with us to open up production lines, to increase their production and they are doing that, they're leaning forward. In some cases, it's a little bit more difficult to do that than others, but industry has been very supportive," Austin said.
Funding the restocking effort will require the passage of the $33 billion supplemental Ukraine aid package that the White House sent Congress last week, he said. About $16 billion of the requested funding would go to the Defense Department, including $6 billion to procure additional weapons and systems for Ukraine and another $5 billion for drawing more weapons from U.S. inventories.
"This will help us to not only replenish our stockpiles but also replace some of the capability we've asked our partners and allies to provide," Austin said.
Javelins and Stingers, as well as other anti-tank and anti-aircraft weapons, will remain in high demand as Ukraine's troops beat back Russian forces attempting to conquer the country's south and eastern Donbas region, Milley said. Other crucial weaponry includes long-range cannons and rocket artillery, tanks and infantry vehicles, he said.
Austin added Russia does not have any weapon that resembles the Javelin, which the Ukrainians used with great success during the failed siege of Ukraine's capital Kyiv.
Several senators called for the Pentagon to be more transparent and watchful as it steps up its weapons deliveries to ensure that equipment is moving to Ukraine's front lines. Sen. Patty Murray, D-Wash., said she repeatedly heard from those involved in logistics that diversion and hoarding issues have kept weapons, ammunition and armor from reaching some front-line units.
"Are we making sure that none of these weapons are falling into the wrong hands? Is there any way to even do that?" Tester asked.
Austin stressed it was difficult to track weapons once they were moved into Ukraine but said he is confident that equipment is getting to the right places. During a visit to Kyiv last week, Austin said he spoke to senior Ukrainian leaders about accountability and will continue to emphasize its importance.
"We have to depend on the Ukrainians at this point to do the right thing and make sure that they are prudent and careful about how they issue these weapons out and account for these weapons," he said.
---
---
---
---