'Crowded' production lines mean US can't deliver howitzers to Taiwan on time
By
Stars and Stripes
May 3, 2022
---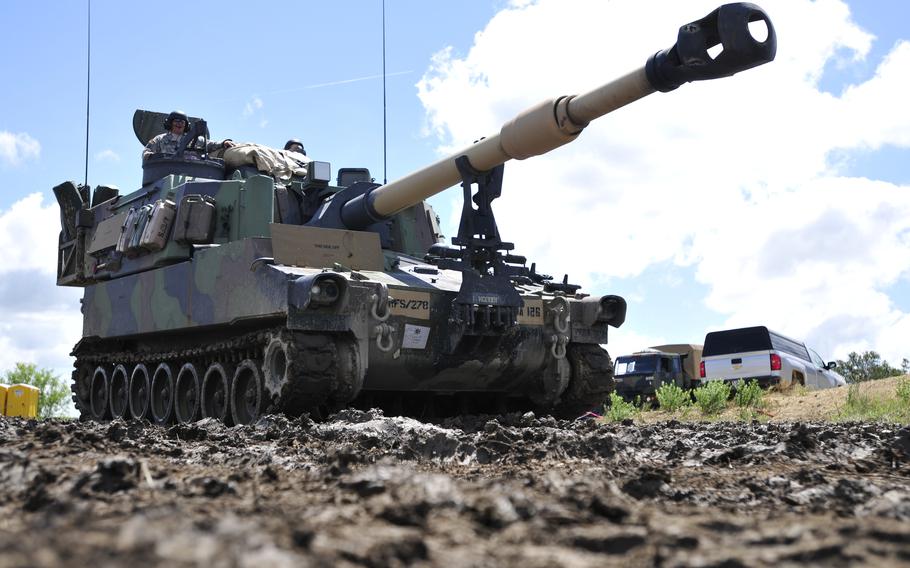 A $750 million arms sale to Taiwan is significantly delayed due to U.S. production issues, the Taiwan Ministry of National Defense said Monday.
On Aug. 4, President Joe Biden's administration approved the sale of 40 M109A6 Paladin self-propelled howitzers and approximately 1,700 kits to convert projectiles into GPS-guided munitions. The first eight howitzers were to be delivered in 2023, followed by 16 in 2024 and the final 16 in 2025, according to a Sept. 3 report from Taiwan News.
However, the U.S. is experiencing "crowded" production lines that are causing significant delays, the Defense Ministry said in a Monday news release. The earliest delivery date will be 2026, Taiwan News reported the same day.
Pentagon press secretary John Kirby, asked on Monday whether the U.S. providing howitzers to Ukraine was behind the delay in shipping guns to Taiwan, referred questions to the State Department.
However, the howitzers provided to Ukraine are from existing stocks that Biden transferred under his presidential drawdown authority, Kirby said.
"That is a different method of providing military articles than what is being provided to Taiwan, and that's all being done through the State Department," Kirby said.
The Taiwan Defense Ministry is also evaluating "other more precise and remote alternative options" because it considers precision firepower essential for its defense, it said in the release.
China considers Taiwan, a functioning democracy, a breakaway province that must be reunited with the mainland, possibly by force.
Beijing has denounced the arms deal as a provocative move that damages "China-U.S. relations and peace and stability."
"It sends wrong signals to 'Taiwan independence' separatist forces, and severely jeopardizes China-US relations and peace and stability across the Taiwan Strait," a Chinese Foreign Ministry spokesperson said on Aug. 5. "China is firmly opposed to this and has lodged solemn representations with the US side."
The A6-model howitzers are an upgrade to Taiwan's aging arsenal. The island's military is equipped with the M109A2 and M109A5 models, which were introduced in 1971 and 1984, respectively, according to a 2017 report from the Defense Ministry.
The M109A6 Paladin, an armored vehicle with a 155 mm turret, is a long-range artillery piece capable of firing precision-guided rounds. The Paladin features a variety of improvements over its predecessors, including better armor, firing rate, munition capacity and range, according to the 2005 U.S. Army Weapons System Handbook.
---
---
---
---