Vermont verve added to NATO air power with deployment of Guard's F-35s to Germany
By
Stars and Stripes
May 3, 2022
---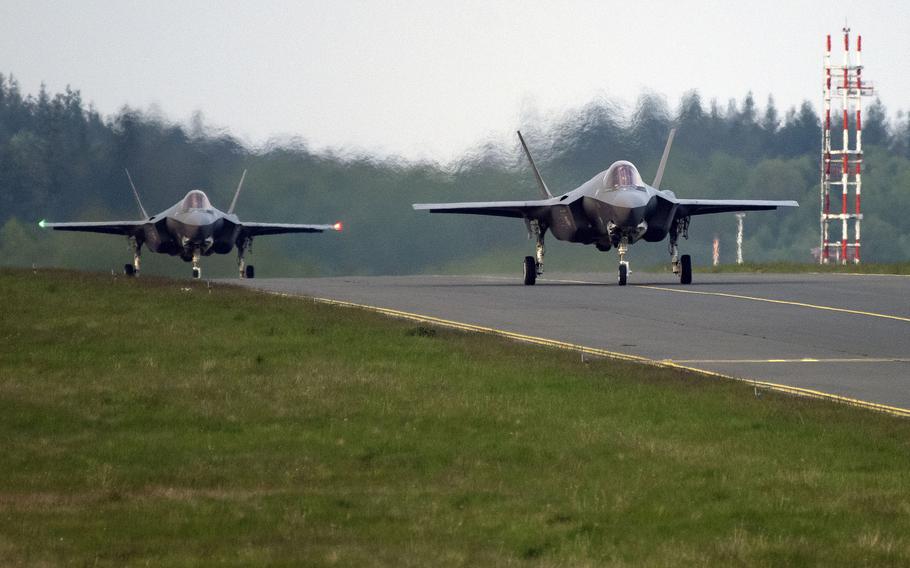 KAISERSLAUTERN, Germany — U.S. combat jets from New England will soon fly the skies of Eastern Europe.
Eight F-35 Lightning II aircraft from the Vermont Air National Guard arrived Monday at Spangdahlem Air Base to bolster NATO and support its air policing mission, U.S. Air Forces in Europe–Air Forces Africa said in a statement Tuesday.
The jets and about 100 support personnel from the 158th Fighter Wing in Burlington, Vt., will replace F-35 units from Hill Air Force Base, Utah, that have been deployed to Germany since February. The F-35s are expected to patrol NATO's eastern borders.
All but four F-35s from Hill are scheduled to return home later this week, USAFE-AFAFRICA said in the statement.
Vermont Air National Guard crews will operate and maintain the Utah-based F-35s as well as their own, for a total of 12 jets at Spangdahlem in support of NATO missions, USAFE-AFAFRICA said.
That's the same number that deployed from Hill about a week before Russia launched a full-scale invasion of Ukraine on Feb. 24.
The rotation comes as the war in Ukraine shows no signs of abating. After failing to capture Kyiv, the Ukrainian capital, Russian forces have shifted mostly to the Donbas region in eastern Ukraine.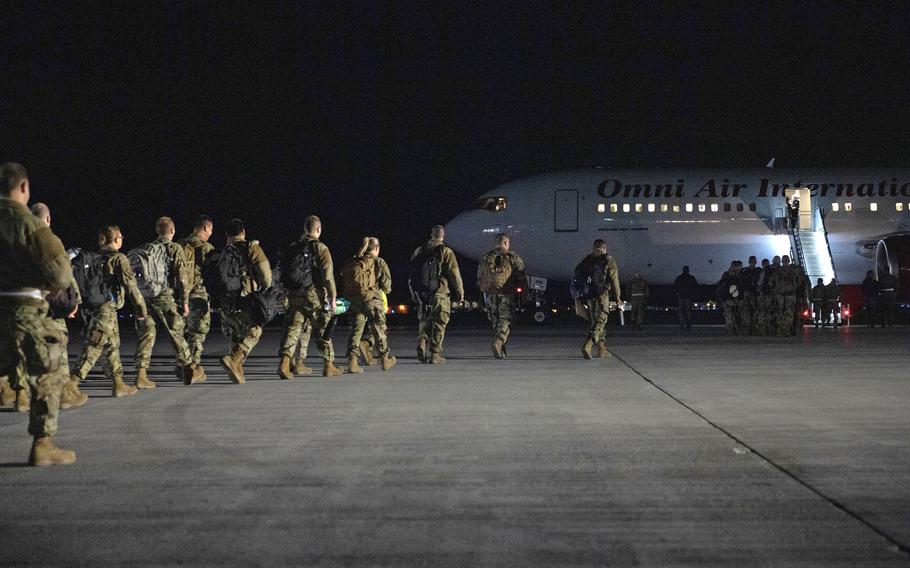 While in Germany, some of the Utah-based F-35s deployed to NATO bases in Estonia, Lithuania and Romania, protecting allied airspace in the Baltic Sea and Black Sea regions.
The command would not say how long the Guard's F-35s will remain in Europe, citing operational security.
The commander of the 158th Fighter Wing said the deployment comes only four months after the unit converted to an operational F-35 fighter wing.
"The Green Mountain Boys are ready and proud to answer this call, and we're grateful for the support of our families, employers and communities," Col. David Shevchik said last week in a statement.
In September 2019, the wing became the first Air National Guard unit to receive F-35s.
In another swap of combat aircraft in Europe, six F-16 Fighting Falcons from Aviano Air Base's 510th Expeditionary Fighter Squadron arrived at Fetesti Air Base, Romania, on Friday to replace members of Spangdahlem's 480th Expeditionary Fighter Squadron, USAFE-AFAFRICA announced Saturday.
The 480th deployed aircraft and personnel for three months to support air policing missions, with aid from Romania, Italy and the United Kingdom.
---
---
---
---