Biden approves another $800M in US military aid to Ukraine, including howitzers, helicopters and armored vehicles
By
Stars and Stripes
April 13, 2022
---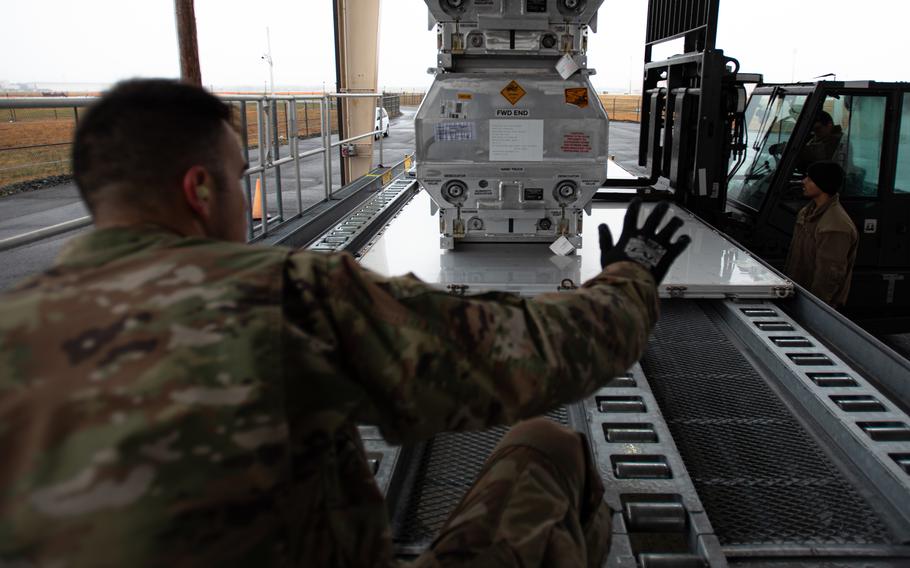 WASHINGTON — The U.S. will send another $800 million in weapons that includes artillery, helicopters and armored vehicles to Ukraine as its forces prepare for a new Russian attack in the country's eastern region, President Joe Biden announced Wednesday.
"This new package of assistance will contain many of the highly effective weapons systems we have already provided and new capabilities tailored to the wider assault we expect Russia to launch in eastern Ukraine," Biden said in a prepared statement.
Those additional weapons will include 300 Switchblade tactical drones, 11 Mi-17 helicopters, 18 155mm howitzer artillery systems, 200 M113 armored personnel carriers and 100 armored high-mobility multipurpose wheeled vehicles, according to the Pentagon.
"The steady supply of weapons the United States and its allies and partners have provided to Ukraine has been critical in sustaining its fight against the Russian invasion," Biden said. "It has helped ensure that Putin failed in his initial war aims to conquer and control Ukraine. We cannot rest now."
Pentagon officials have said they believe Russian forces are preparing an onslaught of the Donbas region in eastern Ukraine.
The new aid to Ukraine comes as Russia has been adding helicopters, additional artillery systems and troops to infantry units that recently left the capital of Kyiv and Chernihiv in northern Ukraine "for what we continue to believe is going to be a renewed push" toward the Donbas, a senior U.S. defense official said Wednesday.
"We continue to see movements and activity of Russian forces in Belarus and in Russia as they continue to reassemble their forces, stage them, [and add] equipment and material support," said the official who spoke on condition of anonymity.
Biden made the announcement after telling Ukraine President Volodymyr Zelenskyy of his plans by phone Wednesday afternoon, according to the statement.
The expected new Russian offensive on the Donbas region could prove to be easier for Russian forces than prior assaults in northern and southern Ukraine, chief Pentagon spokesman John Kirby said Wednesday. That's because Russia is more familiar with the terrain there after fighting in the region since it last invaded Ukraine in 2014.
"The other aspect of this is the topography [of eastern Ukraine.] It's been described to me [as] a bit like Kansas — a little bit flatter, it's a little bit more open," he said. "It's the kind of place where we can anticipate [Russia] to use tanks and long-range fires, artillery and rocket fire to achieve some of their objectives before committing ground troops."
The range of weapons in the latest military aid package was chosen, in part, based on that assessment. The security package also includes 10 AN/TPQ-36 counter-artillery radars, 2 AN/MPQ-64 Sentinel air surveillance radars, 500 Javelin missiles and thousands of "other anti-armor systems," 40,000 artillery rounds, 30,000 sets of body armor and helmets, and more than 2,000 optics and laser rangefinders, according to the Pentagon.
An undisclosed number of "unmanned coastal-defense vessels" is also being sent to Ukraine, along with C-4 explosives and demolition equipment for clearing obstacles, M18A1 Claymore anti-personnel munitions, medical supplies and protective equipment to guard against chemical, biological, radiological and nuclear exposure, the Pentagon said.
U.S. troops will need to train Ukrainians on some of the systems in the new package, Kirby said, such as the howitzers, counter-artillery and air surveillance radars, rangefinders and Claymores.
"We're still working on what that's going to look like," he said. "Because they are in an active fight, [we may conduct] a train-the-trainers program — pull a small number of Ukrainian forces out so they can get trained on these systems and then send them back in."
The additional weapons for Ukraine come as Defense Secretary Lloyd Austin met with defense industry leaders Wednesday regarding "the kinds of systems that had been involved in the security assistance program," a senior U.S. defense official said.
"[Austin] wanted to focus this particular meeting on … making sure that we have a good sense of where industry is in transactions and that they have a good sense of where we are in terms of our production needs," the official told reporters at the Pentagon.
While Austin was "very adamant" about discussing equipment sent to Ukraine, "we're not having this meeting with them because our stocks are so low that our readiness is impaired," the official said.
"We have been giving an awful lot of stuff to the Ukrainians, and so it would be the prudent thing to do before it becomes a crisis issue for our own readiness to have a discussion with them about accelerated production and advanced production," the official said.
Since taking office in January 2021, Biden has now sent Ukraine about $3.2 billion in military aid — an amount that "equates to more than half of Ukraine's defense budget for last year, which was about $4.2 billion," the official said.
"The Ukrainian military has used the weapons we are providing to devastating effect," Biden said in his statement Wednesday. "As Russia prepares to intensify its attack in the Donbas region, the United States will continue to provide Ukraine with the capabilities to defend itself."
About $2.5 billion of the U.S. aid has been sent since Russia invaded Ukraine less than seven weeks ago, according to the Pentagon. The contents of the packages have ranged from small arms and ammunitions to anti-aircraft systems and 100 Switchblade tactical drones.
By the end of Thursday, the U.S. expects to have delivered all the previously approved drones, the official said. Switchblades, dubbed "kamikaze drones," are portable loitering munitions that crash into targets while detonating explosive warheads, according to AeroVironment, which makes the weapon.
Most Ukrainian troops are not trained on the system, though "a small number" recently completed Switchblade training with U.S. troops at the Naval Small Craft Instruction and Technical Training School in Biloxi, Miss., Kirby said Sunday.
Those forces, which had been in the U.S. since before the Russian invasion, returned to Ukraine on Monday and are expected to train their fellow Ukrainian troops to operate the systems. But American troops in neighboring NATO countries also could be called upon to train Ukrainians on the systems, the official said.
"We are looking at options for additional switchblade training," the official said. "Certainly, one option that would be available to us would be to utilize [U.S.] troops that are closer to Ukraine."
The U.S. has more than 100,000 troops stationed in Europe — the most it's had on the Continent since 2005. More than 14,000 of them are deployed to countries on NATO's eastern flank, such as Poland, Romania, Slovakia and Hungary.
Fact sheet on U.S. security assistance for Ukraine
At least 30 countries have provided security assistance to Ukraine since this Russian invasion began. As of April 14, United States security assistance committed to Ukraine includes:
Over 1,400 Stinger anti-aircraft systems.
Over 5,500 Javelin anti-armor systems.
Over 14,000 other anti-armor systems.
Over 700 Switchblade Tactical Unmanned Aerial Systems.
18 155mm Howitzers and 40,000 155mm artillery rounds.
16 Mi-17 helicopters.
Hundreds of Armored High Mobility Multipurpose Wheeled Vehicles.
200 M113 Armored Personnel Carriers.
Over 7,000 small arms.
Over 50,000,000 rounds of ammunition.
75,000 sets of body armor and helmets.
Laser-guided rocket systems.
Puma Unmanned Aerial Systems.
Unmanned Coastal Defense Vessels.
14 counter-artillery radars.
Four counter-mortar radars.
Two air surveillance radars.
M18A1 Claymore anti-personnel munitions.
C-4 explosives and demolition equipment for obstacle clearing.
Tactical secure communications systems'
Night vision devices, thermal imagery systems, optics, and laser rangefinders.
Commercial satellite imagery services.
Explosive ordnance disposal protective gear.
Chemical, Biological, Radiological, Nuclear protective equipment.
Medical supplies to include first aid kits.
---
---
---
---