US Army chief of staff on hand as ally Lithuania announces training for Ukrainians
By
Stars and Stripes
April 11, 2022
---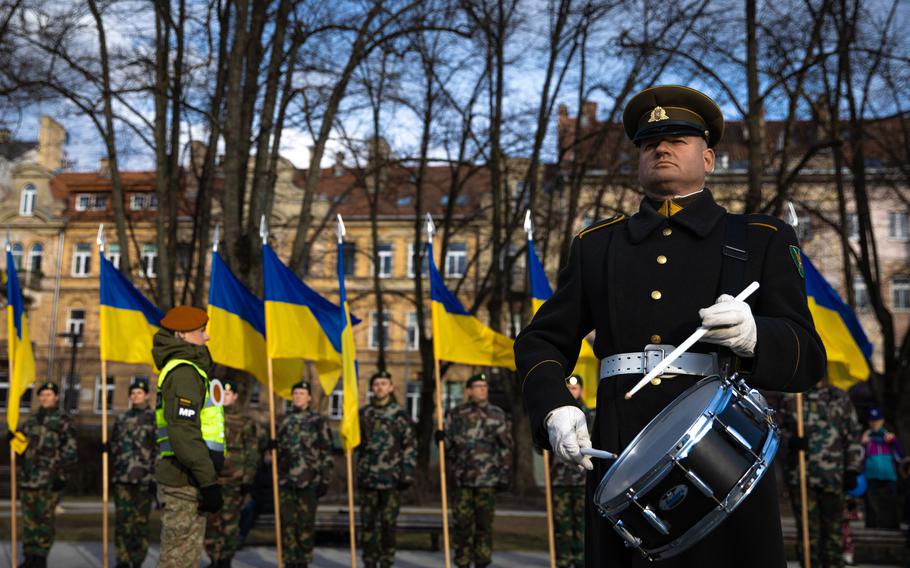 Lithuania will host a mission to train Ukrainian soldiers to use new weaponry that the Baltic country's fellow NATO allies are sending Kyiv to assist in its war against invading Russian forces.
Lithuanian defense officials announced the plan Sunday, the same day U.S. Army chief of staff Gen. James McConville was in the country for security talks.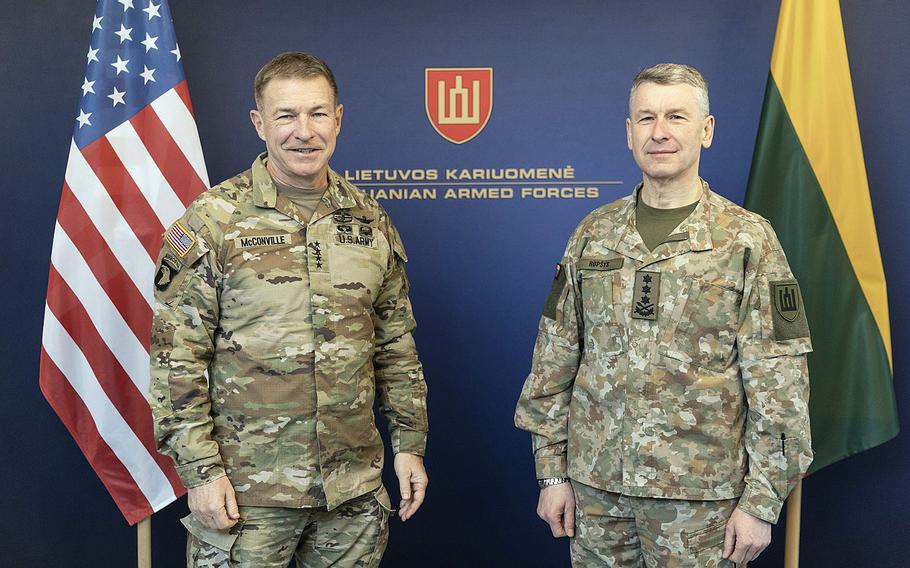 Meanwhile, the Pentagon said Sunday that it had concluded a separate training effort with Ukrainian forces in the U.S.
The troops were being trained on operating maritime patrol craft and use of weapons systems, such as the Switchblade drone, that the U.S. is now providing to Ukraine.
"To achieve maximum effect, we will soon organize military training for Ukrainian troops here in Lithuania," Lt. Gen. Valdemaras Rupsys, the Lithuanian defense chief, told local reporters.
The effort will center on training Ukrainian military instructors, who can in turn pass on their weapons knowledge to rank-and-file troops in Ukraine, Rupsys told the Delfi news agency.
Rupsys also held talks with McConville, who told reporters that the Pentagon continues to assess what the future American force structure will look like in countries such as Lithuania, which have been eager for a larger American military presence.
"We have rotational forces here, and our policymakers have said that they will defend every inch of NATO," Delfi quoted McConville as saying. "And they are working through what that will look like as far as rotational or permanent troops as we speak."
For now, there are no immediate plans for U.S soldiers to join the Lithuanian initiative, which is expected to begin in the coming weeks.
"We can't speculate on whether or not that could change in the future," U.S. Army Europe and Africa said in a statement Monday.
The U.S. has long been involved in the training of the Ukrainian military. For years, the Army operated out of a site in western Ukraine that was focused on preparing troops to fight Russian-backed separatists in the eastern region known as the Donbas.
However, because of security concerns, the American training was put on hold less than two weeks before Feb. 24, the date Russia launched its full-fledged invasion.
The Russia-Ukraine war was preceded by a buildup of about 200,000 Russian service members and materiel near Ukraine's borders on three sides.
At the time of the halt in the U.S. training, about 160 National Guard soldiers were relocated from Ukraine to Germany, where they continue to take part in other Army instruction in Europe.
---
---
---
---