Analysis
Pentagon likely to look eastward if it brings US Army tanks back to Europe
By
Stars and Stripes
March 11, 2022
---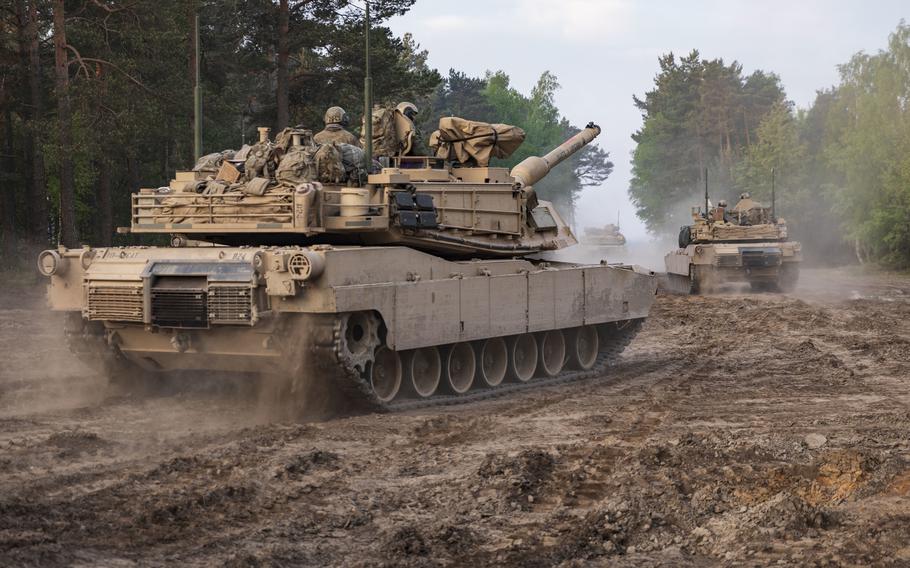 STUTTGART, Germany — U.S. garrisons in Germany were the hub for Army armor during the Cold War, but if Russia's war on Ukraine prompts the Pentagon to send tank brigades back to Europe, it may need to look east instead.
Garrisons in Germany have all the large-scale units they can handle, or are close to it. And the cost of major base expansions in a country as densely populated as Germany, the economic engine of Europe, could run high.
"It's difficult putting brigades in a single location in Germany right now. I am not sure we have the capacity there to do that," said John R. Deni, an expert on Army basing in Europe and U.S. Army War College professor. "We need to start thinking about places in Poland or Romania, where you also have good training areas."
The Pentagon has acknowledged that Russia's attack on Ukraine could change how the military arranges its forces in Europe in the long-term.
"We will provide options, and I think that is developing as we speak," Army Chief of Staff Gen. James McConville said Tuesday during a meeting hosted by the Association of the U.S. Army in Washington.
Among the considerations the Pentagon will need to contemplate should the White House direct big increases is whether it wants more rotational forces or more permanently based units in Europe.
In addition to types of units and capabilities, the military will need to figure out how to divvy up resources between U.S. Central Command, European Command and the Pacific.
Enter the Army, which historically has been the primary force in Europe but for two decades was focused on the Middle East and Afghanistan.
A report released Wednesday by the Atlantic Council policy group in Washington argues that Europe will need to be the Army's primary concern for years to come.
"Sorry, CENTCOM, you now need to be a supporting theater," Barry Pavel, a co-author of the Atlantic Council report said in an interview Thursday. "The Army's number one, two and three priorities must be EUCOM. Period. This is not a time for making everyone happy. If we do incrementalism now, we will be in much more trouble."
Pavel served on the National Security Council during the administrations of presidents George W. Bush and Barack Obama.
Although the Pentagon has been putting more resources into Europe since Russia first invaded in Ukraine in 2014, Pavel said the idea of EUCOM as a post-Cold War afterthought remains entrenched inside parts of the Defense Department.
"That is the culture in the building," Pavel said. "But the Army is going to follow where the money is. And now the money is going to be in more than one place."
Shift to Poland and Romania
Some decisions made during the long post-Cold War drawdown that were carried out over a 25-year span could limit the Pentagon's options in Europe.
In 1991, the year of the Soviet Union's collapse, the U.S. Army in Germany operated from about 500 different sites scattered across the country. The amount of land occupied by the Army alone added up to 232,151 acres, or the equivalent of more than 300,000 football fields, according to military historical data.
Today, the Army operates from a handful of locations, leaving a comparatively minuscule footprint.
In recent years, the Army has conducted numerous land assessments in anticipation of potentially expanding its footprint. They included site survey visits in northern Germany.
But nothing tangible ever came of those efforts. And in the years since, the military has poured millions of dollars into improving bases used by rotational forces in Poland and Romania. Those countries, along with the Baltic states, have long been eager to host more U.S. troops.
One advantage Poland and Romania have over the Baltics when it comes to basing large units is that they would not be sitting right on Russia's doorstep, which could leave them exposed, Deni said.
Another upshot of basing U.S. forces eastward is that Poland and Romania are likely to share the costs, he said.
The Atlantic Council report on force posture options generally concurs. Among the moves it recommends to counter Russia: at least three more brigade-equivalent combat units, two of which should go to Poland and Romania. A third brigade should be sent to Germany, the report argues.
While options in Germany are limited, a unit could be squeezed into the garrison at Grafenwoehr, the largest Army training grounds in Europe.
Construction projects underway there are intended to add living space for the influx of rotational units that have been operating in Europe since the 2014 Russian invasion of Ukraine.
The Atlantic Council also recommends permanent stationing of the Army's reestablished V Corps headquarters in Poland rather than the current model of a rotational forward-deployed mission in Europe.
More air defenses and future long-range artillery should be added, along with transportation and engineering units to counter a Russia that has grown ever more unpredictable, security analysts say.
But any big boost in permanent forces likely would take several years to accomplish, given the array of factors that need to come together, from congressional backing to reviewing the status of forces agreements with host nations.
With brigades and other large formations also come the need for schools and support services should the Army aim for accompanied tours with families.
As a stopgap, the military could start off with shorter, unaccompanied tours, Deni said.
Obstacles in the way
If the U.S. decides to substantially up its presence along NATO's eastern flank, that would mean casting aside NATO's founding act with Russia, which puts limits on the number of forces that can be based in former Warsaw Pact states.
But calls have grown louder in recent weeks to abandon the agreement, the principles of which have already been violated by Russian President Vladimir Putin's invasion of Ukraine, critics say.
Retired Lt. Gen. Ben Hodges, former commander of U.S. Army Europe, long opposed the idea of permanently basing forces in countries such as Poland, favoring a rotational model.
"I have changed my mind on this," Hodges said Thursday. "NATO's commitment to abide by the founding act was not rewarded by good Russian behavior. I would support permanent basing in Poland and Romania should EUCOM and the department decide this is the right move."
Still, even if a consensus emerges that the NATO-Russia founding act is a relic, other obstacles could complicate a push for big troop increases in Europe.
For starters, a large shift would cost billions of dollars and mean taking units away from stateside U.S. military communities, where large bases are integral to local economies.
When the 1st Armored Division and brigades under it moved to Texas more than a decade ago, it provided a multibillion-dollar economic infusion.
Whether a fraught security environment in Europe would be enough for members of Congress to let go of some of the units that give their districts a boost is an open question.
Meanwhile, Germany and other European countries, including Denmark, Lithuania and Poland, have pledged to ramp up defense expenditures in connection with a change in their own threat perceptions about Russia.
The Pentagon, which has urged NATO allies to spend more for decades, would need to thread a needle between stepping up in Europe and refraining from filling a void that Europeans could take care of themselves.
The question of how the outcome in Ukraine could shape Pentagon thinking remains. Russian logistical difficulties and puzzling tactics thus far have resulted in a more contested fight than some military analysts had expected.
If Russia's invasion turns into a quagmire with significant losses, would a U.S. military buildup in Europe even be warranted?
"The early returns are nothing short of shocking," Pavel said of the Russian military performance in Ukraine. "They have been shockingly bad. But it isn't over. I don't think we can let our guard down yet."
---
---
---
---