Ukrainians 'protecting Europe with their lives' receive truckload of items collected in Ramstein Air Base drive
By
Stars and Stripes
March 10, 2022
---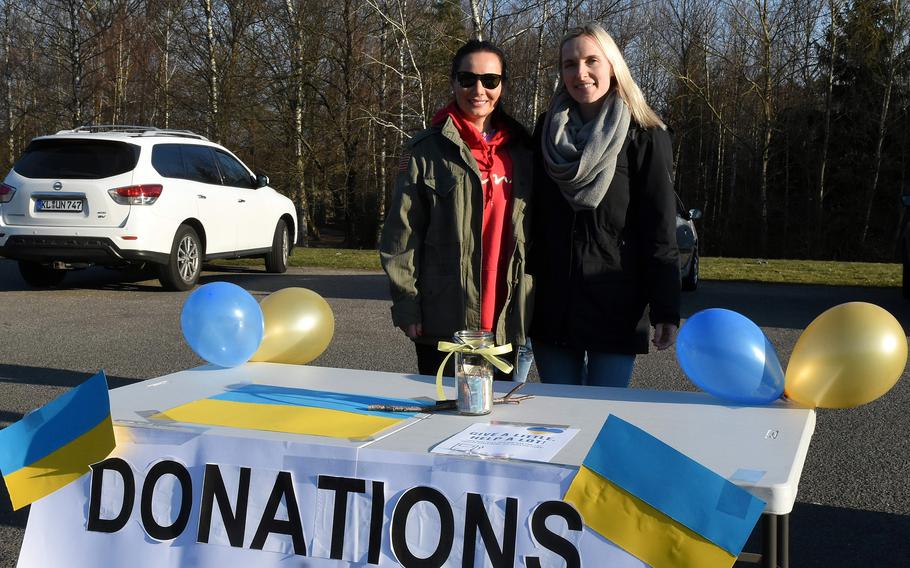 RAMSTEIN, Germany — Private donations collected at Ramstein Air Base have reached desperate but determined Ukrainians fighting for their survival against invading Russian forces.
Viktoria Shevchuk, 38, was among a group of volunteers sorting through boxes Wednesday at a Ukrainian Orthodox church in Dubno, a city about 250 miles west of the capital, Kyiv.
Shevchuk and Evgeniya Cole, who helped organize the donation drive last week at Ramstein, are former classmates who grew up in Dubno. Through Cole, Shevchuk requested supplies for the thousands of civilians in the town who have stayed behind to help the war effort.
A team of volunteers on base raised nearly $6,800, which was used to purchase basic items for civilians and volunteer fighters in Ukraine, Shevchuk said.
Cole, who works at the base housing office and is married to a U.S. serviceman, said the Ramstein community had shown tremendous support, from sorting and loading boxes to collecting donations at drop-off points.
A tractor-trailer nearly filled with boxes left Ramstein on Saturday, Cole said.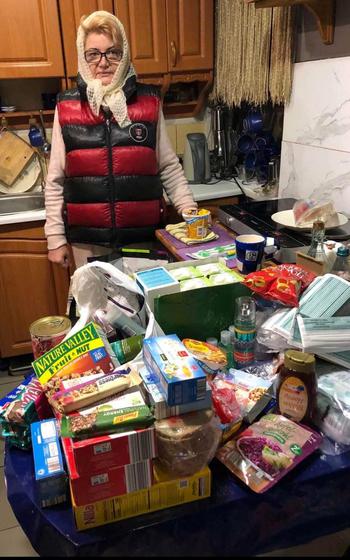 Shevchuk drove all day Tuesday to pick up the donations, returning to Dubno about midnight, she said. The plan now is to get the items to those who need them by whatever means possible, even if the journey is perilous.
Among the items from Ramstein that will go to volunteers in areas under attack are sleeping bags, floor mats, painkillers, portable kitchenware and first-aid kits, Shevchuk said.
They need "things to help them survive in the cold, things they can immediately use in the field," Shevchuk said.
But she added that they still need more "tactical supplies," such as protective vests and helmets, camouflage clothing, boots, night-vision goggles and tourniquets. After two weeks of war, local businesses and organizations who have supplied volunteers are running low on resources, Shevchuk said.
"A lot of people are staying put … trying to find a way to contribute to the cause," she said.
Those who signed up for service after the war began "are protecting Europe with their lives," she said, adding that no one can say whether Russia will advance beyond Ukraine.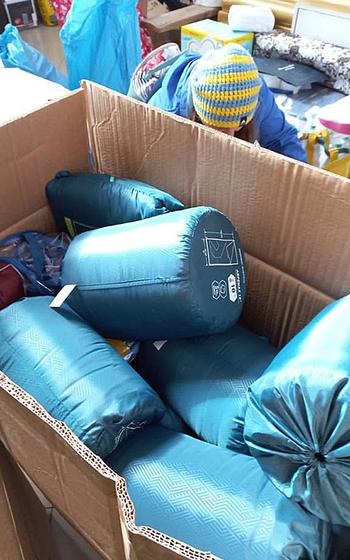 Strollers, diapers, nonperishable snacks and clothing for women and children were also among the donations from Ramstein. A volunteer charity group was distributing some of the items Thursday in Rivne, a city of about 245,000 in western Ukraine.
Shevchuk said the recipients are "very grateful for all the assistance" as they try to keep up their spirits and "do whatever it is they can to help Ukrainians win."
Cole said one more van with donations will likely go out soon. She's waiting on five boxes of diapers being shipped from Spangdahlem Air Base, and she's also received more donated medications.
The priest at the Dubno church where the Ramstein donations were taken, Father Vasiliy, said that in addition to being the distribution hub in Ukraine for various collections of donated items, the church is also taking in refugees.
He said the whole of Russia is to blame for the plight of Ukrainians and the tide of more than 2 million people who have fled to Europe so far.
"All of what Russia is doing goes beyond the bounds of humanity," he said. "And that applies not just to the Russian government and the Russian military, but to the entire Russian citizenry as well."
Stars and Stripes reporter David Edwards contributed to this report.
---
---
---
---