US lawmakers call for deliveries of heavy weapons to Ukraine as war pivots east
By
Stars and Stripes
April 13, 2022
---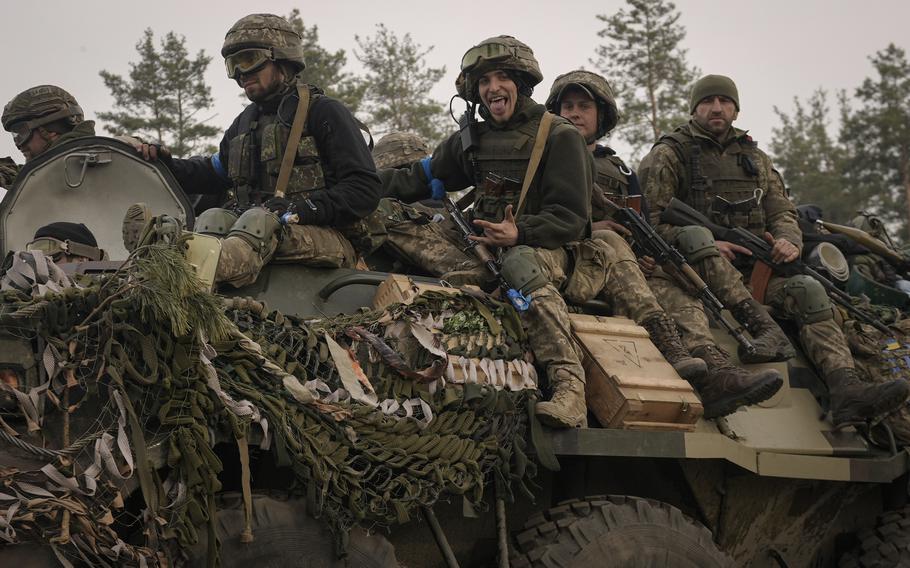 WASHINGTON — Some Capitol Hill lawmakers say they want to see the U.S. supply a steady stream of heavy weapons to Ukraine to help its forces go on the offensive against advancing Russian troops as the battlefield shifts to the country's more rural east.
The fight over the contested Donbas region, where Russia-backed separatists have held territory since 2014, is expected to be a protracted ground war between infantry and artillery on flat, open terrain, according to Pentagon and Ukrainian officials. To fend off and push out Russian forces, Congress members said the U.S. will need to commit to sending Ukraine hard power such as tanks, artillery and aircraft.
President Joe Biden on Wednesday announced another $800 million in new military aid for Ukraine's war effort. The additional security assistance could include sophisticated equipment such as howitzer cannons and armored Humvees, according to a report by The Washington Post.
"It's very important that the American people understand that we want the Ukrainians to win, and we will support them with appropriate intelligence information and weapons so they can regain the territory that has been lost to Russia, and that includes the area in the Donbas," Sen. Mike Rounds, R-S.D., said last week during a Senate Armed Services Committee hearing.
The battle for Donbas will resemble the large-scale warfare of World War II, according to Ukraine Foreign Minister Dmytro Kuleba, with thousands of tanks, armored vehicles, planes and artillery. Russia's larger military is better positioned in the east than around the Ukrainian capital of Kyiv, where the Ukrainian resistance was able pick off columns of Russian tanks and armored vehicles through small-unit strikes, Ukrainian officials said.
Ukraine is requesting a host of offensive weapons, including long-range artillery to keep Russians at a distance, tanks and armored vehicles to break through Russian defenses and liberate occupied territories, and anti-ship missiles to destroy Russian forces blocking ports on the Black Sea, according to Ukraine's Defense Minister Oleksii Reznikov.
"To win such a war, we need different help than what we have been receiving before," he said in a video released last week. "We want to liberate the enemy-occupied territories as soon as possible. To do this, we need other weapons."
On Sunday, Rep. Liz Cheney, R-Wyo., called for the urgent delivery of tanks, artillery and armored vehicles to Ukraine and said the U.S. needs to expand its aid shipments beyond defensive weapons such as anti-tank and anti-aircraft systems.
"I think it's really important for us to be very clear with respect both to the kinds of advanced weaponry, the kinds of offensive weaponry we need to be providing them," she said during an interview with CNN.
Rep. Mike Gallagher, R-Wis., said the U.S. should work with its allies to ensure Ukraine receives Soviet-model tanks, artillery and planes as well as small-arms ammunition and real-time intelligence about the Russian army.
"Anti-tank and anti-aircraft systems are still critical to protecting Ukrainian troops on the offense and we should continue to supply them as needed. That said, there is more the U.S. can and should do to ensure President [Volodymyr] Zelenskyy is in as strong of a position as possible," Gallagher, a former Marine, said in a statement.
The U.S. is constrained in the kind of heavy equipment it can provide Ukraine, said Mark Cancian, a former Marine and senior adviser with the Center for Strategic and International Studies, a Washington think tank. Most, if not all, the weapons will need to be Soviet-made and sent through Eastern European allies who will then receive replacements from the U.S. Recent appeals by Reznikov and Zelenskyy to purchase NATO-standard heavy weapons are not practical, he said.
"If we send them M1 tanks, they wouldn't know what to do with them, they don't have anybody that's trained on them and to make an M1 tank effective would take at least a year," Cancian said. "And that's true of F-16 aircraft or anything else like that that they don't already operate."
Slovakia received a Patriot missile system from the U.S. after sending its S-300 air defense system to Ukraine last week. Only the Czech Republic has supplied Ukraine with tanks, sending Soviet-era T-72s.
Rep. Stephanie Bice, R-Okla., said tanks should be sent to Ukraine "in a swift manner" but acknowledged that brokering the delivery of aircraft, which Ukraine has repeatedly asked for to "close the sky" to Russian bombardment, will be difficult. The White House nixed a deal to transfer MiG fighter jets from Poland to Ukraine last month, fearing it would provoke Russia.
"Unfortunately, we are not able to provide the types of planes that Ukrainian pilots can immediately fly," Bice said in a statement. "We are relying on other nations to supply those, and so far, that hasn't been possible either."
Sen. Richard Blumenthal, D-Conn., said he has strongly supported providing more lethal weapons, including fighter jets, to Ukraine since Russia first invaded in 2014 and annexed the Crimean Peninsula. He suggested during a hearing with top military officials last week that the U.S. consider sending A-10 Thunderbolt II attack aircraft, known as Warthogs, which the Air Force wants to retire.
"It's going to be a long slog," Blumenthal said. "This is a protracted war going to the east, but we need to be there for the Ukrainians in the midst of this long slog."
The most critical element of supporting Ukraine's offensive is maintaining a consistent influx of munitions, Cancian said. Even lighter weapons such as shoulder-fired, anti-aircraft Stingers missiles and anti-tank Javelins missiles can be effective in a drawn-out fight, he said.
Defense Secretary Lloyd Austin told senators last week that those weapons, as well as drones and communications equipment, have proved "somewhat decisive" in Ukraine's stiff resistance. Ukraine continues to deny Russia air superiority through tens of thousands of anti-aircraft systems from the U.S., added Army Gen. Mark Milley, chairman of the Joint Chiefs of Staff.
"The biggest thing is that they need this flow of supplies and equipment to continue because that is what has allowed them to maintain a continuous combat capability that's defeated the Russians so far," Cancian said.
Republican Sens. Joni Ernst of Iowa and Jim Inhofe of Oklahoma said the U.S. should equip Ukraine with the ability to trounce Russian forces, not just repel them. But they agree the speed of heavy weapons delivery will be a major deciding factor in whether Ukraine can boot Russia from its territory.
"President Zelenskyy, and all of the Ukrainians I've met with over the last month, have said weapons are not being delivered fast enough — particularly with their high burn rate," Ernst, a former Army officer, said in a statement. "The U.S. can deliver more capability quicker, and Congress will continue to pressure this administration."
Russia has warned that it will treat arms convoys from NATO countries to Ukraine as "legitimate targets" for military action and deliveries of more sophisticated weapons will not go unnoticed, Cancian said. The risk of Russia making good on its threat, however, is not likely for now, he said.
"The Russians have their hands full," Cancian said. "In terms of shipping equipment, they seem to have accepted that, they really haven't even struck the supply lines."
Sens. Jacky Rosen, D-Nev., and Jeanne Shaheen, D-N.H., said they will work with their Republican colleagues in the coming weeks to shore up Ukraine's military capabilities for a renewed Russian onslaught. Before leaving for spring recess last week, the Senate passed a bipartisan bill to expedite U.S. arms transfers to Ukraine through a World War II-style lend-lease program. The legislation has moved to the House.
"As the military situation in Ukraine evolves, so must our global response," said Shaheen, the bill's co-sponsor.
---
---
---
---