Giant Ukrainian cargo plane touches down at US air base in western Tokyo
By
Stars and Stripes
April 13, 2022
---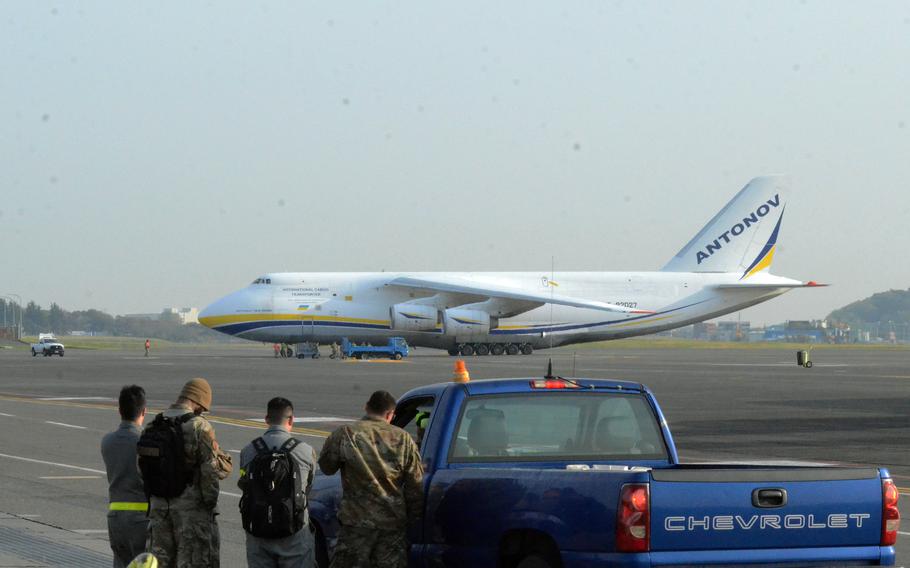 YOKOTA AIR BASE, Japan – The world's largest production transport airplane, painted in Ukrainian blue and yellow, touched down at the home of U.S. Forces Japan in western Tokyo early Wednesday.
The chartered AN-124 Antonov, also called a Ruslan, carried oversized equipment for a new heat and power plant at Yokota from Dallas, according to an email April 7 from 374th Airlift Wing spokesman 1st Lt. Danny Rangel. The statement was embargoed until the plane touched down.
The Antonov dwarfed Air Force C-130J Super Hercules cargo planes and CV-22 Osprey tiltrotor aircraft as it taxied onto a ramp beside Yokota's cargo terminal. It was the same spot where airmen on March 16 loaded a 38-ton shipment of Ukraine-bound nonlethal military supplies onto a C-17 Globemaster III.
The supplies, which included helmets and bulletproof vests donated by Japan, were sent on their way while reporters watched and listened to speeches by U.S. Ambassador to Japan Rahm Emanuel, Japanese Vice Minister of Defense Oniki Makoto and Ukrainian Embassy deputy chief of mission Oleksandr Semeniuk.
The Ruslan is a heavy strategic military transport that can carry 150 tons of cargo, according to the Ukraine-based Antonov company's website.
"It is the world's largest production transport airplane," the website states.
By comparison, the Air Force's largest aircraft — the C-5 Galaxy — can carry 140 tons, according to the service's official website.
Antonov did not immediately respond to emailed questions about the aircraft on Wednesday.
The AN-124 was the world's second biggest cargo plane until recently, when Russian forces destroyed a larger AN-225 Mriya aircraft, also built by Antonov, according to the Ukrainian government.
Radio Free Europe posted a video April 3 showing damage to Hostomel Airport, north of the Ukrainian capital, including the battered hulk of the Mriya inside a hangar.
The equipment delivered to Yokota by the Ruslan will be part of a natural gas-powered 10-megawatt power plant. It's part of a $166 million project to improve the base's energy efficiency, Jackens Eugene, 374th Civil Engineering Squadron installation energy manager, told Stars and Stripes on Sept. 13.
"Aircraft like this are commonly contracted to deliver oversized cargo," Rangel said. "Once completed, the Combined Heat and Power Plant will reduce dependence of off-base electricity, increase energy resilience and reduce overall energy costs."
Other questions about the plane and its cargo were referred to Pacific Air Forces.
PACAF spokeswoman Capt. Claire Waldo said in an email Wednesday that officials would need to coordinate with other agencies to provide more details about the visit, including the contractor's name, and that the information wouldn't be available by close of business.
---
---
---
---