Tons of Japanese military supplies leave US air base in Tokyo bound for Ukraine
By
Stars and Stripes
March 16, 2022
---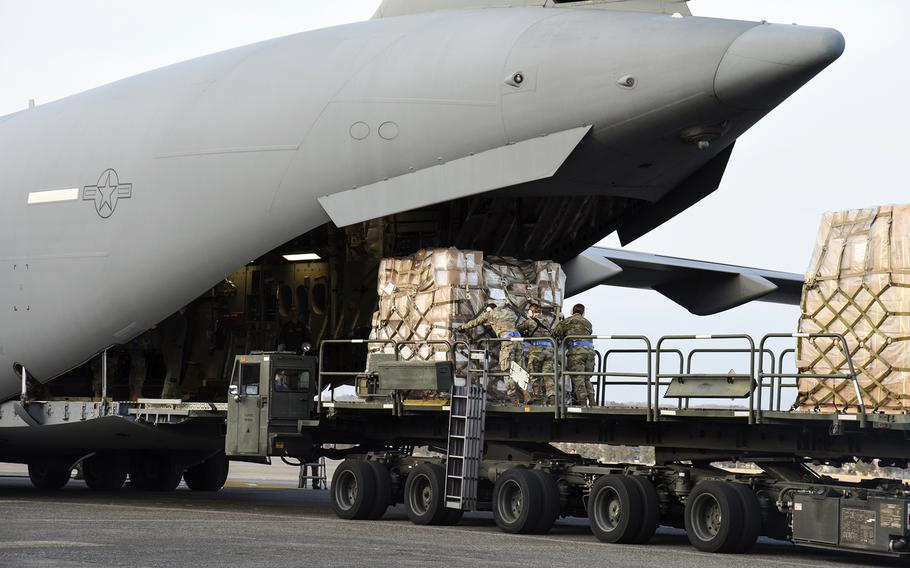 YOKOTA AIR BASE, Japan – A 38-ton shipment of nonlethal military supplies left this U.S. airlift hub in western Tokyo bound for Ukraine on Wednesday. It was sent on its way by the U.S. ambassador to Japan, the Japanese defense chief and a Ukrainian diplomat.
The supplies, which include helmets and bulletproof vests donated by Japan, were loaded onto an Air Force C-17 Globemaster III cargo plane in front of a crowd of reporters gathered beside Yokota's runway.
Japan first delivered similar items to Ukraine on March 8, The Straits Times reported Friday. The Japan Air Self-Defense Force tweeted photographs Tuesday of one of its planes delivering a second shipment to Poland.
U.S. Ambassador to Japan Rahm Emanuel, Japanese Vice Minister of Defense Oniki Makoto and Ukrainian Embassy deputy chief of mission Oleksandr Semeniuk spoke as airmen prepared to load the supplies.
"What happens in Ukraine doesn't stay in Ukraine," Emanuel told the journalists.
Japan has imposed about a dozen sanctions on Russia in response to its invasion of Ukraine but the effort to hold them to account is ongoing, he said.
"This is a long battle to ensure that the Ukrainian armed forces have all the tools they need for the security of their country," Emanuel said.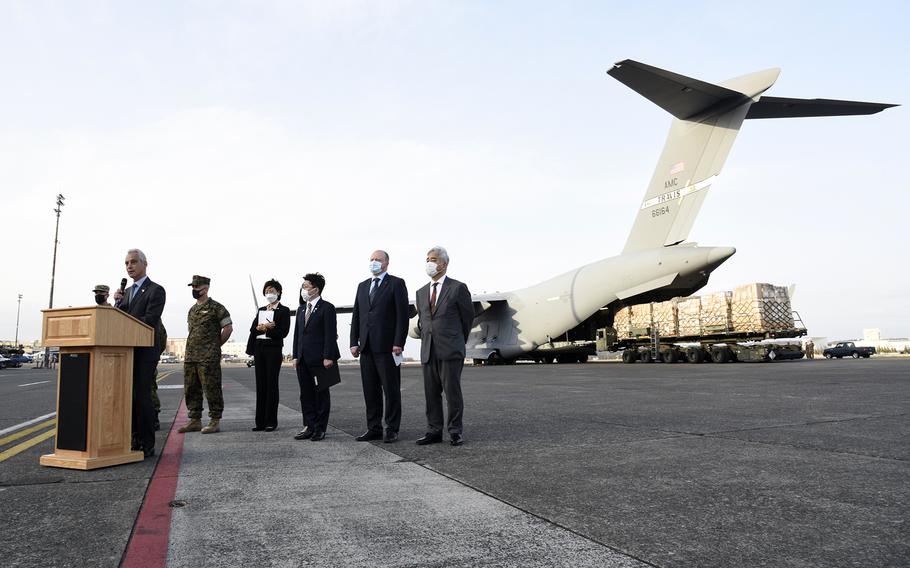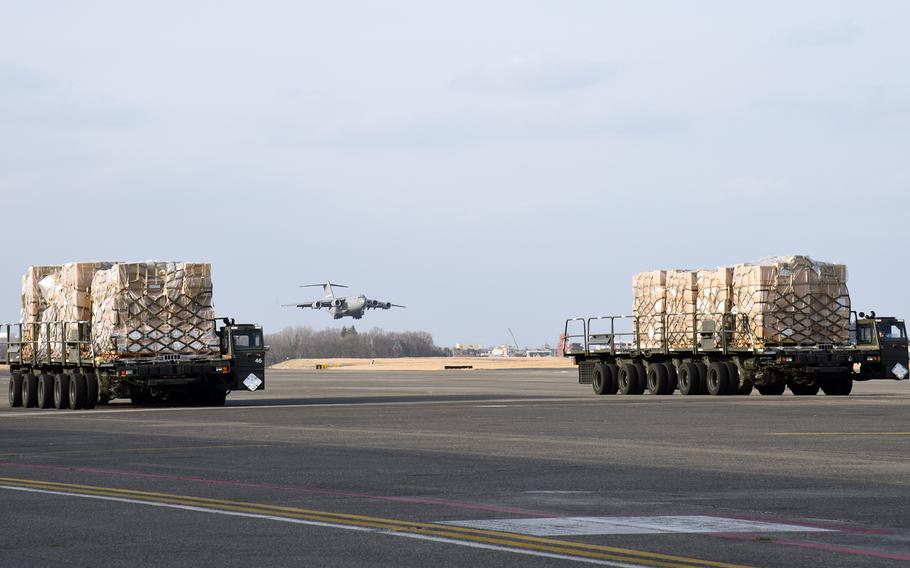 The U.S military and government "couldn't be happier" about Japan's aid shipments and want to be a partner in moving the material expeditiously to Europe and get it into the hands of Ukrainians, he said.
Anyone, anywhere, who violates international norms will pay a price, Emanuel said.
"Giving nonlethal but military assistance is not just about (Russia) paying a penalty but also sticking up for values we all share," he said. "This is Ukraine's time of need, and we will stand with them shoulder to shoulder."
Russia's aggression is punishment for Ukrainians wanting to integrate with the European Union and NATO, Semeniuk said.
"That's the punishment for us because we wanted to live in a free country," he said.
Russia didn't take Ukrainians seriously and expected to conquer the country in three days, Semeniuk said.
Three weeks after Russia invaded their country, Ukrainian forces are still in control of the capital, Kyiv, and have inflected heavy losses on Russian forces, according to reports from the war zone.
"Our men and women would not be that successful fighting against the enemy without the help from our friends from abroad," Semeniuk said.
---
---
---
---