US, Japan flex their Osprey capabilities amid tensions with China and Russia
By
Stars and Stripes
March 16, 2022
---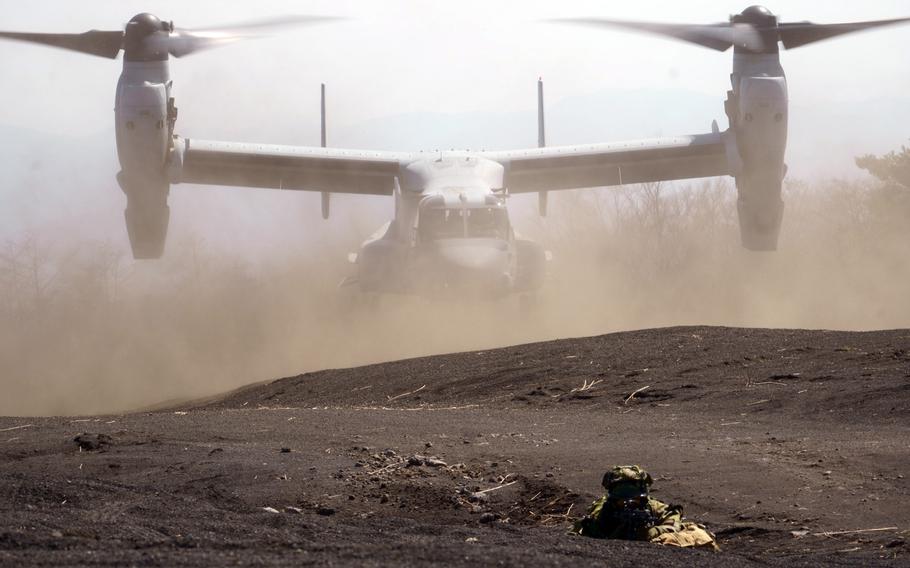 CAMP FUJI, Japan – Three MV-22 Ospreys descended on a mountain clearing during a drill this week marking the first coordinated use of the tilt-rotor aircraft by the U.S. Marine Corps and the Japan Ground Self-Defense Force.
Kicking up clouds of dust, a Japanese Osprey set down Tuesday at a landing zone just six miles from Mount Fuji and deployed a squad of soldiers to secure the area. Shortly afterward, two Marine Corps Ospreys deployed their Marines, simulating an airborne insertion and ground assault.
The operation was part of Maritime Defense Exercise-Amphibious Rapid Deployment Brigade, which began March 7 and runs through March 25. U.S. and Japanese commanders call the drills a milestone for their growing partnership.
"We believe this exercise is very significant, not only for improving the capability of amphibious operations, but also for strengthening the deterrence and response capabilities of the Japan-U.S. alliance," Col. Masashi Hiraki, commander of the 1st Amphibious Rapid Deployment Regiment, told reporters Tuesday.
The exercise involves an undisclosed number of Marines from the Okinawa-based 31st Marine Expeditionary Unit and soldiers from the Self-Defense Force's Amphibious Rapid Deployment Brigade, a unit activated in 2018 that bears resemblance to the U.S. Marine Corps.
Both forces are trained to tackle crises ranging from natural disasters to military conflict.
"With the potential for an unstable security environment in the Indo-Pacific region, an alliance that's built on shared security interests and shared values is more important and relevant than ever," 31st MEU commander Col. Michael Nakonieczny said Tuesday.
The exercise coincides with rising tensions in the region, particularly after Russia's invasion of Ukraine, a series of missile test launches by North Korea and China's increasingly hawkish attitude toward Taiwan, which Beijing considers a breakaway province.
While left unsaid by Nakonieczny, the Defense Department routinely refers to the Indo-Pacific as its "priority theater" and China as the "pacing challenge" for the United States.
"We are prioritizing capabilities relevant to the China challenge to enable a joint force that is lethal and able to strike adversary forces and systems at range," Ely Ratner, assistant secretary of defense for Indo-Pacific affairs, told the House Armed Services Committee on March 9.
Likewise, Japan continues to monitor Russian activity in the region with concern. On Monday, six Russian warships passed through Soya Strait, which separates Japan's northern island of Hokkaido and Russia's Sakhalin Island — a move that followed passage of 10 Russian vessels approximately 112 miles off Hokkaido's coast on March 10.
The Russian military has been conducting large-scale exercises in the Sea of Okhotsk since February, coinciding with its invasion of Ukraine, and the vessels might have been participating in those drills, Chief Cabinet Secretary Hirokazu Matsuno told reporters Tuesday.
---
---
---
---