Russia appoints new war commander as more troops move toward Ukraine's Donbas region and fighting there intensifies
By
Stars and Stripes
April 11, 2022
---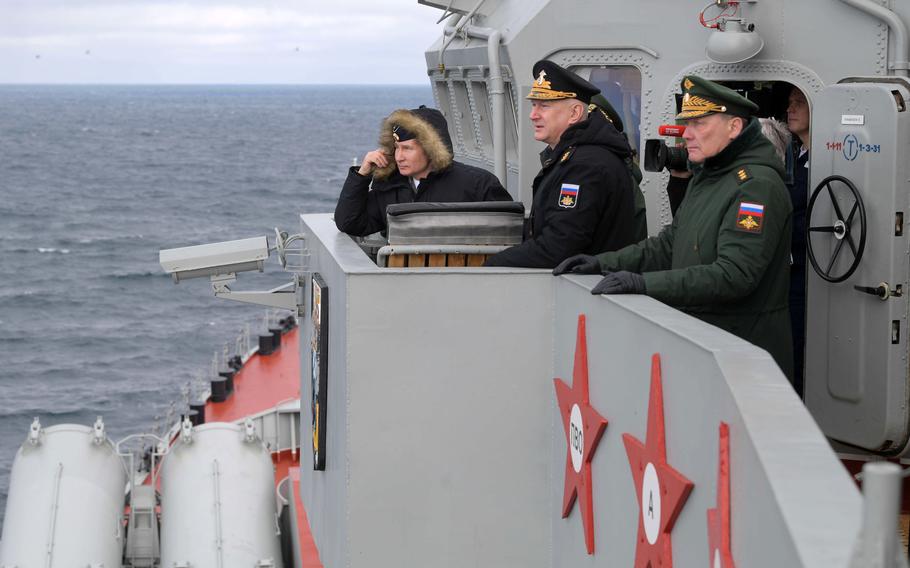 WASHINGTON — Russia is moving more troops toward the Donbas region and claims its forces have destroyed key Ukraine missiles systems as the war effort intensifies again in the east under a newly appointed commander known for his brutal tactics.
Col. Gen. Alexander Dvornikov, known as "the butcher of Syria" for his brutality while commanding Russian forces there in 2015, has been appointed as the top commander of Russian forces in Ukraine, a senior U.S. defense official confirmed Monday.
The general has a reputation of cruelty in conflict and has previously shown "disregard for avoiding civilian harm" and "utter disregard" for the laws of war and armed conflict, the official said.
"Sadly, we can all expect that the same brutal tactics that same disregard for civilian life and civilian infrastructure will probably continue as [Russian forces] now focus in a more geographically confined area."
However, the official said Dvornikov's appointment "doesn't mean that they're poised for greater success here," given Russia's persistent challenges with supplying its troops.
"It remains to be seen what sort of an effect he's going to be able to have," the official said. "They have high challenges to surmount."
More so, Pentagon spokesman John Kirby on Monday said the U.S. cannot say whether Dvornikov "is going to be the author of some new additional and more bloody tactics."
"We can certainly say by what we've seen in in the past, that we're probably turning another page in the same book of Russian brutality," he told reporters at the Pentagon.
The fighting likely will be now focused on the Donbas region of eastern Ukraine based on statements made last week by Russia leaders, Kirby said. The region is home to the cities of Luhansk and Donetsk, where separatists have been fighting Ukrainians since Russia's last invasion of Ukraine in 2014.
The Russian Defense Ministry has said the war was meant "liberate" the Donbas region, though Russian Foreign Minister Sergei Lavrov on Monday said the war is partly meant to thwart American dominance on the international stage.
"Our special military operation is designed to put an end to the reckless expansion and the reckless course towards the complete dominance of the United States and under them the rest of the Western countries in the international arena," he said, according to the state-run TASS news.
The ministry also recently said the new focus on eastern Ukraine was its plan all along, though Russian forces were stagnant outside the Ukraine capital of Kyiv for more than five weeks.
Last week, Russia pulled back all its ground forces around Kyiv and Chernihiv, sending them to Belarus for refitting and resupply before deploying them to eastern Ukraine, U.S. officials said.
While none have returned to Ukraine so far, Kirby said the U.S. has seen "early indications" that some of those forces are moving east toward the Russian cities of Belgorod and Vilyui, which are north of the Donbas region.
The U.S. believes a new Russian convoy moving south toward the eastern Ukraine city of Izyum came from Belgorod and Valuyki, the official said. The convoy is likely meant to help avoid persistent Russian issues with resupply and reinforcement.
"It seems to be a mix of personnel-carrying vehicles as well as armored vehicles and maybe some artillery [and] enabling capabilities," the official said. "This does seem to be an early effort by [Russia] to reinforce their efforts in the Donbas."
Russia is also focusing most of its airstrikes and missile launches on eastern Ukraine, the official said. Since the start of the war, Russia has launched more than 1,500 missiles into Ukraine.
Russia on Monday claimed it destroyed four S-300 air-defense systems in the central Ukrainian city of Dnipro that had been provided by an unnamed European country.
Slovakia gave Ukraine such a system last week, and the U.S. in turn deployed a Patriot missile battery to Slovakia. The U.S. has "no indication" that the Slovakian S-300 system in Ukraine has been destroyed, a senior U.S. defense official on Monday.
Still, the airspace above Ukraine remains contested as Ukrainian forces "have a lot of their air-defense capability available to them," Kirby said. Defense Secretary Lloyd Austin is also working with international partners and allies to secure more long-range air defense systems for Ukraine.
"We want to try to get them long-range air defense systems that we know they know how to use, and can put into employment fairly quickly," Kirby said.
Ukraine's air defense systems have played a key role in its success so far. The country has been able to fend off Russia from taking control of the skies, Kirby said.
"Ukrainians … clearly value their short- and long-range air defense for good reason," he said. "They're doing a very effective job of using it and marshaling those resources and doing the best they can to protect them."
---
---
---
---