'This is personal for us': National Guard has a long history of training with Ukrainian troops
By
Stars and Stripes
April 7, 2022
---
Paul Wade, a retired master sergeant with the California National Guard, traveled to Ukraine three times between 2005 and 2009 to train with his counterparts in the Ukrainian National Guard and army.
He's not surprised, he told Stars and Stripes by phone Tuesday, that the Ukrainians are more than holding their own against the perceived might of the Russian army.
"You can tell they have this grittiness, and they were like sponges when it came to anything we had to offer in the way of military training," Wade said.
"They didn't need those small luxuries. I complained about the breakfast, but something like that didn't bother them," he said. "They needed very little to do their jobs and they really pumped up their chest whenever we gave them approval."
Despite battlefield losses elsewhere in the country, Ukrainian forces have so far held their capital, Kyiv, from invading Russian forces since March 24.
Last week, the Russians were falling back from areas north and northeast of Kyiv to regroup and possibly move to Donbas, a contested region in eastern Ukraine, Pentagon press secretary John Kirby said at a press briefing Monday.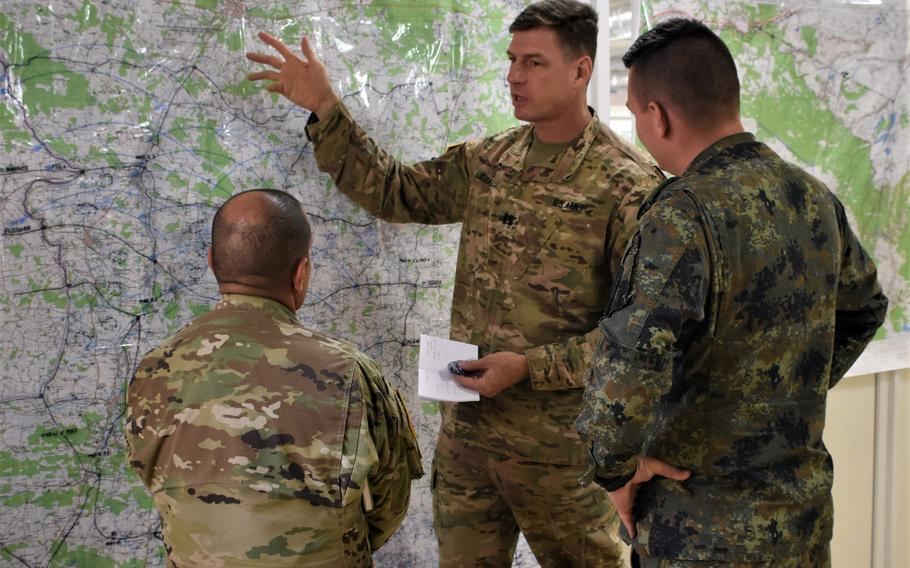 As they withdrew, the Russians left behind civilian bodies in the streets of Bucha, a Kyiv suburb, apparent evidence of a massacre.
National Guard troops from the U.S. have a long history with their Ukrainian counterparts. About 160 members of the Florida National Guard, part of the 53rd Infantry Brigade Combat Team, trained alongside Ukrainian troops for about three months before the Russian invasion. They pulled out in mid-February, according to the Pentagon.
The California National Guard has partnered with the Ukrainian National Guard since 1993, guard spokesman Lt. Col. Brandon Hill told Stars and Stripes in a March 31 email.
That partnership involved noncommissioned officer training, training on one another's methods and equipment and language immersion, Hill said.
Close friendships developed over the years.
"We have friends in Ukraine," Brig. Gen. Peter Cross of the California State Guard, a division of the National Guard, said at a rally in Sacramento on March 6. "This is personal for us."
Michelle Halpin, a retired staff sergeant with the California National Guard, went to Ukraine in 2003 and 2005. The former public affairs officer said the partnership between the two countries sometimes even led Ukrainian Guard members to immigrate to the U.S.
She remembers the Ukrainians as tough, hardworking people.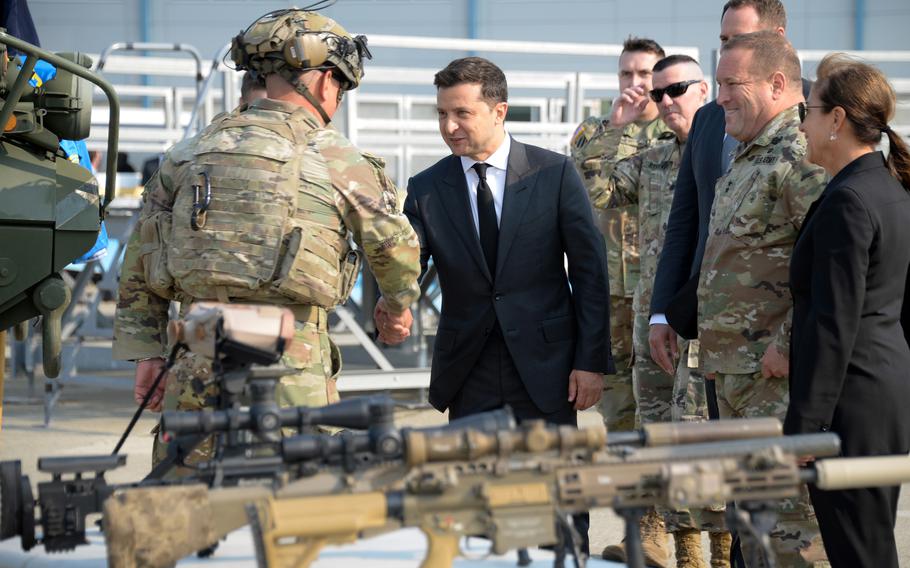 "You would see these little old ladies. I remember one who was using a jackhammer doing roadwork," said Halpin. "They're digging a ditch on the side of the road, older women doing hardcore labor. It was so strange and surreal, but it made me realize that life there has been pretty tough."
Halpin said training often focused on anti-terrorism scenarios, such as responding to a car bomb.
Wade, who also served as a public affairs officer, remembered scenarios involving a potential invasion. Although never explicitly stated, the idea of a Russian invasion was always in the background, he said.
"I think you're going to focus your attention and build your scenario around what could be the quickest threat to your country," he said.
Wade recalled the visits as largely a "friendship mission," typically involving training during the day and socializing at night.
"When we went there, we were told to talk to these people and share your knowledge and answer questions and show them what you can do – and maybe watch what they can do," he said. "And then of course, we'd laugh and eat up and later maybe have some vodka."
---
---
---
---