Texas National Guard considers ending Mexico border mission for some troops
By
Stars and Stripes
April 5, 2022
---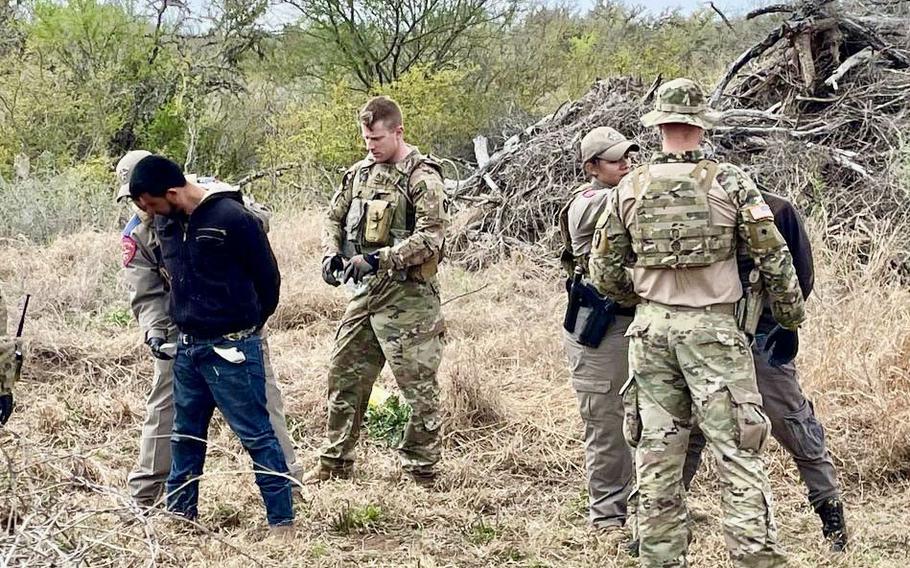 AUSTIN, Texas — The state adjutant general on Tuesday promised better use of National Guard troops deployed to stop crime along the Mexico border with funding for the mission due to run out by the end of the month.
"I think you'll find an output of my assessment will be that it will be more rotational and more sustainable over time," newly appointed Maj. Gen. Thomas Suelzer said during a Texas Senate Committee on Border Security hearing. "We can be more effective and efficient. We need to do so, and, in turn, that will drive the cost down."
Now three weeks into his appointment as the commander of the Texas Military Department, Suelzer said reducing the number of troops working at the border will make it less burdensome for the state and the service members who received one-year deployment orders. There are about 10,000 state troops along the Mexico border now.
If the mission, known as Operation Lone Star, continues in its current form, it will be out of funding by May 1, Suelzer said. The Guard would need about $531 million to maintain its current force at the border through the end of the fiscal year in Texas, which is Aug. 31, he said.
Personnel is a big cost, Suelzer said.
In March and April, the payroll for Operation Lone Star is expected to cost $100 million, according to a contract posted online.
The deployments also come at a big cost to some troops, who are pulled from their civilian lives and jobs not knowing when they'll return home, said Sen. Juan "Chuy" Hinojosa, a Democrat from the border town of McAllen.
"I really don't understand the number of having to use 10,000 National Guard troops for border security. I think they can do the job, the same job, with a lot less," said Hinojosa, who served in the Marine Corps during the Vietnam War.
Troops primarily work at observation posts along the Rio Grande and also install fencing and coiled barbed wire along the border. About a dozen soldiers also provide paralegal support to counties that have become overwhelmed by increased arrests spurred from the mission, said Brig. Gen. Monie Ulis, commander of Operation Lone Star.
By using more boats along the river and contracting out other jobs not unique to military forces, Suelzer said he can send some troops home and save the state money.
"We're looking at all these things to see if we can drive that number down as we move into this last phase of the fiscal year and possibly into the next fiscal year," he said.
Since Operation Lone Star began in March 2021, Texas National Guard troops have worked in partnership with the Department of Public Safety to stop criminal activity between the legal ports of entry connecting Texas cities to Mexico.
Of those troops deployed, about 6,500 work in counties directly along the Rio Grande, while the remainder support the mission from elsewhere in the state.
The governor authorized troops to arrest anyone breaking Texas laws, stopping short of immigration enforcement, because that is a federal activity. Troops have been involved in 123,000 arrests, Ulis said. Those people are turned over to Texas DPS or U.S. Customs and Border Protection.
The efforts stem from Abbott's assertion that the federal government is not doing enough to stop illegal immigration at the border. Last year, he made it a priority of the Texas Legislature, which responded by increasing its biennium budget for border security from roughly $800 million in 2020-21 to more than $2.9 billion in 2022-23.
About $411 million went to the Texas Military Department, which includes the Texas Army and Air National Guards and the Texas State Guard. Abbott approved an additional $480 million be redirected to the Guard in January from other state agencies to help further fund the mission.
Abbott's office was able to move the funds by backfilling public health and safety payrolls in other agencies with federal money sent to Texas for coronavirus relief, Sarah Hicks, the governor's director of budget and policy, said Monday during a hearing with other agencies associated with Operation Lone Star. This could be done again with an additional $600 million, she said.
"We have already spent close to $3.9 billion, and I don't see that the immigration challenges we're facing on the border will stop anytime soon," Hinojosa said. "I am very much concerned that we can sustain this type of spending. Perhaps, but how long? It is something that we need to prepare for."
Senators also said illegal entry into the U.S. has continued to climb during the year since Abbott began his border security mission. Hinojosa expressed concern that a shift in federal immigration policy next month will further increase illegal activity.
President Joe Biden announced he will end a pandemic-driven border policy known as Title 42, which allowed Border Patrol agents to send migrants back across the border quickly because of concerns they would spread coronavirus. The policy is scheduled to end May 23.
Border Patrol has said about one-third of people found crossing illegally between ports of entry are repeat offenders and were expelled under Title 42.
Ulis told senators that Border Patrol and DPS have said there are about 1.7 million people in Central and South America as well as in northern Mexico watching the policy.
"All indications are that those individuals will make their way to the United States in between the [ports of entry]," he said.
The initial surge of troops to Operation Lone Star came in September when a group of about 14,000 mostly Haitian migrants entered the U.S. through the Texas city of Del Rio seeking asylum. In the following two months, the mission doubled from about 5,000 to 10,000 state troops.
The rapid expansion caused problems with troops receiving their correct paychecks and left many scrambling to deploy on one-year orders with little notice. The Guard hastily built six base camps along the border to house troops and the poor conditions caused morale to drop.
"I don't think that you all pay enough attention when a National Guard person is asking for hardship discharge, or at least an exception or exemption, based on their family back home and health care issue that they have to take care of. Those are the very issues, in many ways, that simply have been ignored or not given enough attention," Hinojosa said.
Concerns about the deployment have also come from Democrats serving in the Texas House and Congress. U.S. Rep. Veronica Escobar, a Democrat from El Paso, said last week on a call with reporters that she has not heard back about whether the Texas Military Department's inspector general will conduct or has conducted a review of the mission, as she and other lawmakers requested.
Regardless, she is now looking at ways to provide federal oversight on state-sponsored Guard missions.
"Some kind of pathway that would allow the federal government to either withhold funds or be able to better control the misuse and, indeed, the abuse of our National Guard as what we've seen happen under Gov. Greg Abbott," she said.
Texas Guard officials told state senators that many of those concerns brought up early in the mission have been resolved.
"Morale has increased significantly," Ulis said.
One of the biggest concerns from troops was the living conditions at the six base camps established in border locations where there isn't enough hotel capacity to house troops. Service members were sleeping in windowless trailers capable of holding up to 36 people in three-tiered bunk beds.
Two of the camps now offer troops four-person rooms, Ulis said. Two more are between 70% to 90% complete and two have not yet begun the transition.
The pay accuracy rate is now 99.4%, Suelzer said.
State Sen. Bob Hall, a Republican from the Dallas area, pressed military leaders on why they had such challenges and whether they are reviewing how to prevent similar problems in the future.
"Pay is not an uncommon thing in our society," said Hall, a former Air Force officer. "With all the technology we have, I just have a hard time understanding why that particular aspect of it is so difficult to get right."
Suelzer said they've focused much of their efforts on fixing a pay system that is manual and relies heavily on the contractor. They are piloting a new system beginning this month that could be running by September.
"These folks that are in the Guard, many live paycheck to paycheck and a hiccup is a ripple … through the entire family structure," Hall said.
He also urged Suelzer to review the necessity of having so many troops at the border, specifically those serving in support or administrative roles to agencies outside the Texas Military Department. He also called on the Guard to employ more technology that can expand reach without using troops.
Suelzer agreed.
"Let's not all along the border have soldiers staying at points. Let's have them moving up and down the river in boats. Let's have them using aerial vehicles or ground sensors to take the place of many additional troops," he said.
---
---
---
---