Some property owners along Texas-Mexico border struggle with nuisance of Guard troops on their land
By
Stars and Stripes
February 4, 2022
---
MCALLEN, Texas — Gov. Greg Abbott announced nearly a year ago that he had declared a disaster at the Texas border with Mexico caused by illegal immigration, drug smuggling and human trafficking.
What began in March as a mission with about 500 Texas National Guard troops working in support of the state police has escalated to a 10,000-strong deployment with no signs of slowing down.
The only time that more Texas troops were activated by a governor followed Hurricane Harvey in 2017 when 12,000 service members surged into the southeastern region of the state, where record rainfall and flooding devastated residents and caused major shipping ports to close temporarily.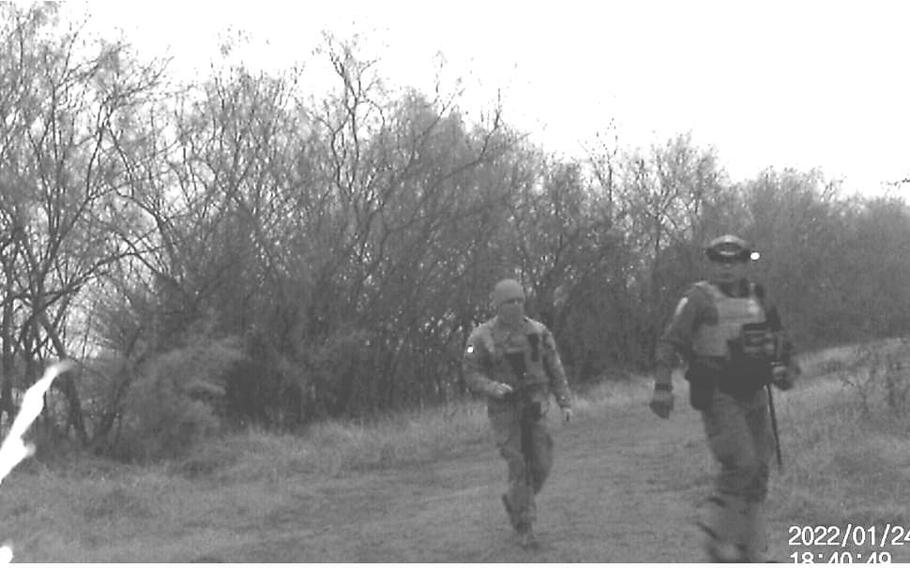 Unlike the shared loss created by a natural disaster, the mission at the southern border, named Operation Lone Star, has thrust troops into some communities where residents view the severity of the border problems differently.
Some landowners have happily welcomed troops onto their property to patrol or set up observation posts — even asking them to build fencing or line the border with coiled barbed wire. But there are others who don't think such a strong military presence in their communities is necessary.
"Personally, I don't like the troops at the border," said Rey Anzaldua, an Air Force veteran whose family owns property along the Rio Grande in the city of Mission. The town of 85,000 is located just west of McAllen, where two bridges link the area to Mexico.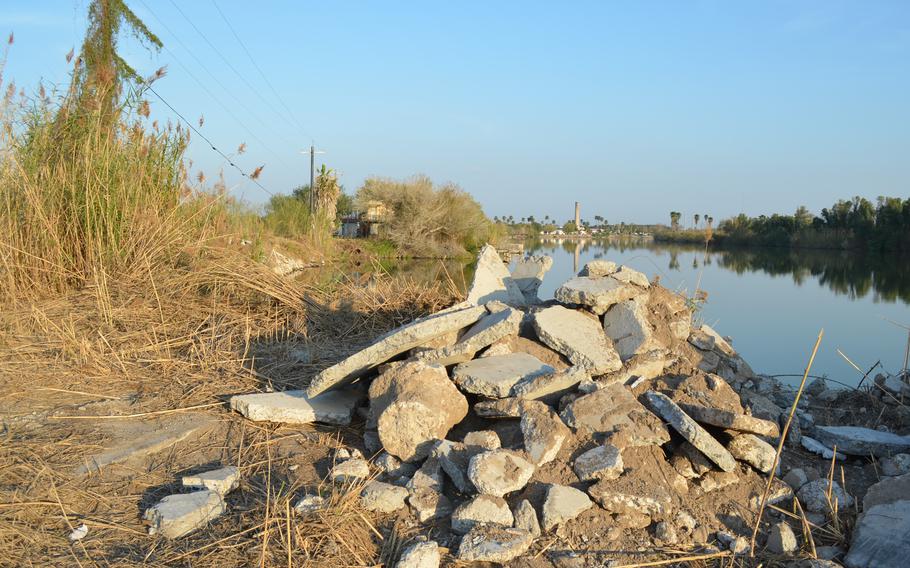 Despite Anzaldua's own misgivings about the mission, his family has granted permission for Guard troops to set up an observation post on their land, which includes a series of riverfront cabins and trailers that they rent to tourists.
"We have a minor problem with migrants because the river is 200 yards wide [here]," he said. In other locations, where the river is narrower and more shallow, "it's a different story."
The busiest stretch of border
The region of south Texas known as the Rio Grande Valley, which includes the border counties of Starr, Hidalgo and Cameron, has long been one of the busiest areas for illegal crossings. Vehicles with markings of the U.S. Customs and Border Protection, the state Department of Public Safety and the Texas National Guard dot the landscape.
Since fiscal year 2022 began on Oct. 1, CBP officials have said agents working in the Rio Grande Valley reported contact with more than 137,000 people who did not have documentation to be in the United States. Described by the agency as an "encounter," the contact includes people found crossing illegally between ports of entry and people at the ports who are denied access to the U.S. The Rio Grande Valley accounts for about 26% of all encounters across the entire southwest U.S. border.
Border Patrol agents use cameras and sensors in remote areas to monitor movement along the Rio Grande, which forms a natural border between Mexico and Texas. Trips along a quiet stretch of private farmland overlooking the river often include the appearance of white and green Border Patrol SUVs along the road attached to the federal levee system.
Military Humvees with armed troops can be seen along public streets and at the partially closed Anzalduas Park, a Hidalgo County park used for fishing, cookouts and taking in sweeping views of the Rio Grande.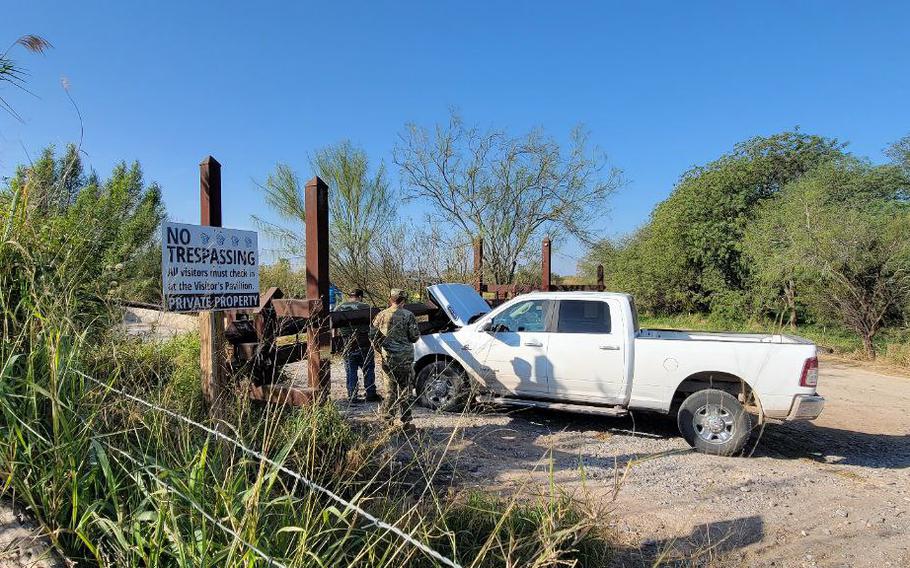 The park was partially reopened in January after residents complained about the full closure, according to The Monitor, a newspaper in McAllen.
The Catholic Charities organization also uses a portion of the park to house migrants who test positive for the coronavirus, while another portion is a staging area for state vehicles and observations posts for the National Guard.
Operation Lone Star requires the support of landowners and communities because about 95% of Texas land is privately owned. State troopers and the National Guard can arrest people on a state misdemeanor charge so long as the landowner has agreed to it, according to Maj. Mike Perry, spokesman for Operation Lone Star. They also call in reports to Border Patrol agents, he said.
Abbott's office said troops have come into contact with more than 189,000 migrants. About 10,300 were arrested for committing a border-related crime such as criminal trespassing, illegal entry, smuggling and human trafficking.
Border Patrol agents have the authority to enter anyone's property without a warrant or permission, but state law enforcement does not have that same jurisdiction, based on federal and state laws. Therefore, state troopers and the National Guard need permission, Perry confirmed.
Sam Sparks, whose family has farmed for three generations in Cameron County in the eastern portion of the Rio Grande Valley, said he's given permission for Guard troops to patrol along his land because he sees a need for more people and technology to monitor for criminal activity.
Over the years, his workers have seen trucks with armed men pull up and dozens of people jump out and run, he said. Sparks has had equipment and batteries stolen, fuel drained, property damaged and even drugs hidden in a water tank on his property.
"The general public has no idea what's going on down here," he said.
But in Mission, the Guard hasn't been as welcomed by some residents.
Unwanted activity
At the National Butterfly Center, which is nestled on about 100 acres along the Rio Grande in Mission, the unusually warm winter weather allowed for the staff to count 109 different butterfly species in January on the property.
They've also counted a handful of Guard troops cutting through the property, some walking behind Border Patrol agents, as they move between private land where they have permission to operate and the federal land on the other side of the butterfly center.
To access the center's land along the river, where bird watchers can walk onto a small, wooden dock to look for three different types of kingfishers, white-tailed kites and gray hawks, visitors must pass over the federal levee where armed soldiers have set up an observation point. Behind the troops, construction of a federal border wall remains ongoing and stops just short of the center's property.
"We haven't seen any change since the Guard came here," said Marianna T. Wright, executive director of the National Butterfly Center. "Except all our hotels are full and we have to watch for young people behaving badly."
On Jan. 19, Texas Guard soldiers driving a rented white pickup truck crashed into a steel fence located at the center, Wright said. Workers at the center found the truck abandoned when they opened the facility at about 8 a.m. As they approached, soldiers appeared from the tree line and requested they stay back, she said.
Eventually, Border Patrol agents arrived who told Wright that this was the first incident of its kind with Guard troops in the area. Center staff said they found beer cans near the truck, but the Texas Department of Public Safety ruled out alcohol as a possible cause for the crash, Perry said.
Wright said they've also found cut fences on the property since troops began working near the center in November. Wright said troops on two separate occasions entered the center's land without permission.
With each incident, she contacted authorities, including Border Patrol, the Texas National Guard and members of Congress, to get the trespassing to stop.
"For nearly a decade, the Texas Military Department has used federal property co-located near the National Butterfly Center while working in support of missions along the Texas-Mexico border. Our service members are under strict guidance to remain on federal property while working in this area," the Texas Military Department said in a statement responding to the center's claims.
In McAllen, where most of the troops stay in hotels, the police department declined to comment on the National Guard's presence in the city. A spokeswoman for the city government said they haven't received any comments or complaints about troops in town. The mayor's office in Mission declined to comment.
But there have been some incidents in McAllen involving troops reported in news accounts. One soldier was killed in a drunken driving accident in September and another soldier was struck by a vehicle and killed in July while crossing a busy street in the early morning hours. A third soldier is expected to go to trial in April for attempting to transport cocaine, according to federal court documents.
Those incidents involved troops who were in the region on a federal National Guard mission unrelated to Operation Lone Star.
Border wall debate
The relationship wasn't always combative between the butterfly center and the Guard, Wright said. When troops were deployed to the region in 2014 as unaccompanied minors crossed the border by the thousands, Wright and the center organized a community event for troops.
But three years later, Wright arrived at work one day in July to find federal contractors tearing through the property to begin border wall construction. Since then, she said it's been a nonstop battle that has earned the center plenty of media attention. She'd much rather field calls about butterflies, Wright said.
"I don't think nightmare is strong enough," she said to summarize the progression of events since that day. At the end of January, the center had to temporarily close because it had received threats of violence.
"It's been worse than [a nightmare] dealing with the relentless business disruption and distraction caused by these incursions that these people, who don't even have legal authority to be here, do to us and our visitors and our members," Wright said.
Sparks had a similar encounter on his farm as border wall construction ramped up under former President Donald Trump, who made building a complete, uninterrupted barrier central to his presidency. Without warning, federal contractors began work on his land to connect the two stretches of border wall.
When President Joe Biden took office, he rescinded those policies and construction stopped, but not before workers damaged underground irrigation lines. Sparks grows cotton, corn, grain, soybeans and sugarcane, and he said he couldn't plant in that section of land last year because of the damage.
"It's a very, very complex issue. Outside of the wall, I would say that we just need more surveillance, more manpower, more technology to try and combat this issue," he said. "Is the objective to put up a fence so we don't have to monitor it and we can say it's being monitored or it's secure? I don't understand."
Abbott has said it's Biden's inaction at stopping illegal immigration into Texas that has forced his hand to deploy Operation Lone Star, which also includes building border barriers. Last year, Texas secured a combination of about $1 billion in public funds and more than $55 million in private donations to build its own wall.
Sparks said he's getting calls twice a week from state officials for permission to start work.
He hasn't answered them yet because there is no easy answer in his mind, he said.
Sparks' farm includes about 1,000 acres south of the levee system where the wall would stand. If the wall is completed, it blocks access to that area of his property and creates a "no man's land" on his farm, he said.
Gary Joiner, a spokesman for the advocacy organization the Texas Farm Bureau, said Sparks' complications show there's no one-size-fits-all answer to the challenges at the border. While he said many of the bureau members have concerns about border security, they also would like to see a simple path to allow for migrant workers to cross the border and work legally in agriculture. In the past, it's worked, but not today, he said.
"What we're trying to do is secure the border. That's a broad term that means a lot of different things to different people," Joiner said. "It's totally out of balance right now and totally where there's no recognized process anymore. It's the wild, wild west out there, and it's not getting any better."
---
---
---
---