'Lack of purpose' and poor housing plague Texas National Guard troops on Mexico border mission
By
Stars and Stripes
March 4, 2022
---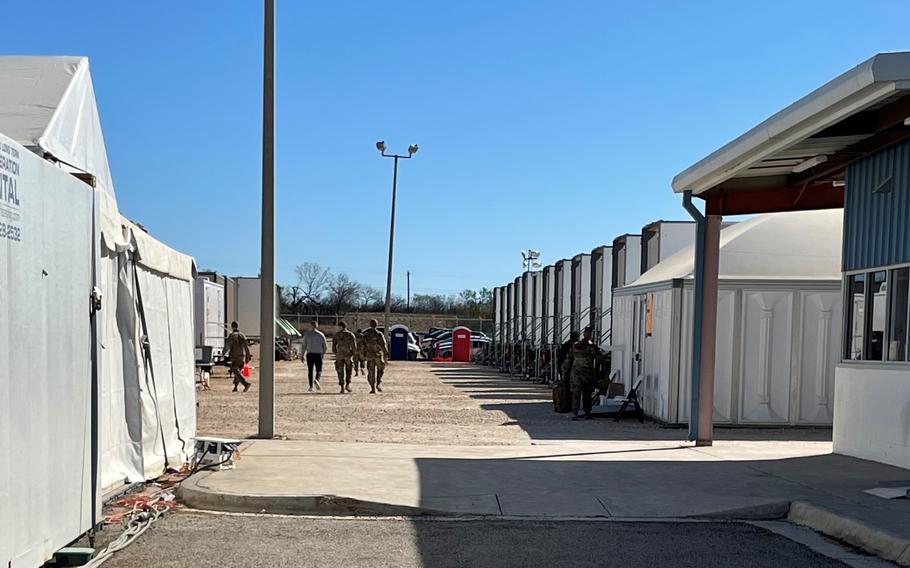 LAREDO, Texas — Few soldiers were moving around Base Camp Walker on a recent Sunday morning. Picnic tables were empty, pingpong tables and cornhole games untouched as the wind kicked West Texas dust across the landscape, coating the cars in the parking lot.
Occasionally, a Texas National Guard member toting a bag of clothes would exit the row of more than a dozen bed trailers and trek down the rocky pathway toward a shower trailer. Others walked quietly between the bathroom trailers, the TV lounge or the gym.
Each bed trailer — still on wheels from when a long-haul truck delivered them to the five-month-old campsite — holds dozens of soldiers sleeping in three-tiered bunks beds that line the windowless walls. The small porches have one chair and a trash can at the bottom of the stairs.
About 18 soldiers sleep in each trailer right now, according to a video posted online by the Texas Military Department. Soldiers have said the number can go up to about 36.
The troops living here, just about 2 miles from the U.S. border with Mexico, work on a state-sponsored mission to conduct border security that has more than 10,000 troops assigned to it. The Texas Military Department, which oversees the state's roughly 22,000 Army and Air National Guard troops and about 1,900 members of the Texas State Guard, declined to say how many troops live at Base Camp Walker.
Living at Base Camp Walker and about four other camps in West Texas has become so bleak for some troops — combined with other challenges such as delayed pay, having the needed equipment for their assignments, and a clear mission at the border with Mexico — that they have gone to the Texas State Employees Union for membership and advocacy. That step followed months of anonymously reaching out to news reporters to shed light on the conditions.
"Soldiers only [complain] about things like this when there's no point at all," said one soldier assigned to Operation Lone Star who chose to join the union. He spoke on condition of anonymity.
It's not just about the living conditions, it's the lack of purpose many of the troops feel, he said. During the response to Hurricane Harvey in 2017, there were similar issues with delays in pay and other difficulties with the large mobilization, but there wasn't this same outcry from service members, he said.
"There were people to help and when soldiers were put in that situation, that's literally why all of us signed up is to go do that kind of stuff, so they will sleep in the mud, they'll stay up for 48 hours and they'll break themselves and take pride in doing so," the soldier said.
Officials for the Texas Military Department said they have addressed some of the problems — such as delays in receiving pay, having the appropriate gear and getting relief for hardships created by the extended deployment — but much of it was caused by a rapid expansion of the mission about six months ago.
Gov. Greg Abbott began Operation Lone Star in March 2021 with about 500 troops, mostly volunteers, to crack down on illegal border crossings and human and drug smuggling across the state's border with Mexico.
In September, a group of about 14,000 mostly Haitian migrants entered the U.S. through the Texas city of Del Rio seeking asylum. Abbott warned more large groups were likely to cross into Texas and he began surging National Guard troops to the border, bringing the force size to more than 10,000 troops assigned to the mission. Many of them were sent with little notice on deployments that could last up to a year.
Military leaders have approved 78% of 1,100 requests to leave the mission because of a hardship at home and all but 10% of pay issues have been resolved, said Col. Rita Holton, spokeswoman for the Texas Military Department.
"Texas Military Department leadership continues to actively address concerns raised by service members on Operation Lone Star," she said.
While no other large migrant groups have arrived at the southern border in Texas, the Texas Military Department and the governor's office have declined to say how long Operation Lone Star is expected to continue at this level or whether troop numbers could be reduced at some point in time.
"The Texas Military Department will provide support, as long as necessary, to support our state and local partners," Holton said.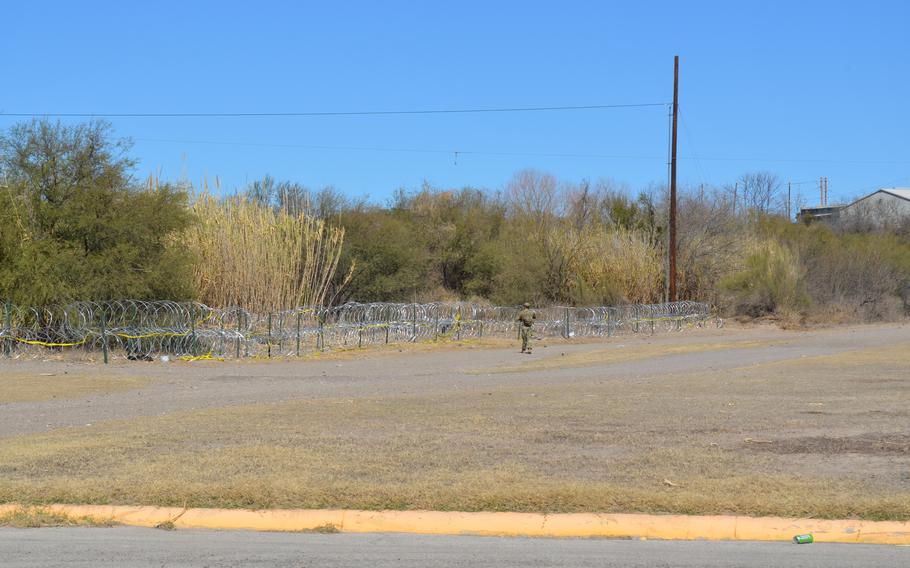 Building a base
To house the troops, the Texas Military Department entered contracts in October with at least two companies who pledged to provide temporary housing in Del Rio, Eagle Pass, Zapata and Laredo, according to contracts posted to the Texas Legislative Budget Board's database. Those cities don't have the hotel capacity to house the number of Guard personnel assigned to those areas as some Texas cities farther east do, said Maj. Michael Perry, spokesman for Operation Lone Star.
Holton declined to provide details about the camps, but she said they are strategically placed and vary in size and capacity.
Base Camp Walker opened in late October on property owned by a local cement company through a contract with the company Team Housing Solutions. Contracts for other camps began that same month with the company Storm Services. Contract documents posted online estimated it would cost about $7.7 million to operate a 700-person camp for a month.
At the current size and scope, Operation Lone Star will cost the Texas National Guard about $2 billion a year, Holton said. In March and April, payroll alone for Operation Lone Star is expected to cost $100 million, according to a contract posted online.
However, the state allotted about $3 billion in its budget last year to cover border security across several state agencies. This led to Abbott sending an additional $480 million from other state agencies to the military department in January, Holton said.
"The funding that was provided is anticipated to last through mid-to-late spring. TMD will request new tranches from the Office of the Governor as necessary to meet payroll needs and mission objectives," Holton said.
Some of that funding has gone to improve the base camps, though the military department did not provide the contracts for those improvements.
On the backside of Camp Walker, contractors have begun installing new portable buildings that resemble large, manufactured homes. Signs seen throughout the base in February stated the upgrades include 12-foot-by-12-foot rooms with up to four people per room and a locker to store their equipment. They'll also get two indoor toilets per building.
One soldier who spoke on condition of anonymity said the mission and the treatment has him reconsidering whether to continue his career in the Texas National Guard. However, state officials said Texas continues to do well with reenlistment and retention of service members.
The Texas National Guard, which has about 22,000 troops, met 112% of its new enlistment goal and 102% of its retention goal in fiscal year 2021, which ended Sept. 30, according to the Texas Military Department. Many of the mandatory deployment orders came after that the end of the fiscal year and might not immediately show an impact on retention.
"While recruiting and retention goals and statistics are fluid, the [fiscal year 2022] success rate is generally in line with last year's record-setting year," Holton said.
Spc. Kevin Dominguez, who joined the mission four months ago in south Texas, said he's read the news about Operation Lone Star, but he personally hasn't witnessed any of the problems outlined in the coverage.
"Each soldier has their own opinion and how they feel," he said during an interview facilitated by the Texas National Guard public affairs office.
In his unit, the platoon leaders aim to make the team feel more like a family by hosting cookouts and other events to build comradery. They even helped him when he had his own hardship request to visit his mother who was hospitalized recently.
"My platoon sergeant here, they fought and they got me as many days as I needed to make sure my mom was taken care of," Dominguez said. "It's case by case. I mean, not wanting to be on the mission doesn't justify an extended stay, but it was a family emergency and they definitely accommodated me."
On the job
Once off the base and on the job, Texas National Guard members patrol along the Rio Grande, the state's natural border with Mexico. They also work at observation points to report any activity they see. Troops also have the authority to detain people and call for state police or U.S. Customs and Border Protection agents to take over an arrest.
Troops helped state police in the criminal arrest of more than 11,000 people and have detained and handed over more than 103,000 people to CBP agents, according to the Texas Military Department.
On a recent Monday in Eagle Pass, two armed soldiers were watching over Shelby Park, where soccer fields give way to the Rio Grande under the shadow of a bridge that crosses into Mexico. Coiled barbed wire and shipping containers installed by the National Guard obscure the view of the river and the Mexican city of Piedras Negras. Regardless of the deterrents, the river is shallow here and a common place for groups and families to cross into the United States.
At about 2:15 p.m., seven people peered through the coiled wire, near its end at a boat ramp. Once the man leading the group caught the eyes of two nearby Border Patrol agents, they walked around the wire and sat on the parking lot curb to be collected and detained.
A National Guard soldier emerged from the nearby brush, observed the scene and returned to brush. The two service members at the park's entrance never got involved, but they said it was a standard interaction with migrants crossing the river. They said it happens almost daily.
Even with the state mission supplementing what the federal government does at the border, Customs and Border Protection statistics show people crossing illegally between ports of entry remains high. From October to December, 518,360 people were found crossing illegally. That's up from 218,036 during the same period of fiscal year 2021.
Meanwhile, the traffic patterns of people crossing at the border have begun to shift and increase as certain areas become harder to pass. In Kinney County, which has about 16 miles of land along the Rio Grande and about 3,500 residents, there's been an increase in activity, said John Paul Schuster, whose family owns a ranch about 25 miles from the border.
They've always seen people trespass across their land, looking to head farther north, he said. But in the last year, the activity has increased and felt more dangerous. He said he feels lucky that his kids are grown and out of the house.
"When we moved to the ranch, we moved out there because we've got a big set of pens. They had their show goats, their show pigs and their show lambs. They'd get home from school, they'd go to the barn and work until dark," Schuster said.
Now, he said he would have to sit down there with his kids in case anyone showed up on the property. He worries that people will try to hurt him or his wife to steal a vehicle because the county offers two roads that lead north without having to go through a Customs and Border Protection checkpoint.
It's not just fear of encountering possibly dangerous people, the increased activity has put a strain on the small, rural county, which filed a disaster declaration in April due to "thousands" of people crossing illegally into Texas, according to the declaration. The circumstances are "not sustainable, and endangers the health, life and property of our residents," the declaration reads.
In February 2021, the county seized eight vehicles in smuggling cases, according to the Kinney County Sheriff's Office. As of Feb. 23, the number of vehicles seized was 27 for the same month in 2022. Contact with undocumented immigrants jumped from 28 in February 2021 to 206 in February 2022.
Schuster's concern for his home and his county led him to run for county judge as a Republican.
"It is by far the hottest topic, but we can only do so much. This is a federal issue. I've got to link up and collaborate and cooperate and work with all these other judges along the Rio Grande, and the next county in, because once you get 100 miles away from the county, people don't realize how bad this is," he said.
Since Operation Lone Star surged more troops to the border in the fall, Schuster said there hasn't been much of a change.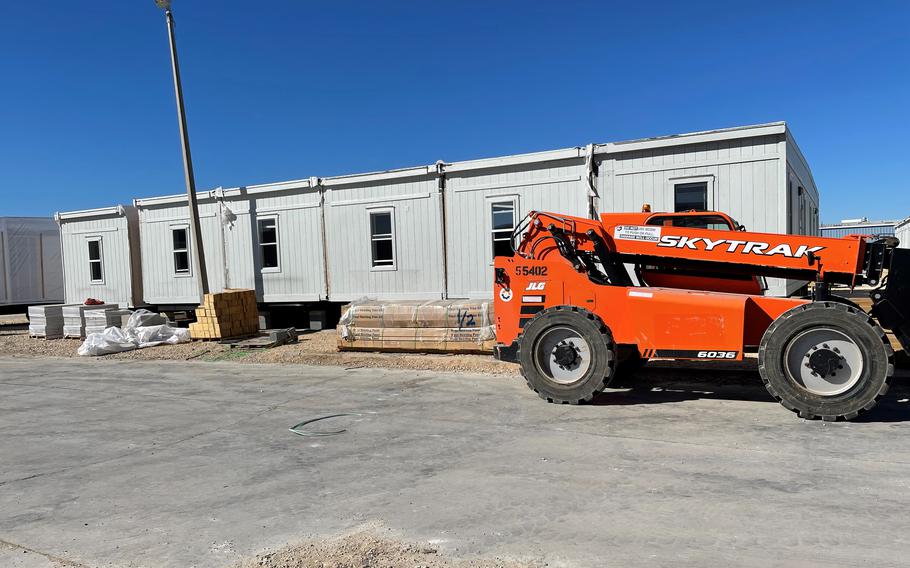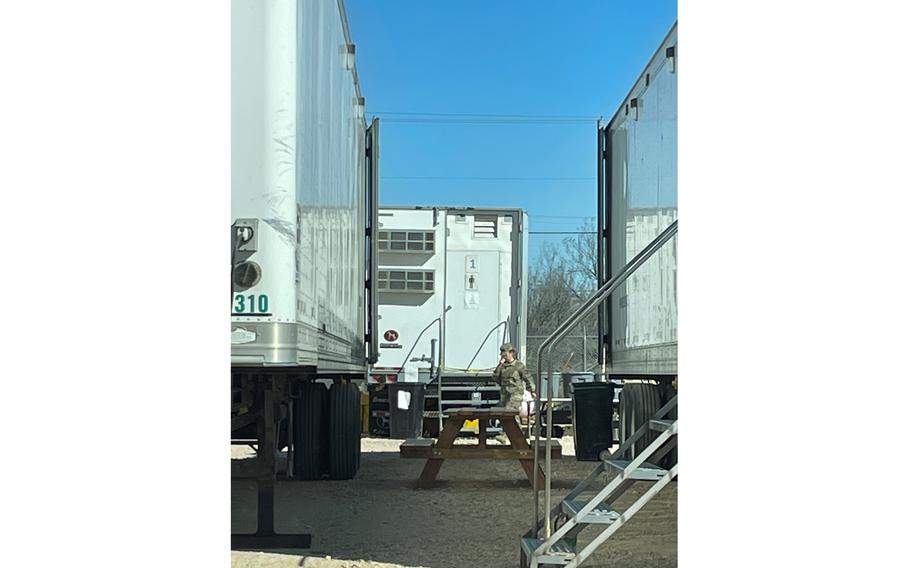 Moving into dorms
For the soldiers, that's part of the problem.
The soldier who said the mission lacked purpose also said much of that stems from the feeling that once the mission ends, nothing will change. Their presence will not solve the issue of illegal border crossings, he said.
The governor's office did not respond to questions about what would indicate mission success. Abbott's office only said he's willing to do whatever it takes to protect Texas.
That makes it unclear when Operation Lone Star could end or when National Guard troops could expect to return home.
In the meantime, troops in Laredo began moving last week into the larger dorms, according to a video the Guard posted online to showcase the new housing. Though the new buildings have windows on the outside, the room included in the video does not have a window.
A Texas State Guard warrant officer in the video said this housing with four roommates sleeping in two bunk beds and one wall locker per soldier is the new standard going forward.
"I've slept in the trailers personally myself and this transition is going to superbly build morale and it is going to make the troops happy," he said.
There are some troops in Laredo who sleep in hotels, though Texas National Guard leadership said they limit this because of safety concerns for troops. Leadership declined to describe how they decide who gets a hotel and who stays at the camps.
By organizing with the Texas State Employees Union, union leaders said they plan to advocate for new state laws that would prevent difficult living conditions from being acceptable in future missions.
---
---
---
---