Texas troops along border with Mexico have authority to detain migrants, some challenge whether it's legal
By
Stars and Stripes
February 8, 2022
---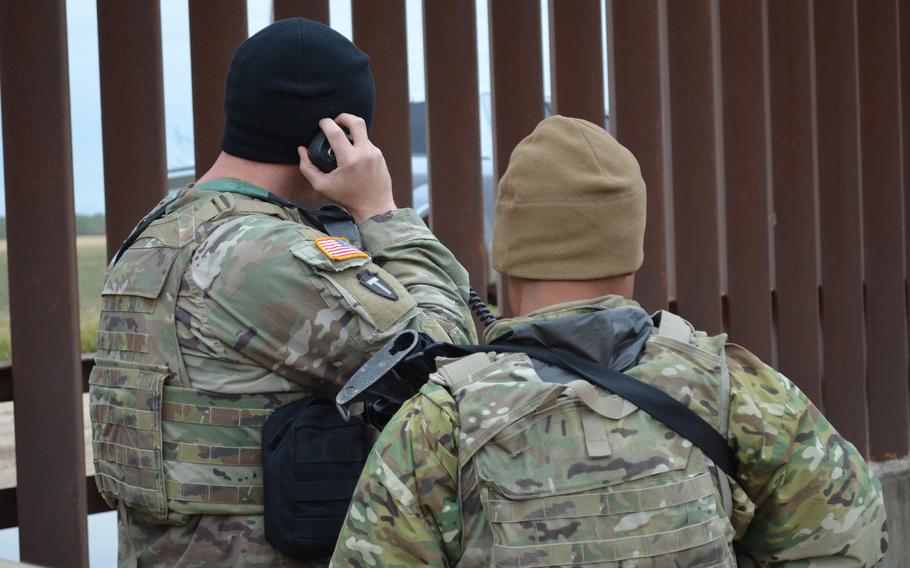 MCALLEN, Texas — The authority given Texas National Guard troops to detain people at the U.S.-Mexico border has drawn several challenges from advocacy groups and some lawmakers about whether it violates the Constitution.
In nearly a year since Gov. Greg Abbott kicked off a state military mission known as Operation Lone Star, it has grown from about 500 Guard troops to roughly 10,000 who are mostly assigned to locations along the state's border with Mexico, according to the Texas Military Department. Other troops work out of Austin and Houston to provide administrative support to the mission.
With about $3 billion in state funding allocated to border security, Abbott's mission puts Guard members to work with the Texas Department of Public Safety in what the governor called "efforts to combat illegal immigration, stop the smuggling of drugs and people, and keep our communities safe."
Yet, Operation Lone Star has triggered at least one lawsuit, a federal discrimination complaint, and calls from state and federal lawmakers to investigate whether it's legal for Texas to conduct border security and make such arrests.
"From its inception, Operation Lone Star has suffered from constitutional deficiencies that upend our federal system of government," 50 Democrats in the Texas legislature wrote in a letter to U.S. Attorney General Merrick Garland and U.S. Homeland Security Secretary Alejandro Mayorkas, calling for an investigation into the mission. They cited a 2012 Supreme Court case that "recognized that states may not unilaterally set and enforce immigration policy."
Lawmakers also have called for a review of the treatment of troops assigned along the border, as news reports and the governor's political opponents have said there's been a disregard for the hardship that the deployment has caused some service members. The Texas Rangers began an investigation this week into troops at the border after a soldier assigned to Operation Lone Star died following an accidental shooting in Kinney County. The incident was unrelated to the mission, according to the Texas Military Department.
"As members of the Texas congressional delegation, we are concerned [Operation Lone Star] is severely eroding the readiness of our National Guardsmen and their ability to be deployed on federal orders," 13 Texas Democrats serving Congress wrote to the inspector general of the Texas Military Department. "When National Guardsmen are deployed on state active-duty orders, their well-being is entrusted to the state. However, it is clear state leadership does not have our troops best interest in mind."
Yet Abbott has touted the mission as successful, sharing videos and photos of troops on his social media accounts and hosting other state's leaders for tours of the border. He's also continued to blame the reason for the deployment on the immigration and border polices of President Joe Biden.
"The Texas Department of Public Safety [and] Texas National Guard are playing vital roles in arresting illegal immigrants …," Abbott wrote Feb. 3 on Twitter. "Biden ignores dangers caused by his open border policies. Texas is responding."
However, Biden's attempt to rescind a policy from former President Donald Trump that required migrants remain in Mexico while their court cases navigated through the U.S. legal system was overturned. Another policy to release those found illegally crossing the border began under Trump and remains in place because of the ongoing coronavirus pandemic.
The latter has been highlighted by U.S. Customs and Border Protection as a key reason for increased activity at the border.
More than 10,400 criminal arrests have been made by Guard and state police, according to DPS. However, a recent court ruling on one arrest might throw into question whether the state is able to overstep the federal government when it comes to enforcing border security and illegal immigration. The arrest was challenged in Travis County court last month, with the judge ruling the state did not have the right to detain the man, Jesús Alberto Guzmán Curipoma, who came from Ecuador to seek asylum.
The people arrested by the Guard who are turned over to DPS can be charged with trespassing, a state misdemeanor offense, as well as for any other crimes that they are believed to have committed. So far, about 2,500 people have faced trespassing charges.
Calls for review
State legislators also raised concerns about the treatment of migrants once they are taken into custody as does a discrimination complaint filed by immigrant and civil rights organizations, including the American Civil Liberties Union of Texas and the Immigrant Legal Resource Center.
"As the complaint states, Texas law enforcement officials have directed individuals near the border to a particular place — giving them the impression they have permission to be on the property — and then arrested them for trespassing. Gov. Abbott has deployed the Texas National Guard to put up new fences near the border to make crossing property criminal where it was not before — just to enable the arrest of migrants," according to a statement from the Immigrant Legal Resource Center.
Once the people are arrested, they then face "a series of due process transgressions which warrant immediate review," the 50 Texas Democrats wrote to Garland and Mayorkas. "Additionally, hundreds of those arrested have languished in jail for weeks or months without a lawyer and without a court date."
The Department of Justice declined to comment.
At a hearing in early January for Guzmán Curipoma's lawsuit, a Travis County judge ruled the practice of detaining those arrested on a trespassing charge violates the U.S. Constitution. His defense attorneys argued he was unlawfully detained when he instead should have been allowed to apply for asylum.
Kristin Etter, an attorney with Texas Rio Grande Legal Aide, which fielded the case on behalf of Guzmán Curipoma, said in a statement that the ruling allows for all arrested on misdemeanor trespassing under Operation Lone Star to have the exact same challenge.
"This sets a clear precedent in all those cases both pending and future," she said.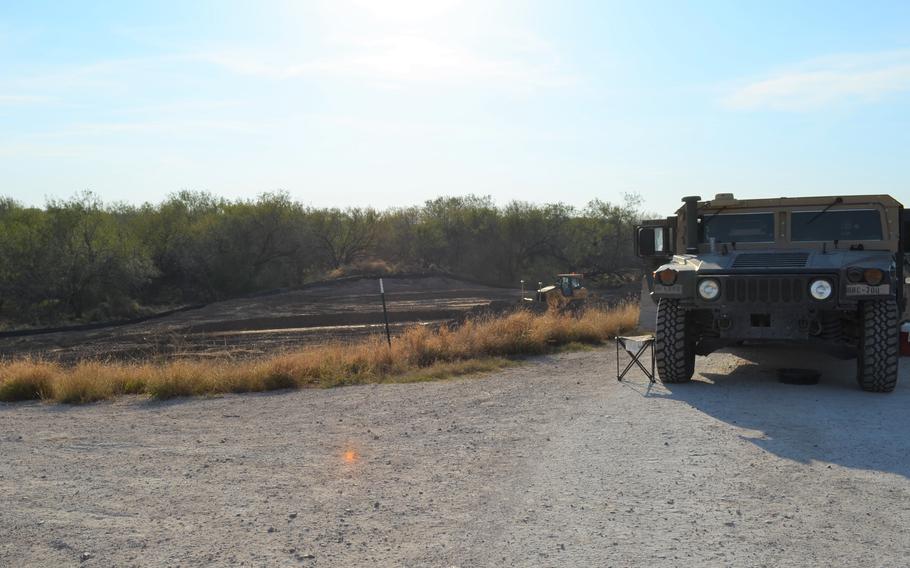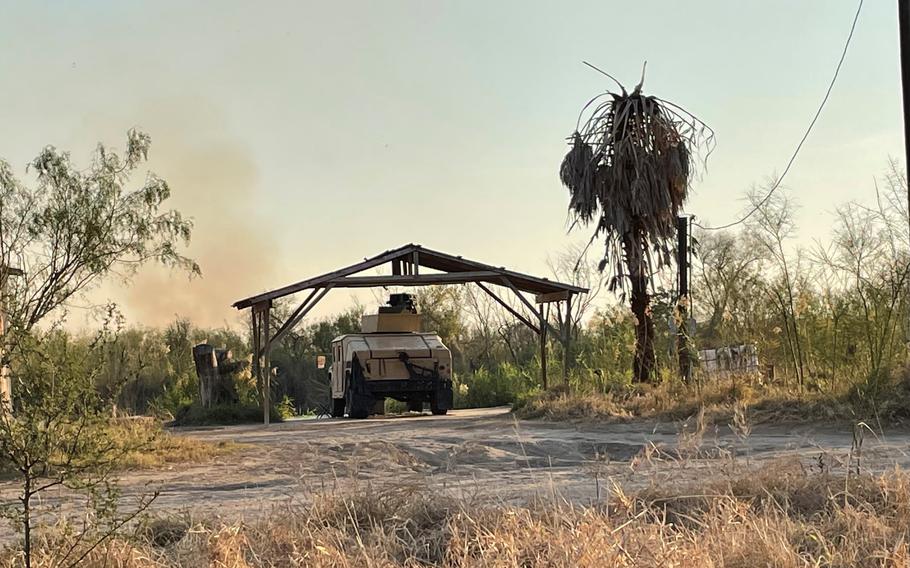 It's unclear what the ruling could mean for the future of Operation Lone Star, which began in March, and the troops assigned to it.
Despite the attacks, Abbott does not appear to be slowing the border mission. The National Guard is creating more permanent living arrangements for troops assigned to the West Texas region, where they sleep in trailers. In south Texas, troops primarily live in hotels. Guard officials said the difference in living arrangements for troops stems from more lodging being available in some locations than in others.
Abbott's office and DPS declined to comment on the sustainability of the operation or how the governor will know it's been effective enough to allow for a reduction in the force.
"Texas will do whatever it takes to secure our southern border and protect Texans in President Biden's absence," said Nan Tolson, Abbott's spokeswoman.
Biden also has National Guard troops assigned to the border on a federal mission that began in 2018 under Trump. About 2,400 Guard members from 20 states work in a support and administrative role with U.S. Customs and Border Protection, according to U.S. Northern Command, the military department that oversees the mission. Those troops work in all southwest border states and do not have any authority to make arrests. Their work has included vehicle maintenance, monitoring security cameras and detection equipment and working at Border Patrol stations or checkpoints.
The Texas Military Department and the Department of Public Safety said they work in coordination with Customs and Border Protection, known as CBP, to select locations for state Guard troops to establish observation posts at the border. Both agencies also call CBP to take over when they detain migrants, which can include groups with children.
However, CBP officials would not confirm they work with Operation Lone Star in any capacity.
"CBP does not have a role or partner in any way with Texas DPS on Operation Lone Star. Migrants who have recently illegally crossed into the United States and are encountered by U.S. Border Patrol at or near the U.S. border may be processed by CBP in accordance with law," according to a CBP statement.
'Every day is different'
During a soggy and unusually cold morning last month at observation points in Starr and Hidalgo counties along the U.S.-Mexico border, some soldiers donned hats and cold-weather gear as they stood armed alongside Humvees and watched the landscape to the south for activity. It was a quiet morning.
"I think every day is different," Spc. Kevin Dominguez of the Texas National Guard said Jan. 21, while checking on troops at an observation point in Rio Grande City. "Occasionally you'll see [migrants] moving across the border and then we report them in."
The amount of activity that troops see varies depending on location, the weather and time of day, he said. When they see people, soldiers detain them and call state troopers or Border Patrol agents to take over.
Since March, the Texas National Guard said troops have been responsible for referring more than 103,865 people for apprehension.
The Guard also said their presence at the border has led to nearly 10,000 "turn backs," which means the people moving toward the border decided instead to turnaround and remain in Mexico. DPS said the operation has also seized more than 36 million lethal doses of a synthetic opioid called fentanyl crossing the border. Across Texas, DPS officials have said they can trace about 250 million doses of the drug seized by its agents back to the border.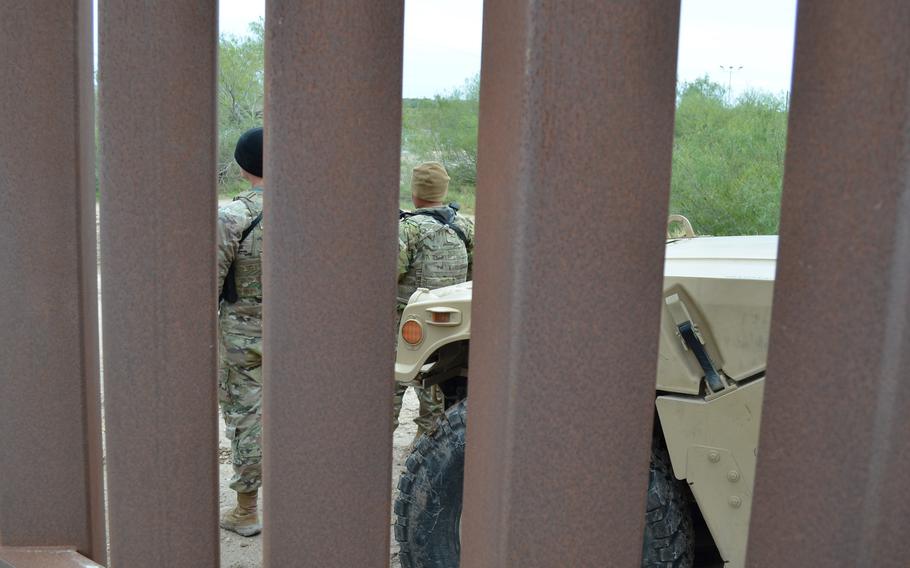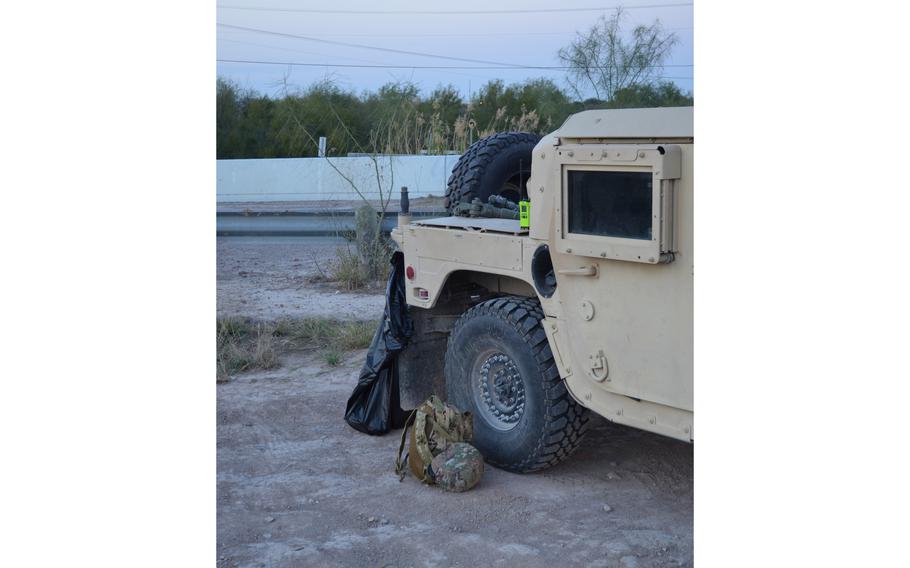 "Had we not been there, all of it likely would have crossed into the country unimpeded," according to a DPS official.
Dominguez said he works in his civilian life as a newly minted sheriff's deputy for Fort Bend County, just outside of Houston. As a Spanish-speaker, he said he's able to communicate with the people they detain, mostly from Latin America and some from Mexico. Most just want to turn themselves in, he said.
"I approach with caution until I get the feeling that it's safe," Dominguez said. "It's not like they're running from us. It's like they just got tired from the journey. We have them sit down and we call the Border Patrol agents. They come in, they do all their paperwork and they take them away."
The migrants mostly want to know what's next and what's going to happen to them, he said.
"From what I've learned, if you treat people with respect, they're going to treat you with respect," Dominguez said.
Despite so much attention on border crossings in 2021, the number of people encountered at the southwest U.S.-Mexico border remained historically high. Customs and Border Protection said agents reported contact with more than 1.7 million people in 2021 who did not have documentation to be in the United States. That's up from 977,500 in 2019. During 2020, the coronavirus pandemic is cited for cutting the number of encounters to about 458,000.
CBP reports describe any contact with people found crossing illegally between ports of entry or people at the ports who are denied access as an "encounter."
The coronavirus pandemic ushered in an ongoing public health policy that requires agents send people back across the border instead of detaining them, which has led to more "repeat offenders," according to CBP's annual statistics report. Nearly one of every three people encountered by Border Patrol is a repeat offender.
"Thus, while total enforcement encounters increased 82% between 2019 [the last year before the pandemic] and 2021, the number of unique individuals encountered at the border increased 30%," according to the report released Jan. 3.
As for fiscal year 2022, which began Oct. 1, Customs and Border Protection has already encountered more than 518,000 people at the southwest U.S.-Mexico border.
None of the formal complaints or calls for investigations into Operation Lone Star have yet triggered any action, so civil rights attorneys are moving forward with more litigation to aid those arrested as a result of the state mission. After the successful hearing in Travis County last month, Texas Rio Grande Legal Aid filed to have the court overturn the arrests of nearly 450 migrants under Operation Lone Star who the organization represents.
Texas Attorney General Ken Paxton, with the support of the governor, has appealed the January ruling, calling it "ridiculous."
---
---
---
---