The latest on Afghanistan: Air Force to investigate Afghan deaths, human remains found in wheel well of C-17 that took off from Kabul airport
Staff and wire reports
August 16, 2021
---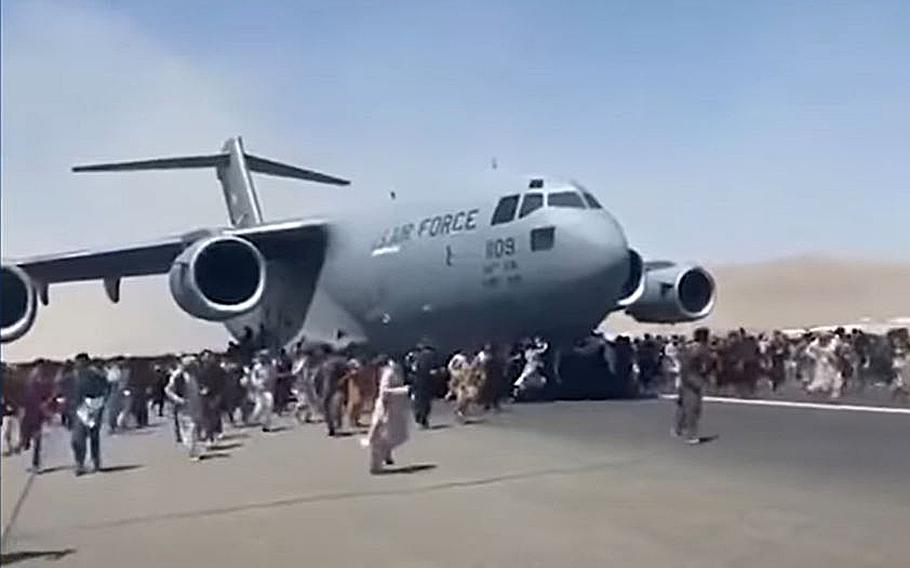 Editor's note: We have stopped updating this file, but you can catch our continuing coverage of the situation in Afghanistan here.
Here are some developments related to the rapidly unfolding situation in Afghanistan:
Air Force investigating Afghan deaths, human remains found in wheel well of C-17 that took off from Kabul airport
The Air Force is investigating the deaths of Afghan civilians at the Hamid Karzai International Airport in Kabul, including reports that people were killed falling from a C-17 cargo jet taking off from the airfield, a service spokeswoman said Tuesday.
"In addition to online videos and press reports of people falling from the aircraft on departure, human remains were discovered in the wheel well of the C-17 after it landed at Al Udeid Air Base, Qatar," Ann Stefanek, the Air Force's chief of media operations, said in a statement.
On Monday, hundreds of Afghan civilians who had "breached the airport perimeter" swarmed an Air Force C-17 Globemaster III after it landed at the airport to support the evacuation of Afghan and American civilians from Afghanistan.
"Faced with a rapidly deteriorating security situation around the aircraft, the C-17 crew decided to depart the airfield as quickly as possible," Stefanek said.
Shortly after, videos on social media showed multiple people falling off the aircraft who had desperately attempted to evacuate the country. The Air Force did not say how many individuals were killed in the incident.
The C-17 is grounded now to give investigators time to collect the remains and inspect the aircraft before it can fly again. Air Mobility Command, a military unit headquartered at Scott Air Force Base, Ill., and safety officials are "doing due diligence to better understand how events unfolded," Stefanek said.
— Sarah Cammarata
CENTCOM commander visits Kabul airport
The top U.S. general for the Middle East and Afghanistan on Tuesday visited Kabul's international airport, where thousands of U.S. forces are working to evacuate thousands of Americans and others from the country overrun by the Taliban.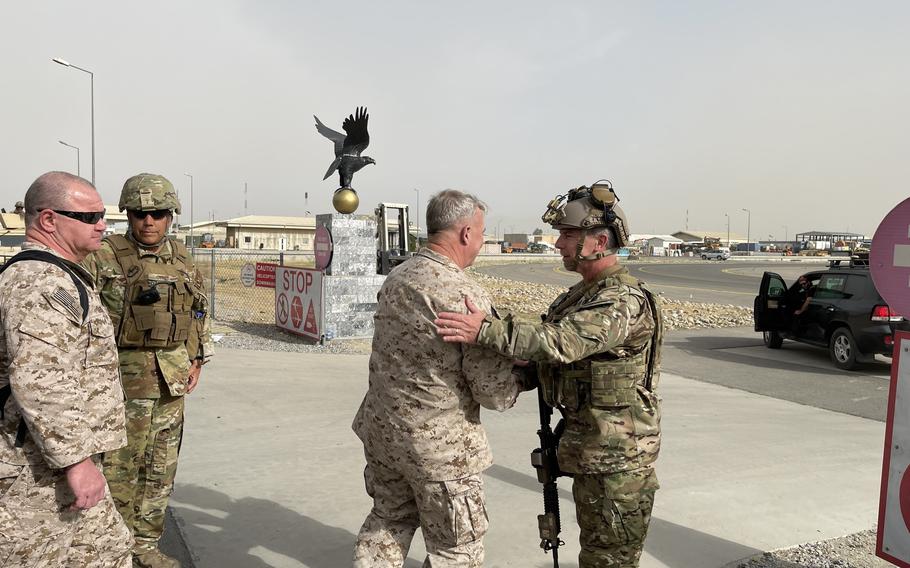 Marine Gen. Frank McKenzie, who leads U.S. Central Command, pledged continued military support for operations to move tens of thousands of Americans, partner nation personnel and U.S.-allied Afghans out of the country, which is now virtually entirely controlled by the Taliban. The general said protecting those trying to flee the country was his "highest priority."
"Today, I had an opportunity to evaluate the situation at Hamid Karzai International Airport and engage with U.S. military leaders on the ground providing security to the airport," McKenzie said in a written statement issued by the military. "I saw firsthand our defensive lay down and the work our forces are doing to efficiently operate the airfield while ensuring the safe movement of civilians and diplomats who are leaving Kabul."
McKenzie said he warned senior Taliban officials in meetings in Doha, Qatar, on Sunday to refrain from interfering with U.S operations at the airport. He said he had "made it clear to them that any attack would be met with overwhelming force in the defense of our forces."
Pentagon officials said earlier Tuesday that the Taliban had not interrupted the evacuation operations or threatened U.S. troops. The officials said U.S. military commanders at the airport were in contact with local Taliban commanders.
The U.S. military had about 4,000 troops at the Kabul airport on Tuesday and another 2,000 on the way in the coming days, according to the Pentagon. American troops have also taken responsibility for air traffic control at the airport that reopened to military and civilian air traffic Tuesday after it was closed most of Monday.
McKenzie said he expected an increase in flights during the coming days. Pentagon officials said they aim to move some two dozen planes in and out of Kabul each day to evacuate 5,000 to 9,000 people per day.
"I remain enormously proud of the men and women of our armed forces, who are accomplishing this mission with skill, compassion and professionalism," the general said.
— Corey Dickstein
White House: At least 11,000 U.S. citizens remain in Afghanistan
At least 11,000 U.S. citizens remain in Afghanistan as the Defense Department accelerates evacuation flights from Kabul's airport, White House Press Secretary Jen Psaki said Tuesday afternoon.
However, the number of Americans could be greater than 11,000 because individuals might not have contacted the U.S. Embassy there that they need assistance, Psaki said. 
On Monday, a State Department official said the agency did not have readily available figures on the number of U.S. citizens and dual citizens in Afghanistan because those individuals are required to self-report their interest in leaving the country.
Psaki said there are about 22,000 slots at military bases in the United States for special immigrant visa applicants and an additional 8,000 slots in other countries. Psaki did not specify which countries could house individuals who worked with the United States during 20 years of war in Afghanistan.
— Sarah Cammarata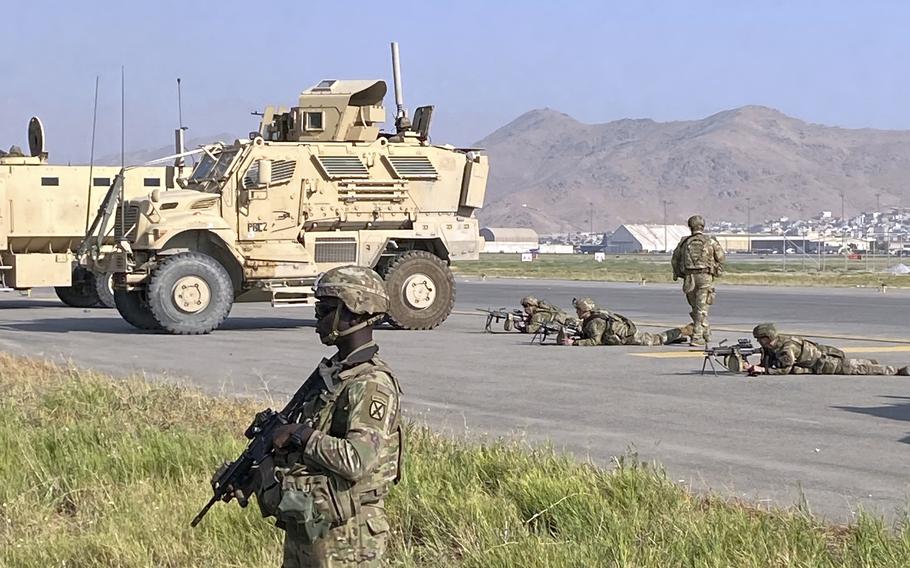 Taliban allowing 'safe passage' from Kabul in US airlift
The Taliban have agreed to allow "safe passage" from Afghanistan for civilians struggling to join a U.S.-directed airlift from the capital, President Joe Biden's national security adviser said Tuesday, although a timetable for completing the evacuation of Americans, Afghan allies and others has yet to be worked out with the country's new rulers.
Jake Sullivan acknowledged reports that some civilians were encountering resistance — "being turned away or pushed back or even beaten" — as they tried to reach the Kabul international airport. But he said "very large numbers" were reaching the airport and the problem of the others was being taken up with the Taliban, whose stunningly swift takeover of the country on Sunday plunged the U.S. evacuation effort into chaos, confusion and violence.
Pentagon officials said that after interruptions on Monday, the airlift was back on track and being accelerated despite weather problems, amid regular communication with Taliban leaders. Additional U.S. troops arrived and more were on the way, with a total of more than 6,000 expected to be involved in securing the airport in coming days.
The White House said 13 flights Tuesday airlifted 1,100 U.S. citizens, permanent residents and their families from the Kabul airport, adding that the pace was expected to pick up Wednesday and through the week.
The State Department said it was sending John Bass, a former ambassador to Afghanistan, to manage the evacuation operation in Kabul, and the Pentagon said it will send Army Maj. Gen. Christopher Donohue, a special operations officer and current commander of the 82nd Airborne Division, to take command of airport security operations.
Pentagon spokesman John Kirby disclosed that U.S. officers were speaking with Taliban commanders "multiple times a day" about avoiding conflict at the airport. This suggested that the new rulers of Afghanistan, who swept to power after 20 years of war against the U.S.-supported Kabul government, plan not to disrupt the evacuation. Kirby would not discuss details of the Taliban arrangement, and Sullivan said the question of how much time the Taliban will give the evacuation was still being negotiated.
Biden has said he wants the evacuation completed by Aug. 31. Sullivan declined to say whether that deadline would hold.
At the White House, Sullivan said U.S. officials were engaged in an "hour by hour" process of holding the Taliban to their commitment to allow safe passage for civilians wishing to leave the country. Asked whether the Biden administration recognizes the Taliban as the legitimate rulers of Afghanistan, Sullivan said it was too soon to say and that the Taliban's record of adhering to international human rights standards "has not been good."
Overnight at the airport, nine Air Force C-17 transport planes arrived with equipment and about 1,000 troops, and seven C-17s took off with 700-800 civilian evacuees, including 165 Americans, Army Maj. Gen. William Taylor told a Pentagon news conference. The total included Afghans who have applied for Special Immigrant Visas and third-country nationals, he said.
The goal is to ramp up to one evacuation flight per hour by Wednesday, with 5,000 to 9,000 evacuees leaving per day, Taylor and Kirby said. Taylor said that more than 4,000 U.S. troops are now at the airport. That number is expected to top 6,000 in coming days — more than twice as many as in all of Afghanistan when Biden announced in April he would be ending the U.S. war and pulling out all troops.
— Associated Press
NATO chief says Afghan leaders responsible for military collapse
NATO Secretary-General Jens Stoltenberg on Tuesday blamed a failure of Afghan leadership for the swift collapse of the country's Western-backed armed forces, but he conceded that the alliance must also address flaws in its military training program.
NATO has been leading international security efforts in Afghanistan since 2003 but wound up combat operations in 2014 to focus on training Afghanistan's national security forces. NATO helped build up an army some 300,000 troops, but that force withered in the face of the Taliban offensive in just days.
"What we have seen in the last few weeks was a military and political collapse at a speed which had not been anticipated," Stoltenberg told reporters after chairing a meeting of NATO ambassadors.
He said parts of the Afghan army "fought bravely," but that "ultimately, the Afghan political leadership failed to stand up to the Taliban and to achieve the peaceful solution that Afghans desperately wanted."
Over the years, Stoltenberg often insisted that the Taliban would only succeed at the negotiating table and never clinch victory on the battlefield. "This failure of Afghan leadership led to the tragedy we are witnessing today." But, he conceded, "the big question we have to ask in an honest and clear-eyed way is: why didn't the forces we trained and equipped and supported over so many years, why were they not able to stand up against the Taliban in a stronger and better way than they did?"
Stoltenberg said about 800 civilian personnel from NATO countries have remained behind in Afghanistan to help, notably in keeping the Kabul airport running, including staff to run air traffic control, aircraft fueling operations and communications.
— Associated Press
Biden administration freezes billions of dollars in Afghan reserves, depriving Taliban of cash
The Biden administration froze Afghan government reserves held in U.S. bank accounts, blocking the Taliban from accessing billions of dollars held in U.S. institutions, according to two people familiar with the matter.
The decision was made Sunday by Treasury Secretary Janet Yellen and officials in Treasury's Office of Foreign Assets Control, the people said. The State Department was also involved in discussions during the weekend, with officials in the White House monitoring the developments.
An administration official said in a statement, "Any Central Bank assets the Afghan government have in the United States will not be made available to the Taliban." The officials spoke on the condition of anonymity to discuss government policy not yet made public.
Cutting off access to U.S.-based reserves represents among the first in what is expected to prove several crucial decisions facing the Biden administration about the economic fate of that nation following the Taliban takeover. Afghanistan is already one of the poorest countries in the world and is highly dependent on American aid that is now in jeopardy. The Biden administration is also likely to face hard choices over how to manage existing sanctions on the Taliban, which may make it difficult to deliver international humanitarian assistance to a population facing ruin, experts say.
The Afghan central bank held $9.4 billion in reserve assets as of April, according to the International Monetary Fund. That amounts to roughly one third of the country's annual economic output. The vast majority of those reserves are not currently held in Afghanistan, one of the people familiar with the matter said. Among those, billions of dollars are kept in the U.S., although the precise amount is unclear.
Spokespeople for the White House and Department of Treasury declined to comment on the process for blocking the funds, or the fate of U.S. economic assistance to Afghanistan. A spokeswoman for the Federal Reserve Bank of New York also declined to comment.
The U.S. did not need any new authority to freeze the reserves, because the Taliban is already sanctioned under an executive order approved after the Sept. 11, 2001, attacks, said Adam Smith, who served on the National Security Council and as senior adviser to the director of the Department of Treasury's Office of Foreign Assets Control during the Obama administration.
— The Washington Post
Cash scarcities mount in Kabul and fears for ex-soldiers in Herat linger as Taliban asserts control 
Many businesses and services in Herat remained shuttered Tuesday as residents waited to see how the Taliban will assert their rule, people in Afghanistan's third-largest city said.
"The situation in Herat city isn't back to normal so far," Abdul Hakim Yazdani, A tribal elder and resident of Herat, told Stars and Stripes over the phone. "Today is the fifth day since the Taliban took the city. It's looked like a military city in the last five days."
All domestic flights in Herat have stopped, Yazdani said. Flightradar24.com showed no air traffic over the city Tuesday afternoon.
For more on the situation in Herat and in Kabul, read this story.
— Zubair Babakarkhail
82nd Airborne to take command of security operations at Kabul airport
The Pentagon has tasked the commander of the Army's 82nd Airborne Division to take charge of security operations at Kabul's international airport, where some 4,000 American troops were expected to be working in the coming hours, top defense officials said Tuesday.
Army Maj. Gen. Chris Donahue, who has led the 82nd since last year, was sent to Afghanistan to lead the security operations aimed at evacuating as many Americans, international partners and U.S.-allied Afghans as possible during the coming weeks, the officials said. The security force will grow to about 6,000 U.S. troops — including some 3,000 82nd Airborne soldiers — in the coming days and also includes Turkish troops and about 700 Afghan security forces.
"This is what the 82nd Airborne does really well," John Kirby, the Pentagon's chief spokesman, told reporters. "The task of securing and operating an airfield is a unique task the 82nd can do."
Hamid Karzai International Airport is the last remaining ground in Afghanistan run by American forces since the Taliban's seizure of virtually the entire country over the weekend, and it was shut down for much of Monday. The airport returned to operations on Tuesday, said Army Maj. Gen. Hank Taylor, the Joint Staff's deputy director for regional operations.
Taylor said nine Air Force C-17s had arrived at the airport delivering about 1,000 troops and their equipment in recent hours. Seven C-17s also departed the airport, known as HKIA, evacuating some 700 to 800 passengers, including 165 Americans, since early Tuesday morning, the general said.
Taylor said U.S officials estimated they could evacuate 5,000 to 9,000 people per day from the Kabul airport, if operations went smoothly. He said the Taliban had not interfered with airport operations as of Tuesday.
— Corey Dickstein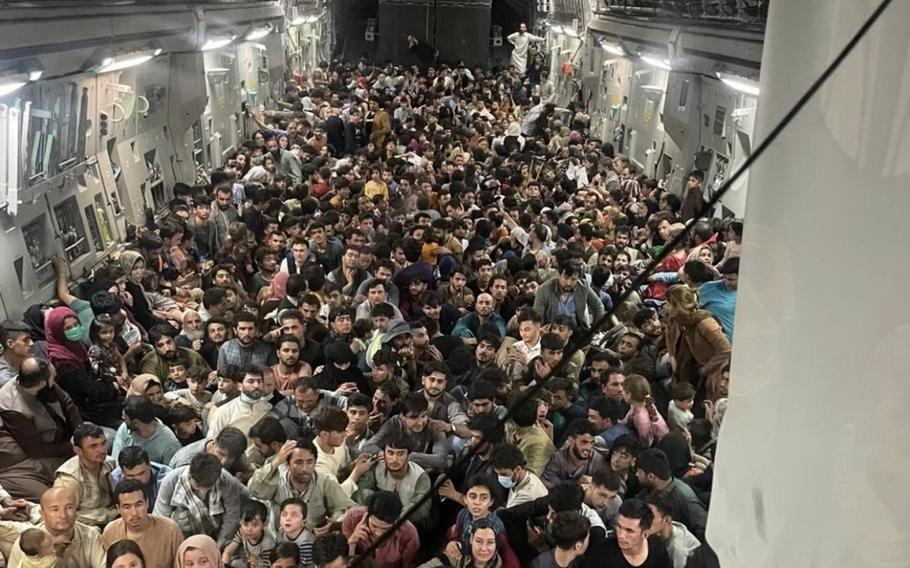 Hundreds of Afghans airlifted on Air Force cargo jet
A U. S. military cargo jet safely airlifted over 600 Afghans fleeing the encroaching Taliban from Kabul late Sunday, the Air Force said.
A C-17 Globemaster III that flight tracking software showed belongs to the 436th Airlift Wing based at Dover Air Force Base, Del., evacuated what might be among the most people have ever flown on the 174-foot-long aircraft, Defense One reported Monday, citing unnamed defense officials and photos.
The four-engine jet with a wingspan of 169 feet, operating under the call sign Reach 871, was not expected to take so many people, a defense official told the news site. But many anxious Afghans who were cleared to evacuate on later flights pulled themselves onto its half-open ramp. The crew chose not to force them off.
"The crew made the decision to go," one defense official said.
Some 640 Afghan civilians disembarked when the plane landed, the official said.
The crew apparently believed there were as many as 800 on board — a recording of radio communications spread online Sunday in which one official expressed surprise at that estimate.
"American heroes all," retired Adm. James Stavridis, former Supreme Allied Commander of NATO, tweeted Monday morning about the evacuation flight, saying he heard of it from an Air Force general and citing the higher number.
Several other flights managed to take off with hundreds of people aboard, one official told Defense One.
U.S. Air Forces Central referred Stars and Stripes' query to the Pentagon. Officials there did not immediately respond.
— Chad Garland
Notes from Kabul
The following is a Tuesday morning dispatch from Stars and Stripes reporter Zubair Babakarkhail in Kabul:
Most shops are open, but the currency exchanges, banks, jewelry stores, factories and government offices are closed. Some schools are open; private and government hospitals are open for patients.
In Kabul, most purchases are made with cash, so the lack of money could affect access to basic needs like food if this doesn't change.
"It is a big uncertainty right now. People are just waiting to see what happens next," Sardarwali Khan, a tribal elder in eastern Kabul, said in a phone call. "We need the Taliban to start providing public services as soon as possible. No one is going to their job right now; banks are closed. People will starve in a few days because everyone is running out of money."
The electricity is actually better, but mainly because big users like factories and government facilities aren't functioning.
People try to get close to the Taliban fighters whenever they stop on the road. Most try to ask them "What will happen next?"
Taliban fighters showed up in my village's mosque to pray in the evening, and my neighbors asked them the same question.
Things will be fine — you will know us better after we spend some time here, and no one has to be worried, they answered. One of the fighters was clean and well-dressed. The others had scary looks on their faces and appeared as if they had just come out of a jungle, my neighbors said.
The Taliban are going door to door in the city and checking parking lots for government vehicles. They are taking them for their own use and giving receipts that specify the person who handed over the vehicle. They are providing contact numbers too.
There are still safety concerns about what the Taliban will do once they are better settled.
"Taliban are new in the city now," Khan said. "They are busy with collecting government arms, vehicles and going through offices. They will start questioning people after they are done with that. I'm worried."
The Taliban have said they will call back all the security forces to work at an appropriate time.
— Zubair Babakarkhail
Body found in landing gear of transport plane that departed Kabul airport; military evacuation flights resume
A body was found in the landing gear of an American military C-17 transport aircraft hours after departing Hamid Karzai International Airport in Kabul, according to media reports.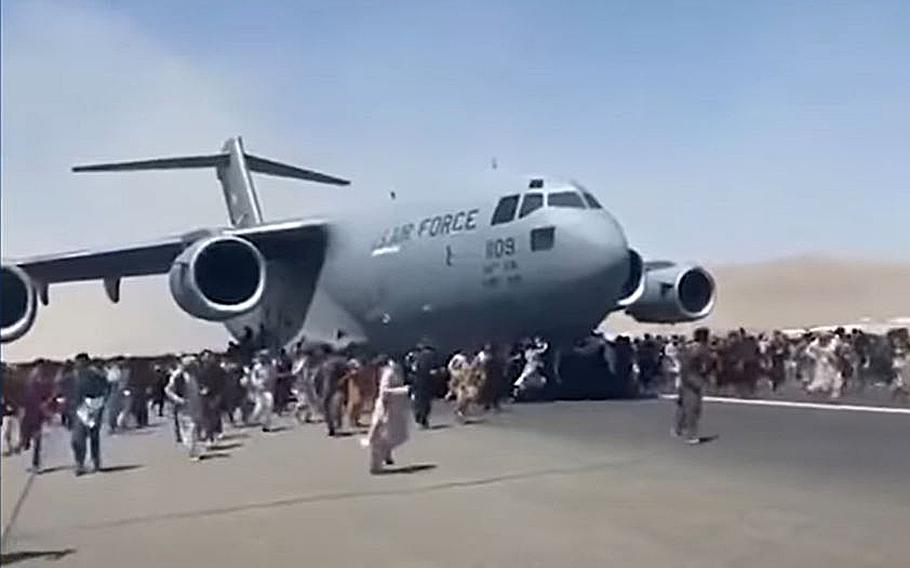 Two sources familiar with the matter told Politico that the discovery rendered the aircraft "temporarily inoperable."
The Washington Post reported that the body was discovered when the aircraft's "crew diverted and landed in a nearby third country" after being unable to retract the landing gear during flight. It is unclear exactly when the body was discovered.
The news comes after at least seven people have died in three days of chaos at the airport, including two Afghans who fell to their deaths from the wheel well of a departing U.S. military cargo jet Monday morning. Video of the incident spread rapidly across social media, prompting one anonymous defense official to confirm to the Washington Post that the military is "assessing the situation."
Meanwhile, Reuters reported military evacuation flights resumed at Kabul's airport Tuesday morning — less than a day after U.S. forces suspended all flights at the airport until Afghan civilians could be cleared from the runway.
On Monday, Pentagon spokesman John Kirby told reporters that, once the situation at the airport stabilized, officials hoped to transport as many as 5,000 people out of Afghanistan per day.
— Kat Bouza
It's unclear how many US citizens remain in Afghanistan, State Department spokesman says
The State Department does not know how many United States citizens and dual-citizens remain in Afghanistan as evacuations from the country are underway, an agency official said Monday.
"It is not a tally that we keep in the context of Afghanistan or any other country. The embassy has been in touch with many of these individuals," chief State Department spokesman Ned Price said during a news briefing. "It is incumbent on Americans in any given country to reach out to the embassy to notify the embassy of their presence. There are many dual nationals who are also part of the equation as well."
He said the State Department has been in "regular" contact with American citizens who have indicated interest in leaving the country. He also said individuals should shelter in place and not attempt to come to Kabul's Hamid Karzai International Airport until they are instructed to do so by the department.
By Sunday, all civilian personnel who were located at the U.S. Embassy in Kabul had been relocated to the airport.
"The embassy is in an area that has been heavily fortified. So, we do not have an American presence on the ground … at the embassy," Price said.
Acting U.S. ambassador Ross Wilson remains at the airport where he has been since last Sunday night, Price said.
The spokesman said U.S. military aircraft have transported about 1,600 individuals out of Afghanistan, excluding 2,000 Afghans who obtained special immigrant visas. It was unclear Monday who was included in the 1,600 people flown out of the country.
— Sarah Cammarata
Biden: Decision to leave Afghanistan is 'the right one for America'
President Joe Biden said Monday that the Taliban's rapid takeover of Afghanistan amid the collapse of its U.S.-backed government and military only cemented his decision to end America's 20-year war efforts there.
Biden said he could not risk more American lives fighting a civil war in Afghanistan if the Afghan troops trained by the United States through the last two decades would not fight for themselves. The president spoke at the White House in his first public remarks since the Taliban's lightning offensive captured virtually all of Afghanistan, including its capital of Kabul on Sunday.
"Here's what I believe to my core: It is wrong to order American troops to step up when Afghanistan's own armed forces would not," Biden said during the speech.
The president also admitted his administration had not expected the Taliban would grasp power so quickly.
"I'm left to ask again of those who argue that we should stay, 'How many more generations of Americans daughters and sons, would you have me send to fight Afghanistan's civil war, when Afghan troops will not? How many more lives, American lives, is it worth?" he asked.
Biden placed blamed largely on Afghan President Ashraf Ghani's government, which he said failed to plan for the Taliban's advances and believed its military would continue to fight. Ghani fled Afghanistan on Sunday before the Taliban took Kabul.
Biden also said Ghani's government was responsible for the slow efforts to evacuate Afghans who had worked to support U.S. and NATO forces and other officials against the Taliban. He said Ghani's government had urged against a mass exodus of U.S.-allied Afghans for fears of sparking a "crisis of confidence" in the Kabul government.
Biden pledged Monday to evacuate the Americans remaining in Afghanistan and thousands of the Afghans and their families who have helped the United States during the past 20 years. 
He said he knew his decision to continue the U.S. drawdown from Afghanistan, which he ordered completed by the end of August, would be criticized. He said he would not change his mind.
"I would rather take all that criticism than to pass this decision on to another president of the United States — yet another one, a fifth one," Biden said. "Because, it's the right decision for our people, the right one for our brave service members who risk their life serving our nation, and it's the right one for America."
—Corey Dickstein
'It's our duty to help those who helped us': France sends aircraft, special forces to Afghanistan
France has sent two military transport planes and special forces troops to Afghanistan to help evacuate French citizens and Afghans who worked with them, President Emmanuel Macron said in a speech Monday.
"Our absolute priority is to bring our compatriots to safety, as well as Afghans who worked for France," he said in the prime-time speech, broadcast live on radio and television.
Hundreds of Afghans who worked for the French have already arrived in France with their families.
"But dozens more … are still in Afghanistan, and we remain fully mobilized to help them," the French head of state said. "It is our duty to protect those who help us: interpreters, drivers, cooks and so many others."
Several thousand French troops were deployed to Afghanistan between 2001 and 2014, when France was militarily involved in the U.S.-led war in the country, Macron said. They fought against "Islamist terrorism and those who enable it," he said.
"Their fight was honorable. One day it will bear fruit," he pledged, calling on allied nations to work together to prevent Afghanistan once again becoming a sanctuary for terrorist groups, now that the Taliban have seized control of the country.
—Karin Zeitvogel
Security Council urges talks on Afghan crisis
The U.N. Security on Monday called for an immediate end to violence in Afghanistan following the Taliban takeover of the country and inclusive talks to form a new Afghan government that includes women.
In its first statement since the Taliban a day earlier ousted the U.S.-backed President Ashraf Ghani, who has since fled Afghanistan, the council stressed that Afghan territory should not be used by the Taliban or any other group "to threaten or attack any country."
The U.N.'s most powerful body called for "urgent talks to resolve the current crisis of authority in the country and to arrive at a peaceful settlement through an Afghan-led, Afghan-owned process of national reconciliation."
It said a new government must be "united, inclusive and representative — including with the full, equal and meaningful participation of women."
U.N. Secretary-General Antonio Guterres called for an immediate end to violence and urged the international community to unite to ensure that the human rights of all Afghans are respected. He said he was "particularly concerned by accounts of mounting human rights violations against the women and girls of Afghanistan who fear a return to the darkest days" in the 1990s when the Taliban ruled and barred girls for getting an education and imposed draconian measures on women.
—Associated Press
US commander warns Taliban not to interfere with evacuations
One of America's top military commanders has met face-to-face with senior leaders of the Taliban, urging the longtime U.S. enemy not to interfere with the massive airport evacuation as the United States withdraws from Afghanistan, a U.S. official told The Associated Press.
Gen. Frank McKenzie, head of U.S. Central Command, warned the Taliban officials that the U.S. military would respond forcefully to defend the airport if necessary, the official said. The official spoke on condition of anonymity to discuss sensitive talks not yet announced publicly.
McKenzie's session Sunday in Doha, Qatar, the base for long-running talks among senior Taliban political officials, Americans and others, underscored the swift rise in power of the Taliban, America's opponent in 20 years of fighting, after a weeklong push in which the group captured control of Afghanistan.
A U.S. defense official said American warplanes — which had been hitting Taliban targets during the withdrawal, in a failed effort to help Afghan forces block the Taliban blitz — were not currently conducting any airstrikes.
The official, who also spoke on condition of anonymity because the official was not authorized to discuss the matter publicly, added there was no sign Monday of any significant ongoing fighting by any forces of the now-routed U.S.-backed Afghan government. Afghan President Ashraf Ghani fled the country on Sunday as the Taliban entered Kabul.
—Associated Press
Biden to address nation on chaos in Afghanistan
President Joe Biden will return to the White House Monday to address the nation on the U.S. evacuation from Afghanistan, as the planned withdrawal of American forces turned deadly at Kabul's airport as thousands tried to flee the country a day after the Taliban's takeover.
The White House says Biden will travel back to Washington from the Camp David presidential retreat to speak at 3:45 ET Monday afternoon from the East Room. It will be his first public remarks on the Afghanistan situation in nearly a week, after Biden and other top U.S. officials had been stunned by the pace of the Taliban's swift routing of the Afghan military.
The Pentagon confirmed Monday that U.S. forces shot and killed two individuals it said were armed, as Biden ordered another battalion of troops — about 1,000 troops — to secure the airfield, which was closed to arrivals and departures for hours Monday because of civilians on the runway.
—Associated Press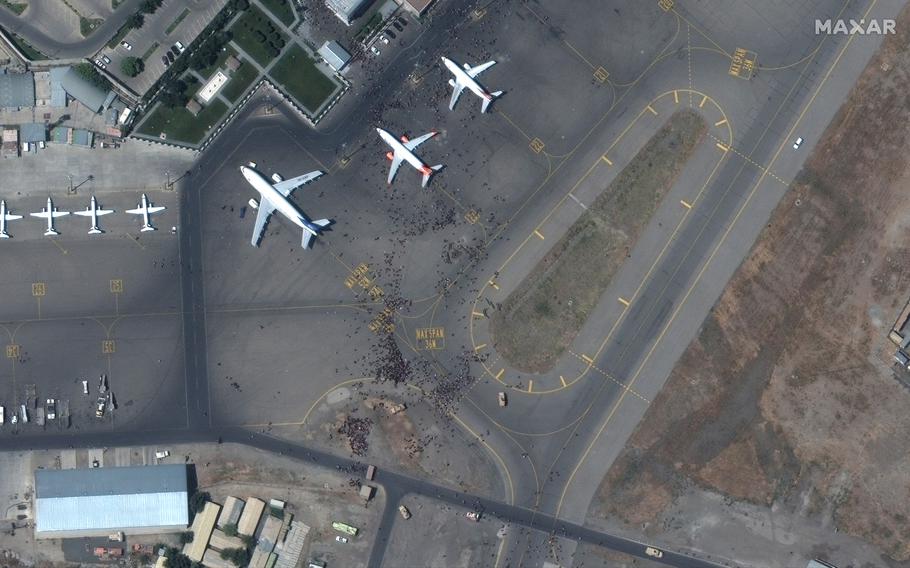 UN to work with 'de facto' Afghan authorities
The U.N. resident coordinator in Afghanistan says they will continue to work with the "de facto authorities" to provide humanitarian assistance after the Taliban takeover.
Ramiz Alakbarov told The Associated Press on Monday that the recent fighting had displaced some 600,000 people, and that because of the fluidity of the situation, humanitarian teams are not able to help everywhere.
Alakbarov, who is in Kabul, says he thought the international community should have invested more in health, education, and the future of women and young people, not necessarily so much in security infrastructure, if it had wanted to avoid "the results that we have now".
He noted that the U.N.'s humanitarian appeal for Afghanistan, 1.3 billion dollars for 2021, is funded only to 38%.
—Associated Press
Deaths reported at Kabul airport
Senior U.S. military officials say the chaos at the Kabul airport this morning left seven people dead, including some who fell from a U.S. military cargo jet.
The officials spoke on condition of anonymity because they were not authorized to publicly discuss ongoing operations.
Several Afghans who snuck into the wheel well of a departing U.S. military cargo jet fell to their deaths at the Kabul airport on Monday morning, an eyewitness has told Stars and Stripes.
Video of the fall was circulated on Twitter and conflicting reports put the number involved at two or three, though the eyewitness said it was four.
Afghans rushed onto the tarmac of the capital's airport on Monday as thousands tried to flee the country after the Taliban seized power with stunning speed.
Afghans began swarming Hamid Karzai International Airport as the Taliban entered the city Sunday, said the witness, who works security at the airport and asked not to be named for safety reasons.
Many arrived with receipts for Indian visas, though their passports were still at the Indian Embassy, the worker said. Others who came included those with Special Immigrant Visas for travel to the U.S. and Afghans with similar hopes of travel to NATO countries they'd supported during the 20-year war.
Others with no documents or tickets at all, pleading for asylum, also arrived. The roads to the airport remain clogged with Afghans seeking refuge amid rumors that Canada had sent planes and was taking anyone seeking to leave, the witness told Stars and Stripes.
The civilian side of the airport was left unsecured, the witness said. Crowds entered the terminal and got onto the runway, where they slept during the night and continue to roam. U.S. service members warned them several times away from the military side of the facility, the witness said.
Video shared on Twitter by Afghanistan's Pajhwok news agency showed crowds running alongside a taxiing C-17 and clamoring up onto its fuselage.
People broke windows in the terminal and destroyed furniture, the witness told Stars and Stripes.
Officials at U.S. Central Command weren't immediately available for comment, The Wall Street Journal reported. A U.S. Air Forces Central spokesman referred Stars and Stripes to the Pentagon, where a press duty officer said the military did not have a statement.
U.S. troops have taken over security operations at the airport as the U.S. and other foreign governments continue to fly their workers and citizens out of the country. Commercial flights have been mostly suspended, the BBC reported Monday morning.
—Chad Garland and Zubair Babakarkhail; Associated Press
Afghan military plane crashes in Uzbekistan; cause disputed
An Afghan military plane crashed in Uzbekistan over the weekend, and Uzbek authorities on Monday issued conflicting reports on the cause. The wreckage came as dozens of Afghan military aircraft carrying hundreds of servicemen reportedly reached Uzbekistan, among the thousands fleeing the country after the Taliban recaptured the Afghan capital of Kabul.
The plane crash in southeastern Uzbekistan, in the Surkhandarya region on the border with Afghanistan, was first reported by local media. Uzbekistan's Defense Ministry initially said it was studying videos and reports of the crash, then confirmed that the plane did crash, without elaborating.
Later Monday, Russia's state news agency RIA Novosti reported that it was told by the Uzbek Defense Ministry that Uzbekistan's air defense system had downed the plane and "averted an attempt by an Afghan military plane to illegally cross Uzbekistan's air border." Two pilots, the agency said, were hospitalized in serious condition.
Within hours, the Prosecutor General's office in Uzbekistan issued a statement saying that an Afghan military plane had collided with an Uzbek plane that was scrambled to escort it to the airport at Termez, a city in Surkhandarya.
The office later retracted that statement, which also alleged that 22 warplanes and 24 military helicopters from Afghanistan carrying 585 servicemen "illegally crossed" into Uzbek airspace over the weekend and were forced by Uzbek authorities to land at Termez.
The Prosecutor General's office later apologized for a "hasty" statement on the messaging app Telegram and said it was not based "verified data from the relevant authorities."
The Associated Press couldn't immediately reconcile all the conflicting reports or independently verify them.
Caroline Tabler, a communications director for Arkansas Sen. Tom Cotton, said the GOP lawmaker's office was working urgently to support Afghan pilots fleeing from the Taliban to Uzbekistan. She appeared to confirm that at least some Afghan military personnel had reached Uzbekistan.
"We're working with an intermediary who's been in touch with the pilots," she told the AP. "We have not heard from them since last night (Washington) time. We know Uzbekistan has taken their cellphones. Our primary concern is making sure Uzbekistan does not turn them over to the Taliban. We are frantically reaching out to the State Department on this case and trying to get them asylum and literally can't get a response."
A plane carrying more than 100 Afghan servicemen landed in Tajikistan on Monday, the Tajik Foreign Ministry said. Officials told Russia's state news agency Tass that Tajikistan received an SOS signal and allowed a plane bound from Afghanistan to land at an airport in the Khatlon province, which borders both Afghanistan and Uzbekistan's Surkhandarya region.
On Sunday, Uzbekistan's Foreign Ministry reported that 84 Afghan servicemen crossed the border into Uzbekistan, asking for assistance. The group was detained by border guards and included three wounded soldiers who needed medical help.
The men were offered food and temporary accommodation in Uzbekistan, and the ministry said it was in touch with Afghan officials regarding the return of the Afghan soldiers.
—Associated Press
Germany military sends aircraft to Kabul
Three German military transport planes took off for Kabul on Monday to help airlift German nationals and Afghans who worked with them, the defense ministry said.
Germany will work with international partners to evacuate as many people as possible from Afghanistan for as long as possible, Defense Minister Annegret Kramp-Karrenbauer was quoted by German radio Deutschlandfunk as saying.
"For the army it's clear: as long as possible — and this depends a great deal on support from the Americans — we will make as many rounds as we can out of Kabul," she said.
Afghans who worked with the German military have been provided with exit documents, but the foreign ministry has urged them not to go to Kabul International Airport, Deutschlandfunk reported.
In comments made at a closed-door meeting of her Christian Democratic Union party Monday, Chancellor Angela Merkel reportedly said Germany may have to evacuate up to 10,000 people from Afghanistan, including 2,500 local support staff, human rights activists and lawyers, Reuters news agency reported.
Around 40 members of the German Embassy in Kabul who were flown out of the country Sunday on a U.S. aircraft have arrived in Qatar, officials said.
—Karin Zeitvogel
Report: Afghans who worked for US may temporarily go to bases in Wisconsin and Texas
The U.S. intends to evacuate tens of thousands of at-risk Afghans who worked for the U.S. and was looking at temporarily housing them at Fort McCoy in Wisconsin and Fort Bliss in Texas, a U.S. official told Reuters on Monday.
U.S. officials had considered bases in Qatar and Kuwait as possible landing spots for Afghans who applied for the Special Immigrant Visa program, which was designed to save Afghans who worked for the U.S. military and other government agencies. Veteran advocates and lawmakers also had suggested Guam as a destination.
Hundreds of Afghans who were furthest along in the SIV process arrived with their families at Fort Lee in Virginia last month.  Many thousands more have applied for the SIV program, which a State Department Inspector General report in June found was plagued by delays, understaffing and poor coordination. 
The State department has since set up a "Priority 2" program for Afghan journalists, nongovernmental agency workers and others who worked with U.S. organizations not covered by the SIV.
Report: US stops evacuation flights temporarily
The U.S. is halting evacuation flights from Kabul to clear the runway, Reuters reported Monday afternoon. 
Music and journalism disappear in Taliban takeover
Many of the Taliban arrived in Kabul on motorcycles Sunday but by Monday appeared to have upgraded to the Humvees and pickup trucks the U.S. had provided for Afghan security forces.
Some Afghan security forces dropped their body armor and fled, but residents didn't touch the abandoned gear for fear of getting caught by the Taliban and facing strict punishment for theft.
On some of Kabul's crowded roads, some cars played Taliban poetry, but none were heard playing music. The Taliban banned music as part of their interpretation of Islam when they took power in the 1990s.
The flourishing of music has been touted as a cultural dividend of the U.S. reconstruction effort in the two decades since the militant group was ousted from power. So has the growth of Afghan news media. 
Now the state-owned Radio Television Afghanistan is under Taliban control. It is broadcasting Quran readings and Taliban poetry, but no music.
Tolo TV, which began after a $220,000 grant from the U.S. Agency for International Development, is only broadcasting recaps of a Turkish historical drama called "Resurrection: Ertrugul."
Considered a Muslim "Game of Thrones," the popular series focuses on the founding of the Ottoman Empire and its battles against Christendom's crusaders and the Mongol horde.
—Chad Garland and Zubair Babakarkhail
Adviser says Biden 'stands by' US withdrawal
WASHINGTON — U.S. National Security Adviser Jake Sullivan says the failure of the Afghan military is to blame for the Taliban's swift takeover of Afghanistan.
Sullivan said Monday that President Joe Biden didn't want the U.S. to enter a "third decade of conflict" in Afghanistan and believed it was time for the Afghan army to defend the country two decades after billions of dollars of investment and training by the U.S.
But Sullivan said, "we could not give them the will and ultimately they decided that they would not fight for Kabul."
He added that the "worst-case scenario" for the U.S. would be to send thousands of troops to fight in a civil war when the Afghan army "wasn't prepared to fight itself."
Sullivan says Biden faced "bad choices" on the subject. The president ultimately opted to bring U.S. troops home and leave the Afghans to fight for themselves.
He says "it's heartbreaking" to see what's happening in Kabul but that Biden "stands by" his decision.
Sullivan spoke Monday on ABC's "Good Morning America" and NBC's "Today."
USAFE stands by
U.S. Air Forces Europe-Air Forces Africa aircraft and units have not been tasked to support operations in Afghanistan but are standing by if called upon, said Capt. Erik Anthony, a command spokesman.
—Jennifer H. Svan
'Like many, I struggle to make sense of it all'
Lt. Gen. Jim Slife, head of Air Force Special Operations Command, who said he spent a third of his career in and out of Afghanistan, is urging airmen to talk about their feelings about the crisis there "to put your own experiences in some context which will allow you to move forward positively and productively."
—Chad Garland
EU foreign ministers to hold emergency talks
BRUSSELS — European Union foreign ministers will hold emergency talks Tuesday to discuss the crisis in Afghanistan, after the president fled and the Taliban seized control of the capital, Kabul, over the weekend.
EU foreign policy chief Josep Borrell said in a tweet Monday that he decided to convene the extraordinary videoconference so the ministers can make "a first assessment" of developments.
Borrell says that "Afghanistan stands at a crossroad. Security and wellbeing of its citizens, as well as international security are at play."
European nations have been caught by surprise at the speed of the takeover. They've been evacuating embassies and leaving the strife-torn country in recent days. The EU has small diplomatic mission in Kabul. It's one of Afghanistan's biggest aid donors.
UN says humanitarian aid agency is staying in Afghanistan
GENEVA — The U.N. humanitarian aid coordination agency says it and partners "are staying and delivering to people in need" despite a complex security situation in Afghanistan following a sweep by Taliban forces across the country.
The Office for the Coordination of Humanitarian Aid, or OCHA, says in a note: "The humanitarian community — both the U.N. and nongovernmental organizations — remains committed to helping people in the country."
OCHA said thousands of internally displaced people who have been identified in recent weeks have received assistance including food, cash, health care, water, and sanitation support.
"While the security environment is highly complex, humanitarian agencies are staying and delivering to people in need," OCHA said.
Even before the upheaval, some 18.4 million people were in need of humanitarian assistance in Afghanistan, OCHA said, and its $1.3 billion humanitarian response plan for the country is only 38% funded.
German government expresses concern for Afghanistan
BERLIN — The German government has called on the Taliban to show restraint, protect the lives of the Afghan people and make sure needed humanitarian aid can reach them.
A spokesman for German Chancellor Angela Merkel also said Monday that Germany "is concerned about the fates of individual Afghans as well as the development of the entire country."
Steffen Seibert said Monday that "these are bitter developments, when looking at them against the background of the years-long missions of the western community of states."
The government also said it is personally contacting all embassy staff, including local hires, whom they are trying to evacuate out of Kabul. A spokesman for the country's foreign ministry warned people not to independently try to reach the airport because of the volatile and dynamic situation there.
Christofer Burger told reporters Monday that the embassy is calling and emailing everyone who is on evacuation lists and giving them personal instructions.
---
---
---
---