Pentagon increases estimates for Afghanistan evacuations, 82nd Airborne to command airport security
by
Corey Dickstein
Stars and Stripes
August 17, 2021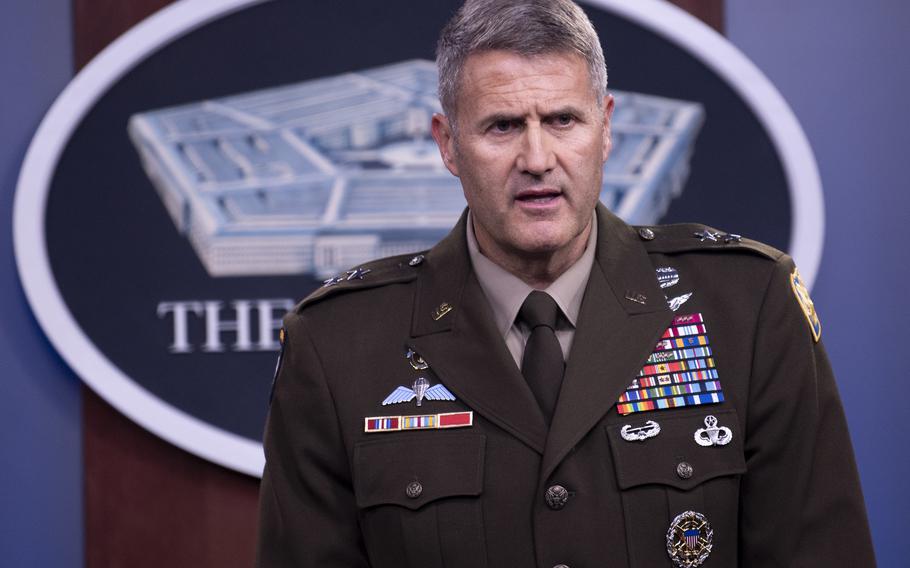 Top defense officials said Tuesday that they estimate ongoing operations at Kabul's international airport can increase evacuations to some 5,000 and 9,000 people from Afghanistan each day.
"[The airport] remains secure," Army Maj. Gen. Hank Taylor, the Joint Staff's deputy director for regional operations, told reporters at the Pentagon. "It is currently open for military flight operations as well as limited commercial flight operations."
American troops had restored order at Hamid Karzai International Airport, or HKIA, by Tuesday morning, and U.S. military cargo jets were flying in and out of the airfield in Kabul, bringing in troops and gear and evacuating people, Taylor said. It came after a chaotic Monday at the airport — the last ground in Afghanistan held by the U.S. and its allies — where operations shuttered for hours as troops worked to clear the airfield of thousands of desperate Afghans trying to flee the Taliban.
Overnight, nine U.S. Air Force C-17 cargo jets arrived at the airport delivering some 1,000 American troops and their equipment. Seven C-17s also departed the airport evacuating some 700 to 800 passengers, including 165 Americans, Taylor said.
The estimated 5,000 to 9,000 evacuees per day was based on flight operations running smoothly, he said. It would require more than two dozen flights coming and going each day, added John Kirby, the Pentagon's top spokesman.
Neither Kirby nor Taylor provided estimates of the number of individuals the U.S. intends to evacuate from Afghanistan. In addition to American citizens, who the State Department said Monday it did not know how many were in Afghanistan — the U.S. is also helping evacuate citizens of other nations who have worked with Americans during the 20-year war and certain Afghans and their families who have supported the U.S. war effort.
The U.S. had evacuated some 2,000 Afghans by Monday. Kirby said the Defense Department would soon be able to host another 22,000 at two U.S. Army bases — one in Texas and another in Wisconsin. He said a third country had also agreed to take in some Afghans seeking to settle eventually in the United States.
"I can't guarantee a certain number [of evacuations] by a certain day. I wouldn't do that," Kirby said. "Weather can play a factor … [but] conditions permitting, we are going to do … as much as we can for as long as we can."
The U.S. military is still under orders to leave Afghanistan by Aug. 31. Kirby said that had not changed as of Tuesday.
Taylor said more than 3,000 U.S. troops were at HKIA by Tuesday morning, and about 4,000 were expected by the end of the day. That will grow to about 6,000 this week, as members of the 82nd Airborne Division's Immediate Response Force arrive.
The Pentagon also tapped the 82nd's top general to take command of security operations at the airport, Kirby said.
Army Maj. Gen. Chris Donahue had left Fort Bragg, N.C., en route to Kabul by Tuesday morning. He will take responsibility for airport security, while Navy Rear Adm. Peter Vasely, the top U.S. commander on the ground in Afghanistan, manages other aspects of the remaining American efforts there.
In addition to the 6,000 U.S. troops, Turkish forces and some 700 Afghan security forces are helping secure the airport, Kirby said. They will report to Donahue.
"This is what the 82nd Airborne does really well," Kirby told reporters. "The task of securing and operating an airfield is a unique task the 82nd can do."
Donahue took command of the 82nd Airborne last year. He is a longtime veteran of U.S. special operations who has spent years deployed to places such as Afghanistan, Iraq and Syria, according to his official biography. He has spent much of his career in the 75th Ranger Regiment and Delta Force.
Taylor said the Taliban had not interfered with U.S. operations at the Kabul airport. The general said Taliban fighters had established positions near the airport, but they had not overtly threatened U.S. troops or others.
Two armed men who were shot and killed by American troops in separate incidents Monday were not believed to be Taliban members, officials said.
The Taliban, in a news conference Tuesday in Kabul, claimed they will not target Afghans or others who have helped the United States and NATO during the war, according to ABC News.
Despite those assurances, fearful Afghans have continued to seek evacuation at the airport, worried the Taliban will return to their hardline Islamist rule when they ran the country from 1996 until their ouster by U.S. forces just weeks after the Sept. 11, 2001, terror attacks.
Kirby said the United States had a "sacred obligation" to protect those Afghans who worked for years with Americans and others.
The U.S. commanders at HKIA had established some level of communication with Taliban commanders in Kabul, Kirby said. He declined to characterize those discussions or say if the two sides had forged any security agreement.
"There [have] been no hostile interactions from the Taliban to our operations at the airport," Kirby said. "I would just let the results speak for themselves, so far. And we're not taking anything for granted."