Cash scarcities mount in Kabul and fears for ex-soldiers in Herat linger as Taliban asserts control 
by
Zubair Babakarkhail
Stars and Stripes
August 17, 2021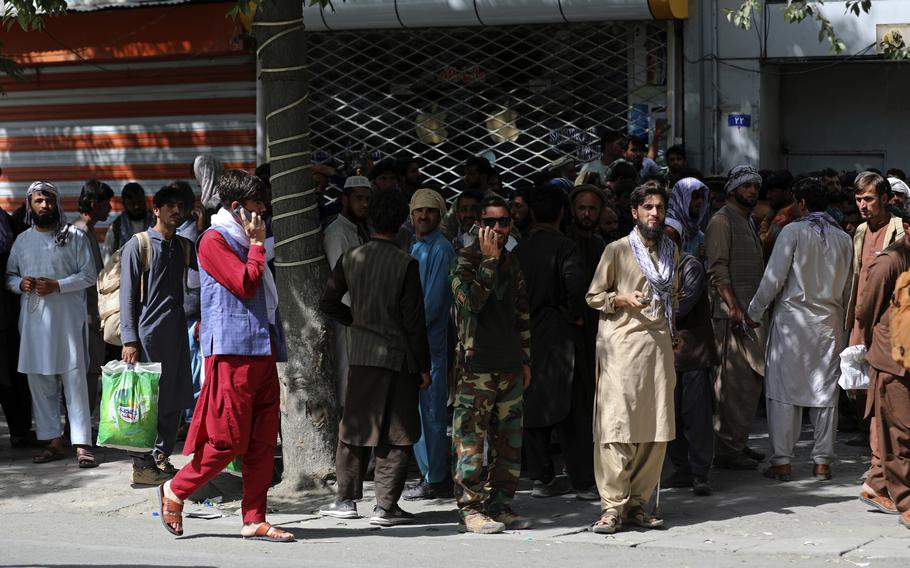 KABUL, Afghanistan — The closures of banks and currency exchanges following the Taliban's seizure of power have some residents worried about paying for basic needs, tribal leaders in the capital said Tuesday.
Elsewhere in Afghanistan, residents of Herat, Afghanistan's third-largest city, said conditions still resembled a battle zone and fears remained for many, though a few glimmers of hope for the freedoms they had gained in recent decades were seen.
Most shops in Kabul are open, but financial institutions, jewelry stores, factories and government offices were closed. Some schools were open, as were private and government hospitals.
Purchases are usually made with cash, so the scarcity of currency could have serious effects if the situation doesn't change soon, residents said.
"It is a big uncertainty right now. People are just waiting to see what happens next," Sardarwali Khan, a tribal elder in eastern Kabul, said in a phone call. "We need the Taliban to start providing public services as soon as possible. No one is going to their job right now; banks are closed. People will starve in a few days because everyone is running out of money."
The electricity in the city is actually working better, but mainly because big users like factories and government facilities aren't functioning.
People in the city were seen trying to approach the Taliban fighters whenever they stop on the road. They often asked the fighters what was going to happen next.
They asked the same question of fighters who showed up at a city mosque to pray Monday evening.
Things will be fine — you will know us better after we spend some time here, and no one has to be worried, they answered.
One of the fighters was clean and well-dressed. The others had scary looks on their faces and appeared as if they had just come out of a jungle, attendees told Stars and Stripes.
The Taliban are going door to door in the city and checking parking lots for government vehicles. They are taking them for their own use and giving receipts that specify the person who handed over the vehicle. They are providing contact numbers, too.
There are still safety concerns about what the Taliban will do once they are better settled.
"Taliban are new in the city now," Khan said. "They are busy with collecting government arms, vehicles and going through offices. They will start questioning people after they are done with that. I'm worried."
The Taliban have said they will call all the security forces back to work at an appropriate time.
In Herat, many businesses and services remained shuttered Tuesday as residents waited to see how the Taliban will assert their rule.
"The situation in Herat city isn't back to normal so far," Abdul Hakim Yazdani, a tribal elder and resident of Herat, told Stars and Stripes over the phone. "Today is the fifth day since the Taliban took the city. It's looked like a military city in the last five days."
All domestic flights in Herat have stopped, Yazdani said. Flightradar24.com showed no air traffic over the city Tuesday afternoon.
Herat is a city of roughly 600,000 people in Afghanistan's west and a key trading point with nearby Iran. Last week's swift downfall of the militia of Ismail Khan, known as the "Lion of Herat" and for his role in the anti-Soviet uprising in 1979, surprised many observers. Reuters reported last week that the Taliban captured Khan, while Afghanistan's Tolo News said Monday that Khan was in Iran.
On Tuesday, the Taliban governor for Herat province asked all district governors and their forces from outlying areas to leave the city and return home, Yazdani said.
One potential bright spot in an otherwise tense city was the opening of schools for both boys and girls yesterday, said Ghulam Sediq, another Herat tribal leader.
"I was so happy to see that girls were going to school yesterday," he said. "I remember the Taliban's regime last time and I was worried about girls' education."
Access to education for women has been hailed by the U.S. and its partners as one of the success stories of the past 20 years, along with the establishment of free media and return of music.
It remains unclear whether the Taliban will continue to allow those freedoms after banning them when they last took power in the 1990s.
Herat television channels have stopped broadcasting music and movies, Sediq said.
People in the city are still living with uncertainty, along with fear for what the Taliban will do to those who worked for the Afghan army, he said.
Some government offices are open. Banks are closed but ATMs for two banks are working, Sediq said.
Big businesses are still mostly closed.
"There is a visible drop in crime though," Sediq said, noting what had been a growing problem for the city in recent years . "There were a lot of thefts, and looters would take away people's cellphones, bicycles and other belongings by force in broad daylight.
"But now I haven't seen or heard about any theft in the last five days."