Russian naval assault on Ukraine could mean greater control over waters shared by US allies
By
Stars and Stripes
February 25, 2022
---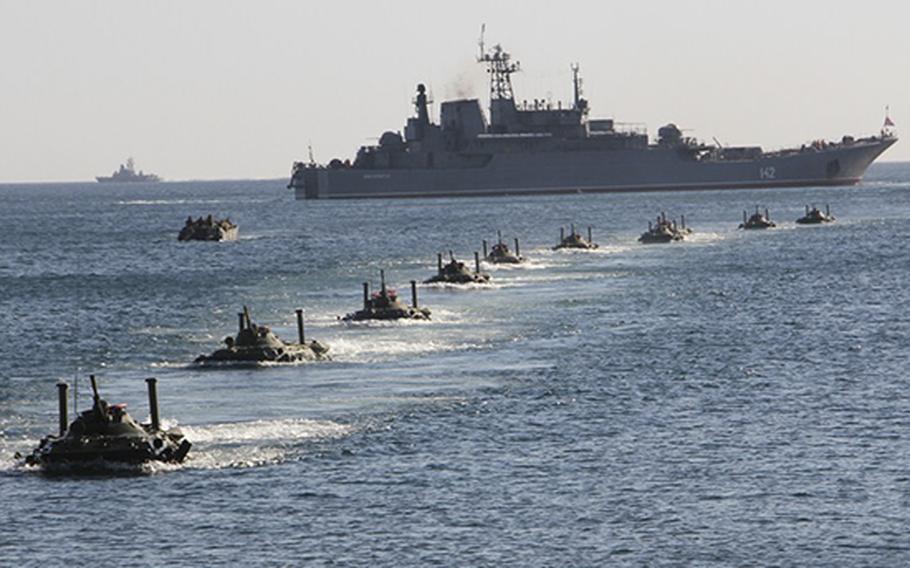 Russian attacks on Ukraine from the Black Sea ultimately could give Moscow more control over an area transited by U.S. and allied naval ships under normal circumstances.
Russia's naval forces began the process of an amphibious assault from the adjoining Sea of Azov to the west of Mariupol along Ukraine's eastern coastline, a senior defense official told reporters Friday.
"The indications are right now that they are putting potentially thousands ashore," the defense official told reporters on condition of anonymity.
Six Russian landing ships, each capable of transporting several tanks and at least 300 troops, entered the Black Sea earlier this month.
Prior to the amphibious operations, Russia shelled cities along Ukraine's western coastline and overran Snake Island, a small outcropping south of Odessa, according to Ukraine's Foreign Affairs Ministry.
Ukrainian Defense Ministry said Friday afternoon on Facebook that cargo ships near the port of Odessa were being fired upon by Russian warships.
A Russian naval assault would include putting troops ashore near Odessa, said Bryan Clark, a senior fellow and director of the Hudson Institute's Center for Defense Concepts and Technology.
They would join with forces coming from the Crimean Peninsula to block roads and cut the city off from the rest of Ukraine, Clark said.
Video posted on the Ukrainian State Border Guard Service website Thursday showed Russian military tanks and troops streaming into Ukraine from Crimea.
Along with the amphibious capabilities, Russia has a cruiser surface action group in the Black Sea and other ships to support them, said Sebastian Bruns, McCain Fulbright scholar in residence at the U.S. Naval Academy and a maritime expert with the Center for Strategic and International Studies.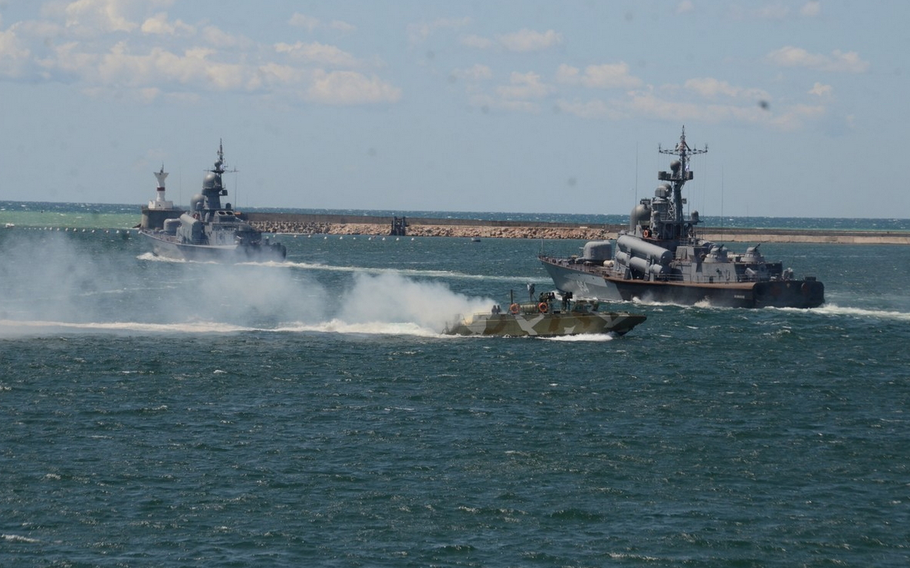 "Kalibr missile strikes from sea are also very likely although I have not seen evidence (of them)," Bruns said.
Capturing Odessa would give Russian President Vladimir Putin a land bridge to Kremlin-supported Transnistria, a self-proclaimed breakaway state from Moldova, Bruns noted.
"Such a bold move would effectively strangle Ukraine even if the fight for Kyiv might be prolonged," he said.
The Russian advance toward Ukraine's capital was indeed meeting "greater resistance by the Ukrainians than the Russians expected," the U.S. senior defense official said.
Still, greater control of the Black Sea could have security implications for several countries that border it, and particularly NATO allies Romania and Bulgaria. The U.S. has sent troops there in recent weeks as part of a reassurance mission.
Russia wants control of the Black Sea and acts as if other nations don't have the right to be there, said Adm. Robert P. Burke, commander of U.S. Naval Forces Europe-Africa and Allied Joint Forces Naples, during a July appearance at a U.S. Navy Memorial speaker series.
"We need to challenge that narrative and not let that become the norm," Burke said.
U.S. ships have refrained from transiting near Ukraine during the Russian invasion, though a U.S. Global Hawk surveillance drone was spotted over the sea on public aviation tracking websites Thursday.
Meanwhile, the aircraft carrier USS Harry S. Truman, along with at least four destroyers and one cruiser, remains in the Mediterranean Sea.
Four additional destroyers recently were deployed from their U.S. homeports to the region, and the Navy has four others homeported in Rota, Spain.
No U.S. ships have gone into the Black Sea since the destroyer USS Arleigh Burke departed on Dec. 15, according to the ship watching website Turkishnavy.net.
While the U.S. focuses on providing support and reassurance to its NATO allies, it must be mindful of nearby Russian ships and submarines, Bruns said.
European Space Agency satellite images on Thursday showed a group of 16 Russian ships, including at least two Slava-class cruisers and two Kilo-class submarines, sailing in the eastern Mediterranean, the website Naval News reported Thursday.
While Russia is advancing on the ground in Ukraine, Russian sailors may feel or be under orders to be more aggressive in the maritime domain, Bruns said.
"The risk of miscalculation is now significantly higher and Western, not just U.S. Navy commanders, should take that into consideration," Bruns said.
Stars and Stripes reporter Caitlin Doornbos contributed to this report.
---
---
---
---