'Russian warship, go f--- yourself': Guards who died refusing to surrender will receive top honors, Ukraine says
By
Stars and Stripes
February 25, 2022
---
Thirteen Ukrainian personnel who died defying a Russian warship's order to surrender a small Black Sea island were hailed posthumously as national heroes Friday, Ukrainian officials said.
On Thursday, two Russian warships reportedly approached Snake Island, a Black Sea outcropping near the Danube Delta that is called Zmiinyi Island in Ukrainian.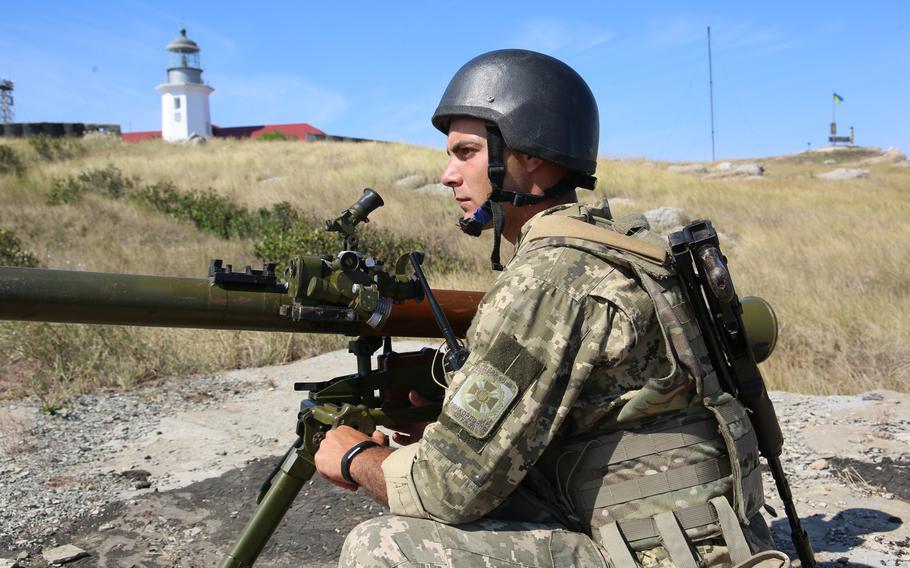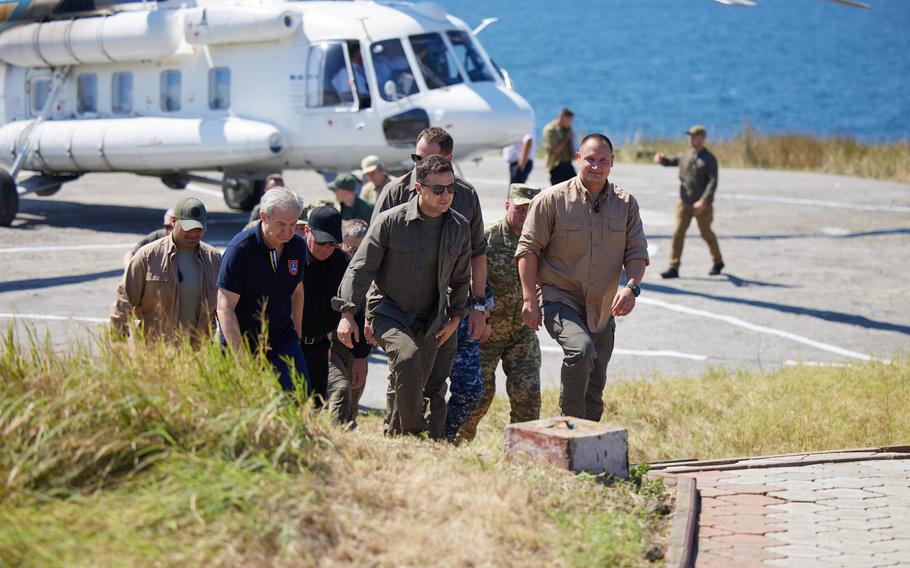 The roughly 46-acre island is considered strategically important because of its proximity to the port of Odessa, among other factors.
Someone aboard one of the Russian warships demanded that the border guards give up their weapons or face annihilation, according to a widely disseminated audio recording.
The recording was posted on the instant messaging service Telegram by Anton Gerashchenko, an adviser to the Ukrainian Interior Ministry and former member of parliament.
In the audio, at least two people listening to the Russian message can be heard talking to each other, one saying, "This is it" and then asking the other if he should tell the invader to f--- himself. The other person says, "Just in case."
"Russian warship, go f--- yourself," the first person says just before the recording ends.
The island sustained fierce shelling from the ships, the Ukrainian Border Guard Service reported Thursday on its Facebook page. In a separate post, the two Russian ships were identified as the cruiser Moscow and the frigate Vassily Bykov, belonging to the Black Sea Fleet.
"The aggressor used a combat aviation against the border guards and the armed forces on the island of Zmiinyi," the service posted late Thursday afternoon. "Also, the shelling of the island from ship weapons continues."
All 13 guards were killed, and all infrastructure was destroyed as Russia captured the island, the Ukrainian Foreign Affairs Ministry said Friday on Twitter.
The guards will be awarded the title of Hero of Ukraine, the Foreign Affairs Ministry said.
"Remember, the enemy today repeatedly tried in vain to intimidate Ukrainian defenders on the island with demands to surrender," the border guard service posted late Thursday to Facebook. "The border guards and zsu (armed forces) bravely held the defense."
Meanwhile, Russian state media told a completely different story. The Russian news agency Tass reported Friday that 82 personnel had laid down their weapons, surrendered Snake Island and signed documents rejecting military resistance.
A U.S. Global Hawk surveillance drone was flying south of Snake Island over international waters in the Black Sea on Thursday, according to Flightradar24 and other public aviation traffic websites. So far, U.S. officials haven't directly commented on what transpired at Snake Island.
Occupation of the island would allow the Kremlin to have a stranglehold on Ukraine's southern coast and better enable a blockade, analysts have said.
Russian troops on the island would obligate Ukraine to keep forces in Odessa, said Bryan Clark, a senior fellow and director of the Hudson Institute's Center for Defense Concepts and Technology.
Doing so would prevent Ukraine from reinforcing troops in Kyiv or the east who could be facing Russian invasion forces, Clark said Thursday.
---
---
---
---