These are the planes the US is using to watch Russia's military movements
By
Stars and Stripes
February 24, 2022
---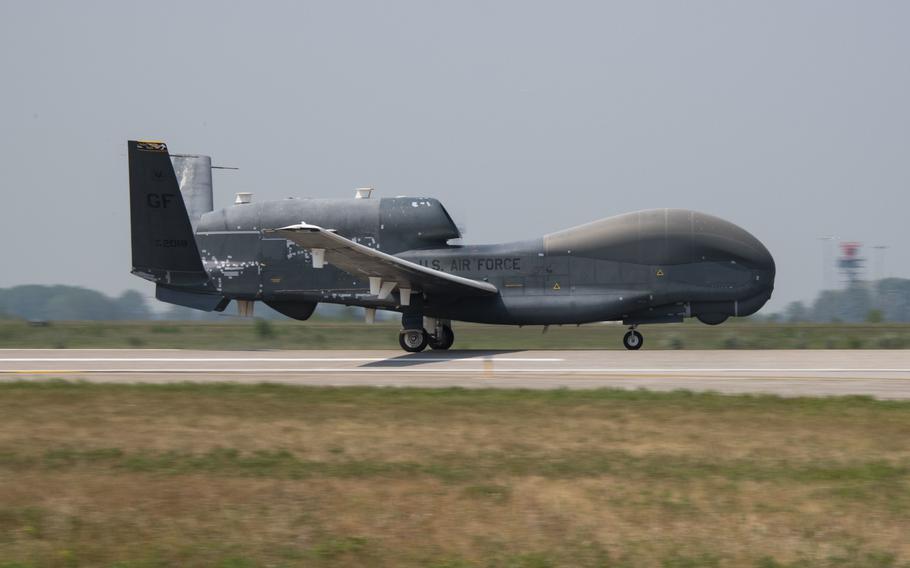 RAMSTEIN AIR BASE, Germany — The Army's first manned spy plane and an Air Force "nuke sniffer" have been among the surveillance aircraft watching Russia's military movements during the Kremlin's planning and execution of its latest invasion of Ukraine. 
For weeks, aviation spotters have been following the Air Force's RQ-4 Global Hawk, RC-135 Rivet Joint, WC-135 Constant Phoenix and E-8C, an Army prototype called ARTEMIS, as well as other U.S. and NATO aircraft flying in Ukraine or in neighboring areas.
The aircraft flight paths are not classified and are readily viewable on commercial websites.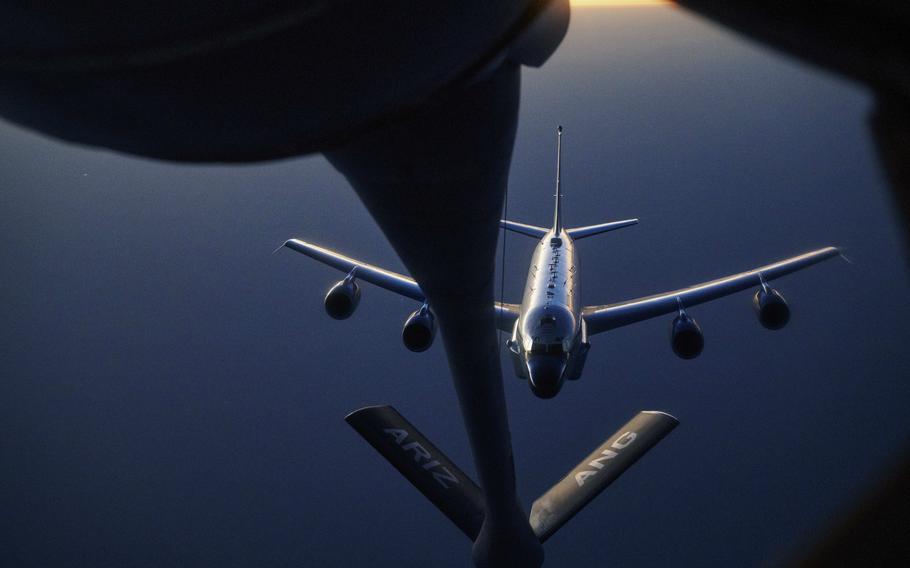 The specialized planes flying in or near Ukraine can provide real-time intelligence on land and sea movements and intercept Russian communications.
A remotely piloted Global Hawk with the call sign FORTE12 was the last aircraft tracked over Ukraine before the country shut down its airspace to civilian air traffic a few hours before dawn Thursday, according to the global flight tracking service Flightradar24.
It was spotted with another U.S. Global Hawk, call sign FORTE11, on Wednesday evening over eastern Ukraine. On Thursday morning, aviation watchers spotted FORTE12 flying southwest of Crimea over the Black Sea.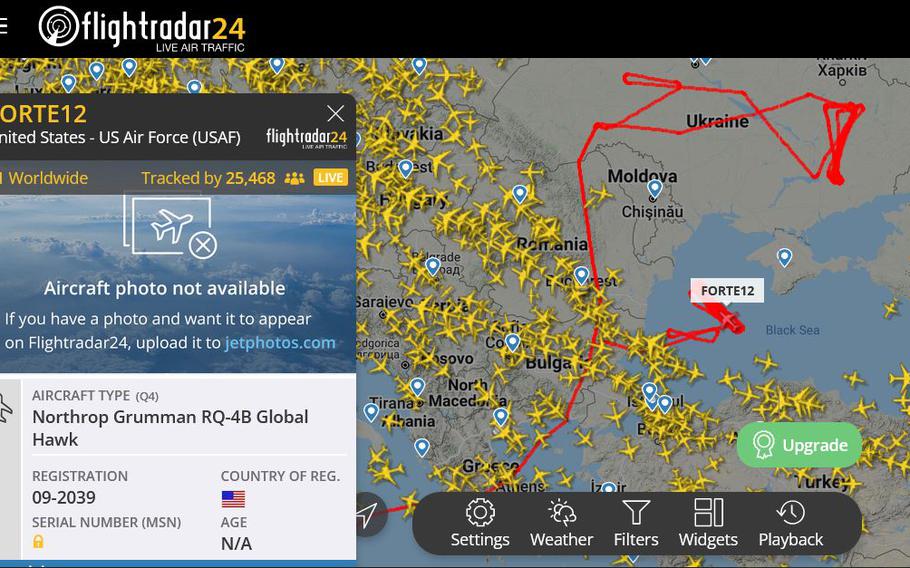 Based out of Naval Air Station Sigonella on the Italian island of Sicily, the two planes have been frequent visitors to Ukraine over the past month, according to Flightradar24 data.
The site observed that FORTE11 had arrived in Ukrainian airspace late Wednesday morning and noted that the last time it was in Ukraine, on Feb. 20, it stayed for 24 hours.
The Global Hawk can fly at high altitudes for more than 30 hours without refueling, according to the drone's manufacturer, Northrop Grumman. Its cameras can gather nearly real-time, high-resolution imagery of large areas in all types of weather, day or night, the company says.
Air Force officials in Europe would not comment Wednesday on the specifics of surveillance aircraft flying in or near Ukraine, citing Defense Department policy.
The Air Force conducts "these types of flights with allies and partners routinely and only with prior approval from and full coordination with respective host nations," said Tech. Sgt. Michael Battles, a spokesman for U.S. Air Forces in Europe–Air Forces Africa.
Surveillance and reconnaissance missions continued Thursday following Russia's missile attacks on facilities in or near Ukraine's major cities, including the capital of Kyiv.
The CivMilAir Twitter tracking site observed an American E-8C and RC-135 Rivet Joint plus ARTEMIS watching the western borders of Belarus and Ukraine late Thursday morning.
The E-8C Joint Surveillance Target Attack Radar System, or JSTARS, departed from Ramstein Air Base and was tracked over Poland and Romania.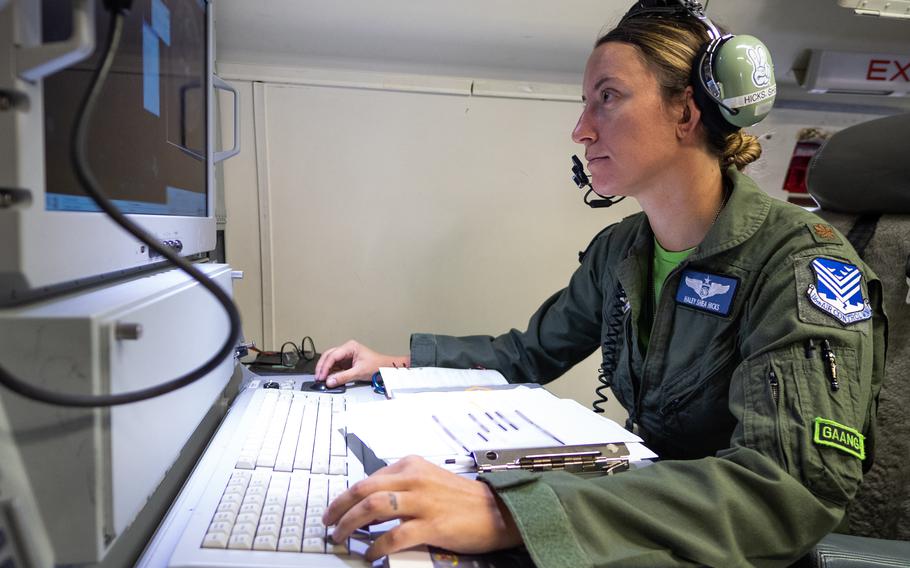 The aircraft was conceived during the Cold War to locate and track moving ground targets in all weather conditions, manufacturer Northrop Grumman says.
Its 24-foot-long radar antenna can be tilted to either side of the aircraft, allowing it a 120-degree field of view covering about 19,000 square miles.
A British Rivet Joint plane was spotted with its U.S. Air Force counterpart Thursday morning over Eastern Europe. The aircraft's sensors soak up electronic emissions from communications systems, radar and the like, according to Britain's Royal Air Force.
ARTEMIS, which stands for Aerial Reconnaissance and Targeting Exploitation Multi-Mission Intelligence System, is the Army's first manned intelligence, surveillance and reconnaissance jet.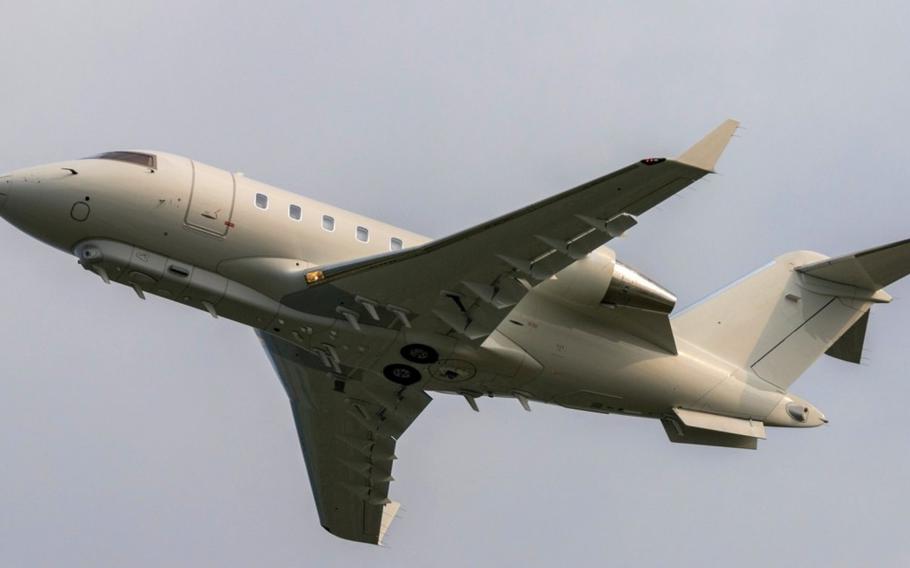 It is a Bombardier Challenger 650 "that's been souped up with military-grade sensors for tracking ground troops" and is flown on the Army's behalf by defense contractor Leidos, according to a Breaking Defense article published Tuesday.
Its electronics and ground-scanning radar can monitor tanks from hundreds of miles away, meaning it can see into Belarus, the heavily fortified Russian exclave of Kaliningrad and maybe even the Donbas region of eastern Ukraine, Tom Spoehr, director of the Heritage Foundation's center for national defense, said in the article.
Meanwhile, the Air Force's WC-135 Constant Phoenix, nicknamed the "nuke sniffer," spent time patrolling Eastern Europe this week. Its mission is to detect and collect radioactivity samples in the atmosphere. The radioactivity typically results from a nuclear explosion.
The aircraft, based at Offutt Air Force Base in Nebraska, made an emergency landing Tuesday at RAF Mildenhall, England, following a flight over the Baltic Sea.
Air Force officials said the crew followed all prescribed emergency and safety procedures and landed safely. No one on board was injured.
---
---
---
---