'A blatant act of war': NATO grants allied commander added authority to mobilize troops 
By
Stars and Stripes
February 24, 2022
---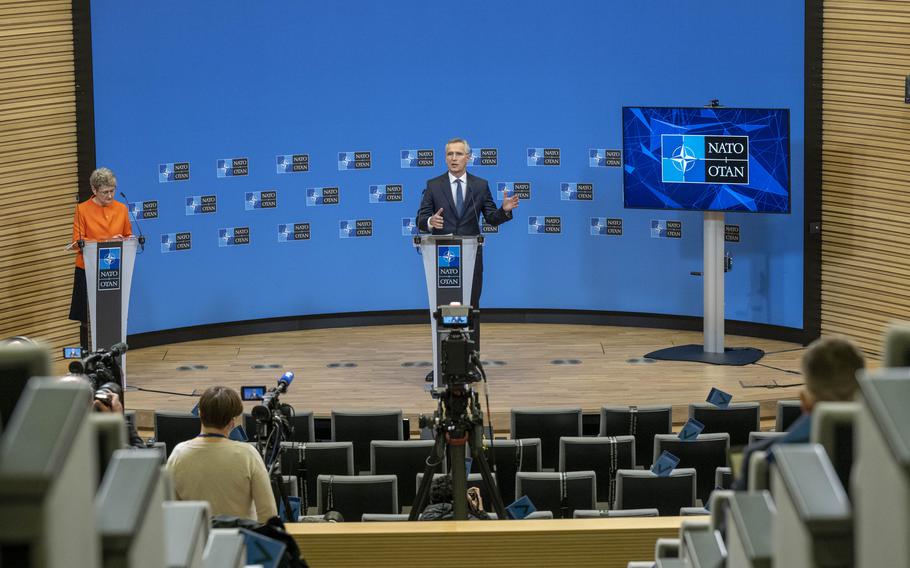 STUTTGART, Germany — NATO took a rare step Thursday that empowers the alliance's top commander, U.S. Air Force Gen. Tod Wolters, to mobilize troops on short notice as allies shore up defenses in response to Russia's attack on Ukraine.
"It will be a new Europe after the invasion we saw today," NATO Secretary-General Jens Stoltenberg said following an emergency meeting in Brussels to activate the alliance's defense plans, which means Wolters now has the authority to mobilize NATO's 40,000-strong quick response force if he chooses.
The U.S. military currently has about 8,500 troops in the U.S. at a heightened state of alert to deploy to Europe as part of the NATO force.
On Friday, President Joe Biden and other NATO heads of state will hold a summit to discuss NATO's next moves in the wake of Russia's assault Thursday.
Stoltenberg said the Russian attack involved missiles, aircraft, warships, ground forces and special operations units, hitting both urban centers and military sites.
"This is a blatant act of war … Peace on our continent has been shattered," Stoltenberg said. "This is a grave moment for the security of Europe."
More allied forces will be heading to the eastern flank in the days ahead, Stoltenberg said.
The decision to activate NATO defense plans could be a prelude to mobilizing NATO's Response Force, which is made up of 40,000 allied troops.
Established 20 years ago, the force includes high-readiness air, land, maritime and special operations units. It has never been activated to defend against a potential Russian invasion.
The question of whether to put the force, or elements of it, along the eastern flank will be debated when heads of state meet Friday.
For now, NATO has committed to deploying additional land, sea and air forces eastward, the alliance's North Atlantic Council said in a statement.
"We have increased the readiness of our forces to respond to all contingencies," the statement said.
Details on what forces would deploy were not immediately released.
For its part, the U.S. has sent additional forces to Poland and Romania, and troops from the 173rd Airborne Brigade in Italy are arriving in Latvia over concerns about Russian aggression.
Allies called the all-out Russian attack on Ukraine unjustified and unprovoked.
"Our thoughts are with all those killed and injured, and with the people of Ukraine," NATO's North Atlantic Council said.
NATO also condemned Belarus, where thousands of Russian forces are based, for enabling the attack.
"We call on Russia to immediately cease its military action and withdraw all its forces from in and around Ukraine, to fully respect international humanitarian law and to allow safe and unhindered humanitarian access and assistance to all persons in need," the NATO statement said.
---
---
---
---